Embedded Connectivity can be applied to any and every industry, and eSIM for airlines is the next logical step.
In today's fast-paced world, Embedded Connectivity has the potential to become a game-changer for the travel industry, particularly for airlines. More specifically, this means providing passengers with uninterrupted internet access. This connectivity enhances the overall travel experience and allows airlines to personalise services, engage with customers, and gain the potential for higher ancillary revenue.
However, to stay competitive in an ever-evolving industry, airlines must go beyond and diversify their core proposition. By expanding their offerings beyond traditional flight service, airlines can cater to different travel needs and capture a larger market share. This adaptability ensures long-term success in an interconnected world where customer preferences and travel trends are constantly changing.
What is Embedded Connectivity?
Connectivity is the capability of providing connections to the internet or between end users. Traditionally, and for technical reasons, only telcos could provide connectivity. Now that eSIMs are available, connectivity can be embedded in any industry. How?
eSIMs are digital SIMs. They work the same way as plastic SIM cards, but are physically integrated into the device. They cannot be removed from the device and replaced with another SIM. They're activated remotely which allows service providers (SPs) to move their entire customer journey online.
Since eSIMs are embedded within a mobile device, consumers can purchase, activate, and use them from anywhere and at any time. The entire process is online, making the plastic SIM cards redundant, allowing any service provider in any industry to embed connectivity within their mobile applications quickly and with minimal effort.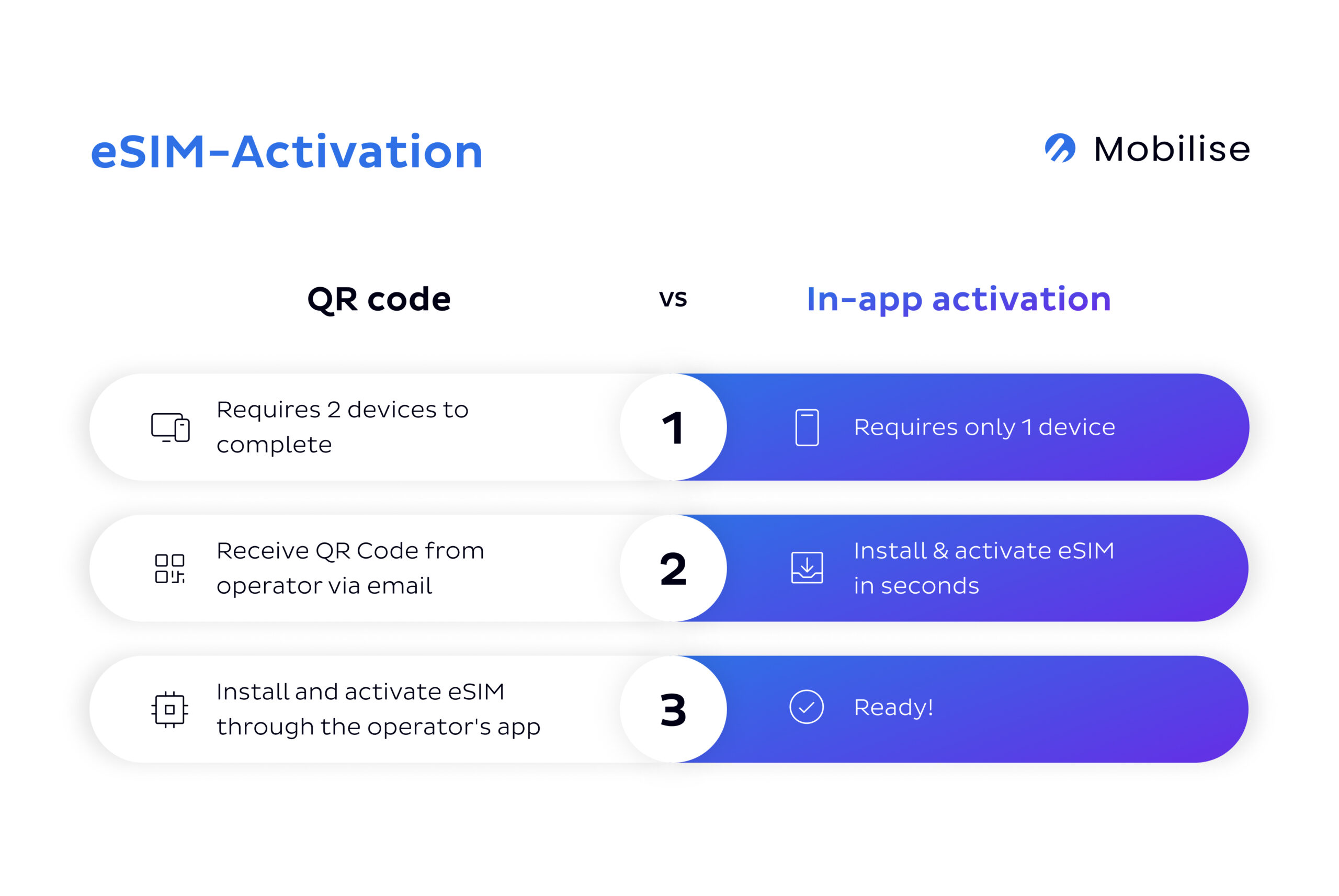 Benefits of Embedded Connectivity – eSIM for airlines
Boost revenue streams
By adding Embedded Connectivity and eSIM to their services, airlines can not only increase and diversify their earnings but also future-proof their brand by offering innovative solutions that meet evolving consumer demands and enable new business models. On top of this, according to IdeaWorksCompany, airlines experience a 20% increase in ancillary revenue per passenger after offering ancillary services during the booking process. This clearly shows the potential success of eSIMs as an ancillary service.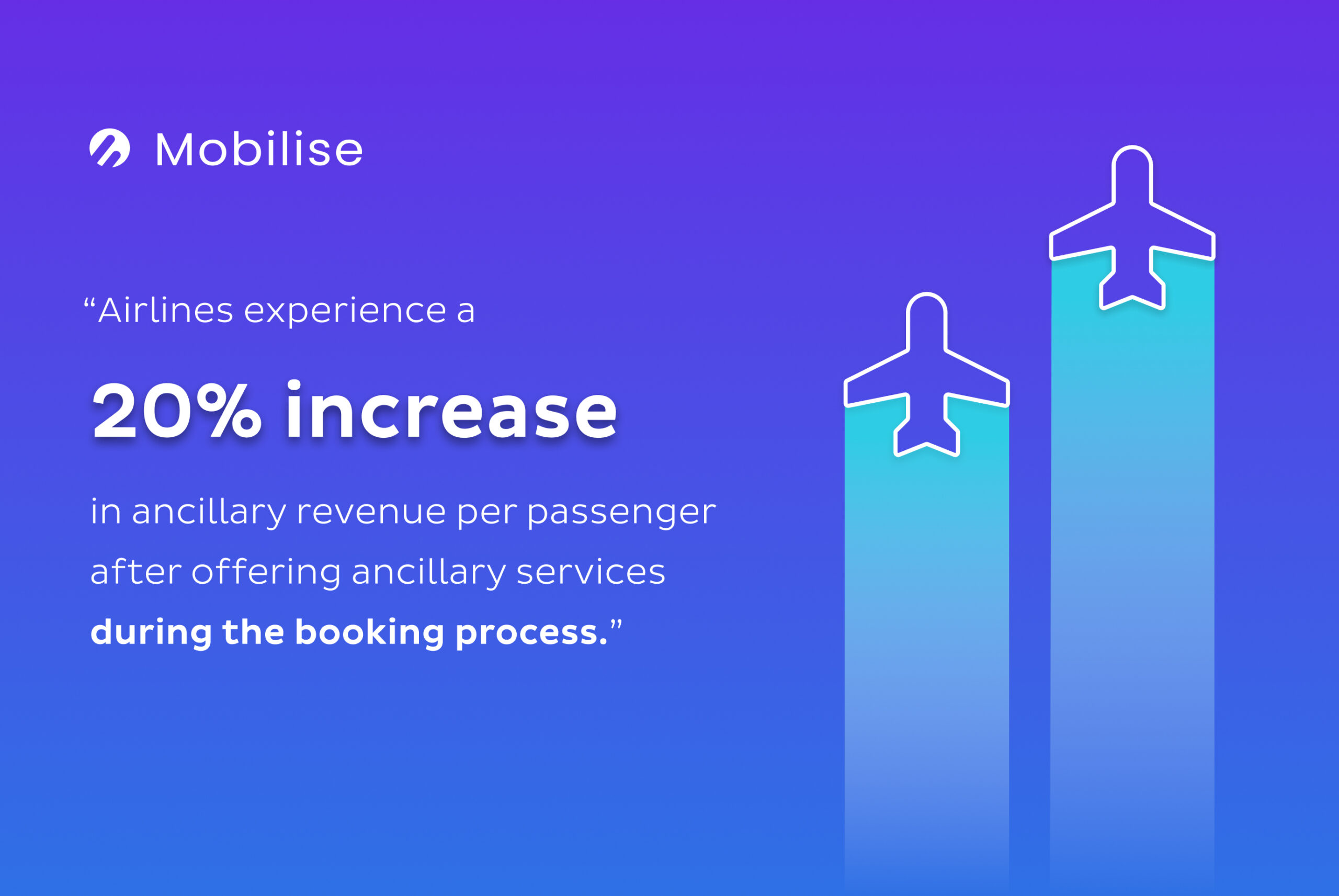 Stay ahead of the competition with eSIM for airlines!
eSIM for airlines is a sure-fire method to future-proof their brand by offering innovative solutions that meet evolving consumer demands and enable new business models. By adopting eSIM technology, airlines can stay ahead of the curve and cater to the increasing expectations of tech-savvy travellers. According to a report by the World Travel Organization, 85% of travellers consider internet access to be crucial for their trips. eSIM provides a seamless and convenient way for passengers to access internet connectivity during their journey, enhancing the overall travel experience. This technological advancement demonstrates the airline's commitment to staying at the forefront of innovation and meeting the changing needs of its customers.
Improved customer satisfaction
Passengers highly value the ability to stay connected during their flights and beyond. By offering reliable and seamless connectivity through eSIM, airlines can meet this demand and enhance the overall customer experience. This, in turn, leads to improved customer retention and loyalty. According to Accenture, 26% of businesses that focus on "connectivity across all customer-facing functions" are more likely to achieve high levels of customer satisfaction.
Improved customer retention
Airlines can tap into this revenue potential by offering a seamless and connected travel experience. Passengers can stay connected to work, stream entertainment, and access real-time information when travelling in a new country. This level of connectivity not only improves the overall travel experience but also presents opportunities for airlines to engage with customers through personalised services and targeted offers to further improve customer retention.
To compare this with the banking industry, a study by Bain & Company found that more than 70% of consumers are interested in having their personal banking data used to receive personalised offers. However, when customers' loyalty to traditional banks declines, they will seek out other banks, i.e., neobanks, for additional or ancillary services and keep fewer products at their primary bank.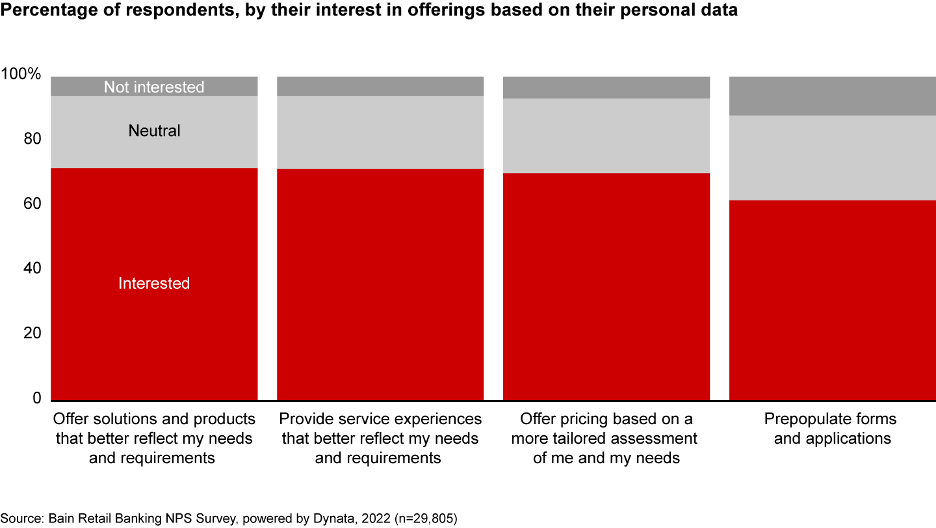 Improved customer experience
According to Forrester Research, airlines that invest in improving their customer experience have the potential to capture significant additional revenue. It's estimated that each US airline leaves as much as $1.4 billion in annual revenue on the table by not making improvements to their customer experience. This revenue can be captured before, during, or after the flight when airlines could establish customer loyalty and generate ancillary sales. Ancillary offerings often provide higher margins and require less complexity and effort compared to the primary product of flying the passenger.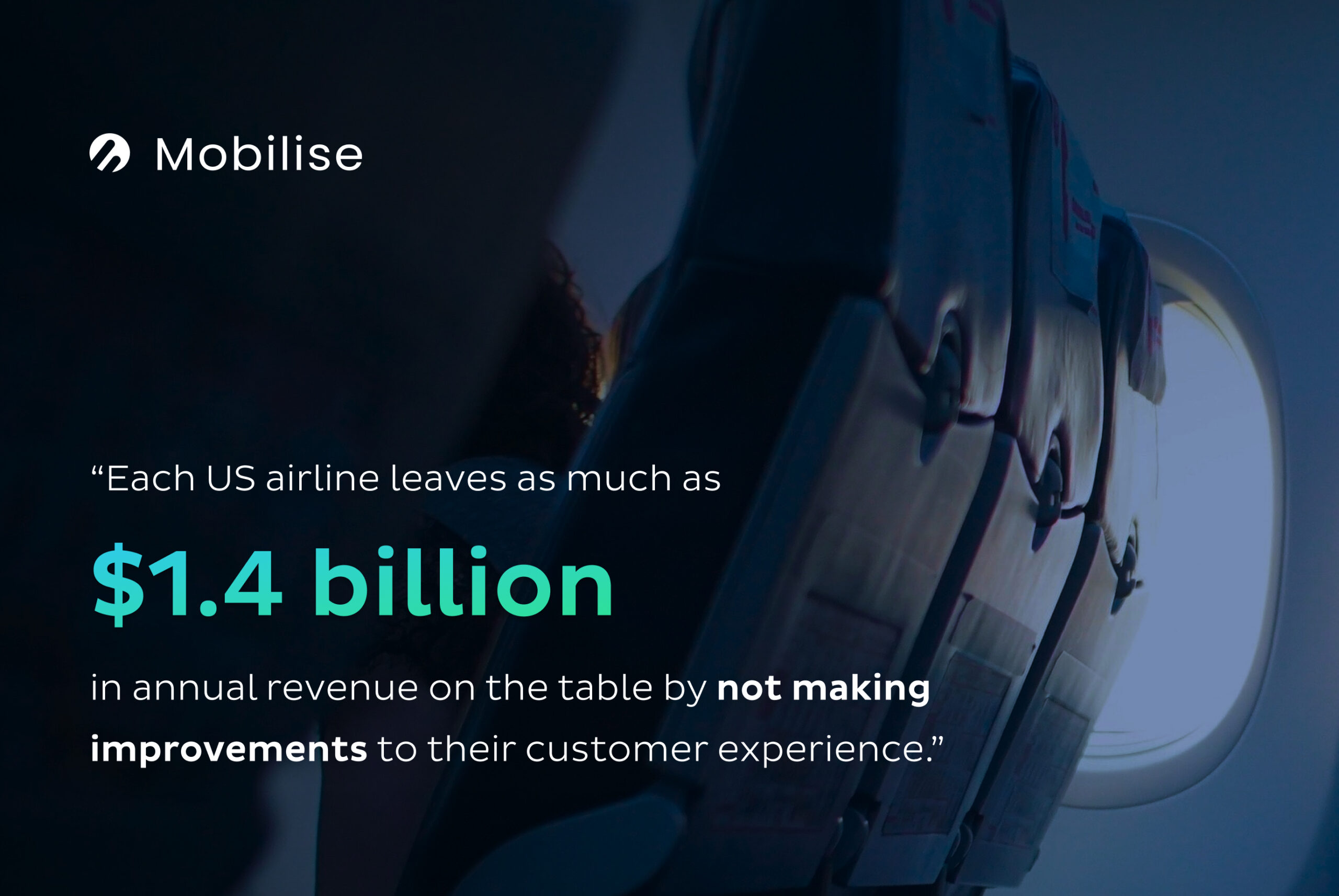 Benefits of Embedded Connectivity – eSIM for passengers
Seamless internet access upon arrival at the destination
With eSIM, travellers can purchase a data bundle prior to their departure and activate it upon reaching their destination. This eliminates the need to search for local SIM cards or rely on unreliable public Wi-Fi networks. By having internet access from the moment they step off the plane, travellers can instantly connect with their loved ones, access maps, search for information, and stay connected to important online services.
Convenience
The entire process, from purchasing and activating the eSIM, happens online and is often integrated into the flight booking process. Passengers can conveniently select a data bundle that suits their needs, pay for it securely, and receive the necessary activation details before they travel. This eliminates the need for physical SIM cards, manual activation processes, and the hassle of dealing with different providers in foreign countries.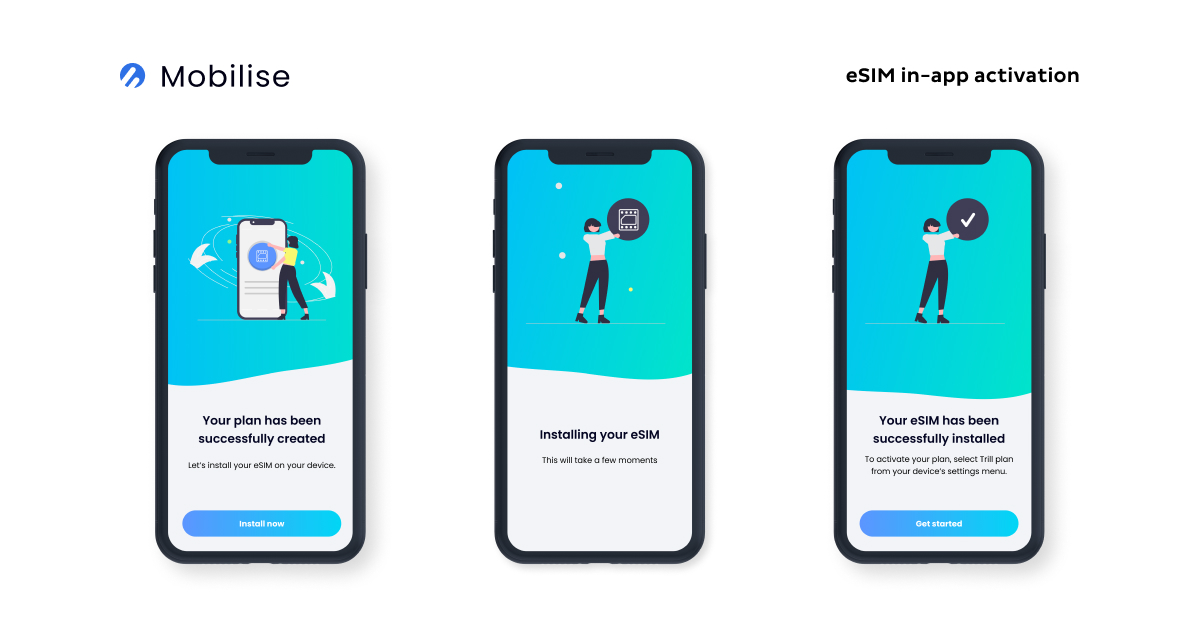 Affordability
Traditional mobile data roaming can be expensive, and travellers often resort to costly alternatives such as hotel Wi-Fi. However, eSIM offers cost-effective data options that are specifically designed for travellers. By purchasing a data bundle in advance, travellers can avoid exorbitant roaming charges and save significant amounts of money. In fact, Deloitte reported that travellers spend more than €12 billion annually on alternatives to mobile data roaming, including €6 billion on hotel Wi-Fi. By using eSIM for airlines, travellers can reduce these expenses and allocate their funds to other travel experiences.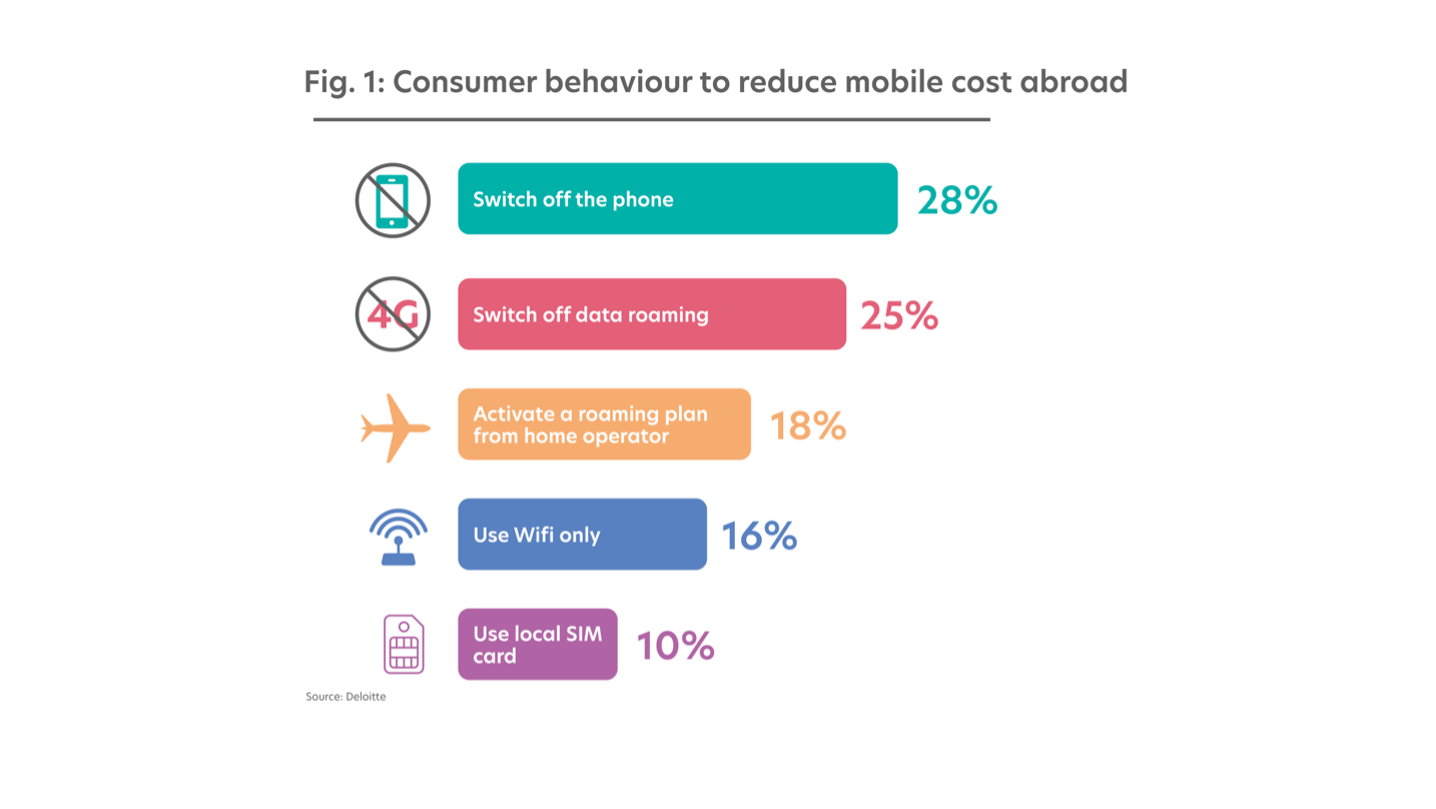 Timesaving
With traditional SIM cards, travellers need to visit physical stores or kiosks to purchase and activate them. This can be time-consuming, especially when facing language barriers or unfamiliar processes. In contrast, eSIM eliminates these hurdles and allows travellers to handle the entire process online, well in advance of their departure. This time-saving aspect ensures that travellers can focus on enjoying their journey without the stress and delays associated with acquiring and activating physical SIM cards.
Security
eSIM helps mitigate the security risks related to device theft or loss. Traditional SIM cards can be easily removed from a device and inserted into another, potentially allowing unauthorised access to personal data. However, with eSIM, the SIM credentials are embedded in the device itself, making it more secure and reducing the risk of SIM card misuse. In case of a lost or stolen device, the eSIM can be remotely deactivated, ensuring that the data and services associated with it remain protected.
Solution – eSIM SDK
We've got the solution for you – our eSIM SDK.
Our Embedded Connectivity solution provides endless benefits to airlines looking to expand their revenue streams and improve customer experiences. It's a "plug-and-play" solution that can be easily integrated into an existing app with no customisation required.
With low set-up fees and quick set-up, taking less than a week until final implementation, our eSIM SDK allows airlines to offer eSIM packages to their customers as an add-on. Featuring in-app eSIM activation in under 60 seconds without the hassle of QR codes or physical SIM swapping for your passengers.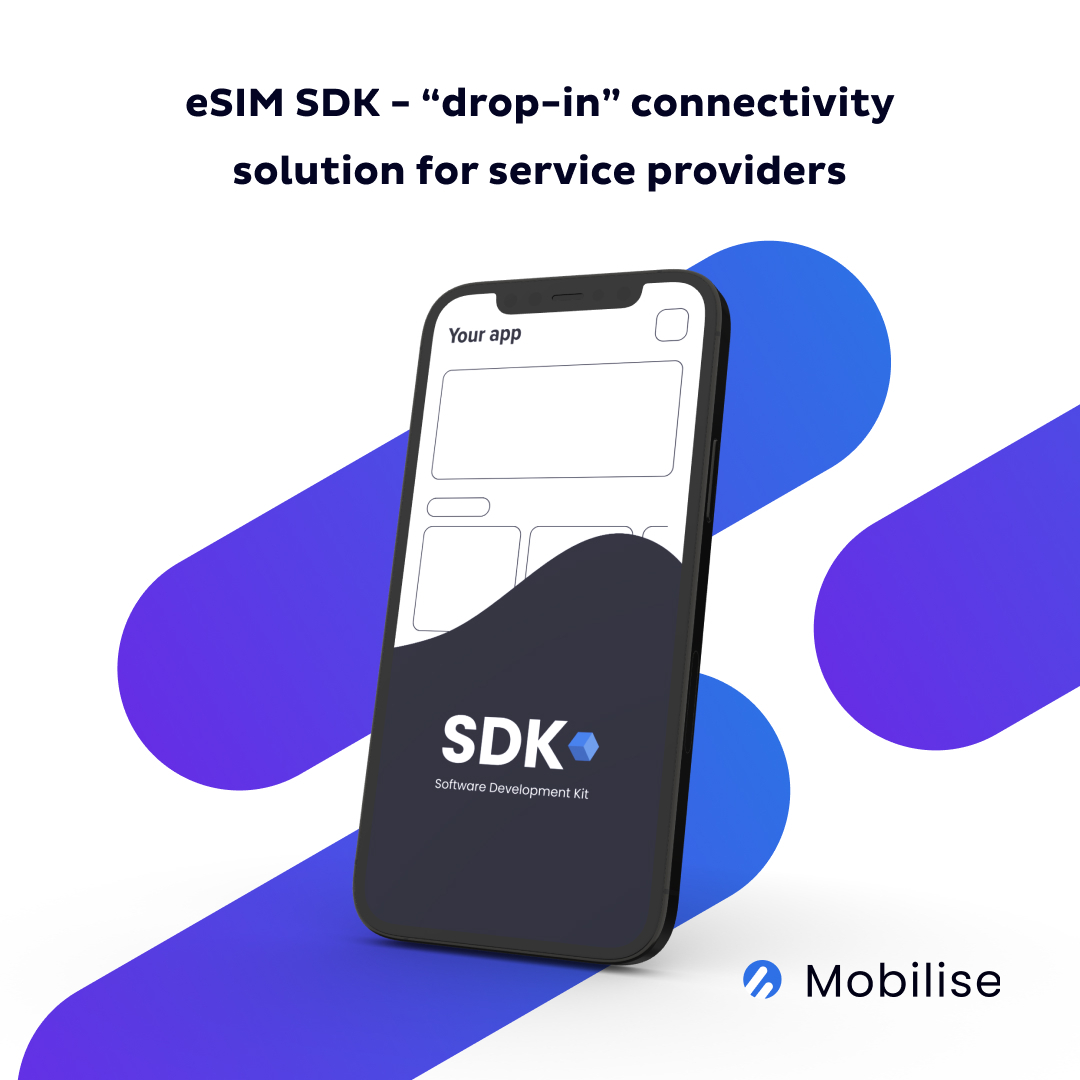 Conclusion
Overall, Embedded Connectivity and subsequently eSIM for airlines bring many benefits, not only to the business but also to passengers. From offering convenience, an affordable option to remain connected and secure to passengers but also a way for airlines to improve customer retention and CX, boost revenue streams and to future-proof their brand.
Staying stagnant in a highly competitive industry could only be a recipe for disaster. Airlines should highly consider adopting Embedded Connectivity to remain competitive and stay ahead of the competition.
Click here to find out more about Embedded Connectivity or click here to contact us for a demo.