What is WiFi First, and why it matters
Where would we be without WiFi connections? The question is almost rhetorical. Our lives depend upon a wireless network web; these days, new laptops aren't even built with Ethernet ports. We won't forego Internet connections, just as we won't blind or maim ourselves.
WiFi is a modern-day imperative, as relevant as oxygen, and our dependency upon it is only set to increase.
WiFi First is a network service model that prioritises the use of WiFi over the cellular network for voice, SMS and data traffic. It was first introduced by Republic Wireless in 2012, providing an alternative, cheaper option over the traditional cellular network model, and ultimately resulting in lower priced contracts than existing MNOs (mobile network operators).
It is a disruptive technology. Using an Over-the-Top (OTT) app, phone calls and text messages can be transmitted through data – conceivably, it is no longer necessary to have a mobile phone or SIM with a contracted number of minutes and texts. It reforms users' dependency upon cellular networks, which are relegated to a supportive position, and enables users to play with sustainably large quantities of roaming data, with no impediment to appetite.
With growing demand, reliability of data is essential. MVNOs (mobile virtual network operators) are integrating WiFi First to improve their customer experience with cheaper byte-to-byte rates. Cellular support remains, but serves as a back-up in instances of low or no WiFi hotspot access.
Primarily, WiFi First networks offer a seamless blend of infrastructures and services, excluding neither's core benefits, and placing them in a priority order that benefits the consumer.
Why it matters
With apps and technologies such as Switchboard and WhatsApp providing VoIP (via WiFi calling) and integrated messaging services, traditional cellular contracts that include bundles of minutes and texts are on the downslope. We don't communicate through minutes and texts — we communicate through bytes.
New generations of mobile users do not regard text as a primary source of communication. Cellular texting does not offer the same interconnectivity as digital messaging apps and is, by current standards, antiquated, serving primarily as a B2C alert system (deliveries, appointments, etc.)
Data is the essential fuel of the mobile experience. And consumption isn't just growing – it's skyrocketing. More users are viewing video on their mobiles than ever, and online video content distribution (YouTube, Facebook, Twitch etc.) is supplanting traditional network television as the predominant distributor of content for millennials. Networks are reporting declining viewership numbers by the quarter[1] as users turn to on-demand TV, such as Netflix and Amazon, opting for an on-the-go viewing experience through their mobile phones.
According to Ooyala's recent global report, over half of video views are from mobile devices, and most of those originate from smartphones.[2] Over the next few years video streaming will be responsible for the largest growth in data usage – a rise from 0.83GB per user in 2017 to 2.85GB in 2021.[3]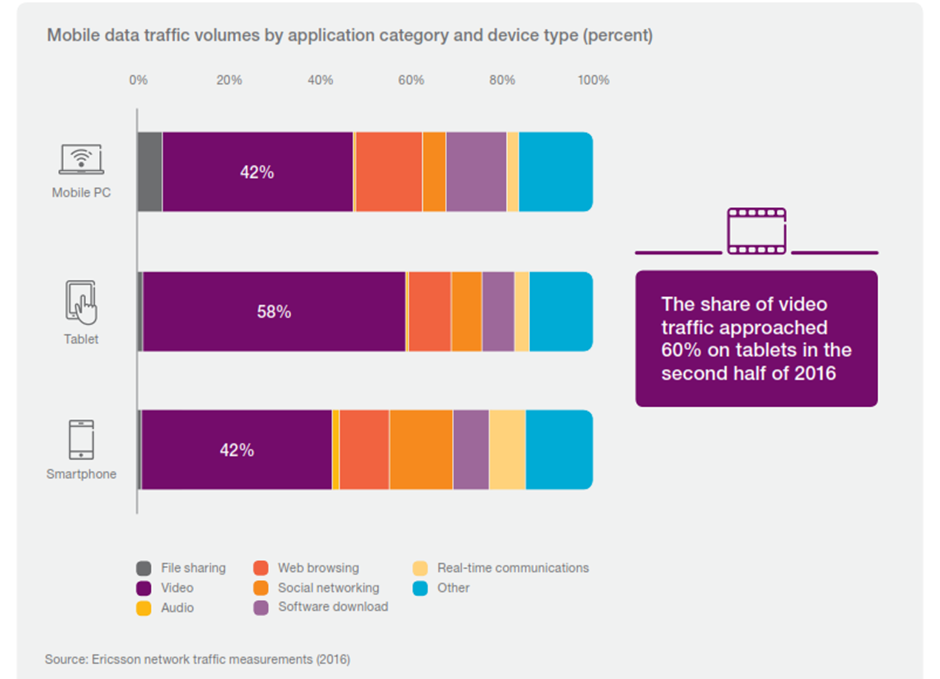 The video experience equates to the customer experience, which necessitates better resolutions and larger file sizes. In a nutshell, mobile users are requiring an unprecedented amount of data – and this isn't set to slow. To put the pace of growth in a broader perspective, mobile data traffic has grown 50% in the past 12 months to 7 exabytes.[4]
In response, mobile operators are offloading more traffic onto WiFi networks, facilitated by the rising ubiquity of WiFi access points. By 2020, it's predicted that they'll be an even split between traffic retained on network and traffic offloaded.
Broadband networks not only provide the bandwidth necessary to sate demand, but do so at significantly reduced cost to traditional cellular data plans using 3G or 4G.
The world's expansive network of WiFi hubs and hotspots is underutilised – even by the MSOs and mobile operators that provide and sell access to them. With services such as Mobilise Hotspots, which offers WiFi first capability to MVNOs without the need to deal independently with MNOs, existing infrastructure can be leveraged to provide an enhanced customer experience.
Who's using WiFi First
There's no business for which WiFi is not an integral component. But many are using WiFi not simply as a resource, but as an enabler for growth and improved customer relationships.
MVNOs are able to integrate WiFi First capability to offer a mobile-like experience to customers without relying on high wholesale prices for minutes, data and texts from MNOs.
Many are exploring the idea. Comcast, America's largest broadband provider have elbowed their way into the mobile operator battleground by offering a WiFi First service, Xfinity Mobile, across their existing web of hotspots, with Verizon as a fall-back provider of cellular services.
Meanwhile, Google are currently operating a proof of concept, Project Fi, which similarly uses a hybrid of WiFi and cellular networks, with the latter serving as contingency to the former. The service operates on the company's proprietary hardware – Nexus 6, Pixel and Pixel XL – and uses a combination of third-party networks.
Pros and cons
There's a reason uptake for WiFi First is spreading. But it's not without caveats. No tech innovation begins as a perfect whole, and WiFi First capability has yet to reach its potential.
Let's start with the cons.
WiFi isn't infallible. It's significantly more reliable than it was, but still bears a shadow of distrust. Whilst it's true that home networks perform better than cellular networks, security issues can arise when dealing with large congested public networks, with thousands of simultaneous users. WiFi First, however, part-way reconciles this by introducing VPNs (virtual private networks) to each connected user, providing a secure space that is isolated from other users.
A single WiFi connection can also be unstable; the essential requisite of WiFi First MVNO networks is that dynamic transitions between WiFi hotspots and from WiFi to cellular remains seamless, with no interruption to the user experience. That's why the quality of service capabilities within any WiFi First solution is an essential component and consideration.
And the pros.
WiFi coverage is massive. Mobilise Hotspots, for example, offers 60 million WiFi hotspots globally. Nine out of 10 people spend at least 19 hours a day within WiFi range, which attests to the viability of the WiFi First model.
WiFi is also a CRM tool. WiFi First networks enable MVNOs to control access, with the potential for custom branding and introducing default navigation and gateways. MVNOs become the lens through which users access the digital web – and therein anything is possible, including branding of access and appendage of logos to each content upload.
Lastly, and most importantly, WiFi First makes MVNOs competitive, providing they're able to secure favourable contracts. Using Mobilise Hotspots, MVNOs are able to bypass their dependency on MNO host operators for competitive wholesale data rates.
As long as the WiFi network used is large and comprehensive, MVNOs can offer significant reductions to the wholesale price of each GB, easily offsetting any additional cost of cellular usage.
WiFi already handles the bulk of mobile data – WiFi First is about introducing roaming access, to match the user experience of mobile operators. In fact, a recent BCG research study found that for some carriers and customer segments, more than 80% of traffic is offloaded to WiFi. [5]
WiFi First is the future of mobile networks. It's innovation that's yet to fully unravel, and the only sustainable solution to exponentially rising data demands. For MVNOS, it alleviates their dependence upon MNOs, and alongside a comprehensive hotspot network, enables them to become more competitive in a data-driven market.
[1]https://www.ft.com/content/e46dc7a4-b843-11e4-86bb-00144feab7de
[2]http://go.ooyala.com/wf-video-index-q3-2016
[3]https://www.giffgaff.com/sim-only-plans/campaign
[4]Ericsson Mobility Report 2016
[5]https://www.bcgperspectives.com/content/articles/telecommunications-will-wi-fi-first-really-disrupt-mobile-industry/