The twenty-tens saw some great advancements in the telecoms industry; smartphone penetration grew consistently contributing to the 'app-first' business model and transforming countless industries whilst providing access to innovative services for many. We had more choice in terms of device manufacturers with the likes of Huawei becoming a global powerhouse, creating much-needed competition to the market leader, Apple. 4G, as an access technology grew in penetration and core network vendor competition grew with Huawei, again, shaking up the market and offering a far more cost-effective deployment option. However, it was data, and all the consumer applications it enabled, that became the story of the decade. Consumers gave a clear indication of what they wanted from their service providers and it was a resounding data, data and more data. According to Ericsson, since 2014 alone, data consumption per smartphone grew 10 fold from an average of 2.5Gb per month to 25Gb per month driven by our insatiable desire for video.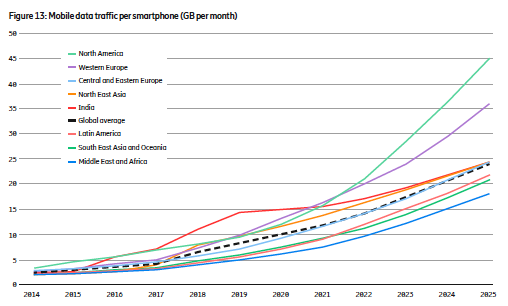 As we are all now well aware, this data consumption trend is only set to continue.
However, and if I am thinking critically, I would suggest this last decade can be classified as one of missed opportunity and negative trends for Telcos. We've seen outside innovation encroach on the Telecommunications industry most notably from OTT players such as WhatsApp, Viber and Facebook Messenger etc. All driving considerable substitution of traditional SMS and Voice. Here in the U.K. for example, since 2012 alone, postpaid SMS traffic per user fell by over half from 249 messages per user per month to 95. We also saw EBITDA margin decline significantly for the top European Telcos. We discussed this topic in our post Telecommunications is it a declining business model where we compare financial results for the top 5 operators in Europe: Telefonica, Orange, Vodafone, Deutsche Telecom and Telecom Italia who collectively reported operating profit that is 46% lower in 2018, than in 2010. This trend has also contributed to a wave of consolidation led by the likes of Hutchison, Liberty, Orange and T-Mobile and others. In some cases, this consolidation has led to stronger market offerings for consumers in other cases it could be argued that this M&A has resulted in reduced pricing competition and less products and services innovation.
In addition, particularly in Europe, over the last 10 years regulation has taken its toll on Operator margins. With the introduction of regulation to reduce inter-operator interconnect termination rates and also roaming charges, with Roam Like At Home (RLAH). RLAH has been claimed as a success for consumers but without doubt, has had a significant impact on operator margins. This has been almost catastrophic in the MVNO segment, to the point where many MVNOs, such as Voo in Belgium, have had to ask regulators for exceptions to RLAH regulation due to roaming becoming a loss-making product to the point where business failure becomes a real risk. In a regulatory context, the question I feel we need to ask is how much revenue and profit can be taken from operators before it starts to affect competition or the quality of services being offered or stifles investment in innovation. Telecommunication services underpin so much of our economy and as much as competition needs to thrive, regulatory intervention should also not jeopardise the availability or quality of those services which we rely so heavily upon. Regulator rant now over :).
We've also seen the disruption of many industries with the introduction of new app led digital-first business models using mobile technologies to provide a service more efficiently or conveniently. Think Revolut for FOREX and international banking or Uber for the taxi industry. In this second case, the mobile industry, with its customer relationships, location data and troves of user data, was well placed to develop, or at least be a key driver, of these revolutions but instead these services run over the top using the operator as a pipe only.
For me personally, the most notable trend over the last decade has been the increased rate of technological change. When I first started in the telecoms / IT industry (back in the 90's) a product change could take months to plan, approve, design and implement. Large projects such as the launch of a new product line like an MNO providing fixed telephony could take years to bring to market. The speed of change has improved over the last 10 years but still lags far behind other high tech industries. Telecoms companies now operate in an environment where many of their competitors and peers, such as OTT players, content players or those that make up the FAANG group of companies, will implement change in a matter of weeks, if not days. Many of the leading high tech companies, or companies that are similarly reliant on technology as telco companies, have a culture of willfully accepting that a high percentage of new product launches will fail, following the mantra of 'innovate fast, fail even faster'. In contrast, traditional telecoms companies have a culture of aiming for zero failure, failure means poor customer experiences or lost revenue and therefore should be avoided at all costs. It is hard to argue with this rationale; however, the result is that implementing change takes time. In some cases, this is to manage revenue risk in other instances delays can be a lack of flexibility in technology platforms. But regardless of the reason, given the rate of technological change today it feels like this zero failure approach is one that cannot survive in the long term. As the saying goes, the only constant is change!
Looking ahead, here are some thoughts around what we believe could be the big innovations and market movements for the decade to come.
AI and data analytics
Artificial intelligence, machine learning and data analytics are everywhere you look. These technologies are gaining pace in many industries, but it feels like they are in their infancy in Telecoms, despite it being a hot topic on the agendas of industry events for many years. The obvious use cases are things like AI in customer service, where bots respond to customer queries. Or data analytics providing price plan optimisation based on historic usage.
Thinking ahead, we consider more advanced use cases such as real-time cross-sell and upsell of products and services based on user actions, app analytics or usage patterns. Or perhaps customer query prediction where, based on real-time user activity or network performance data, for example, patterns can be developed to predict individual customer queries in real-time and proactively make contact with a series of FAQs or specific resolution instructions. Even further, and GDPR aside, combining telco data sets with other industries such as banking, retail or aviation to create richer insights.
However, the challenges to monetise telco data are still significant. These are not least due to a skills shortage in the telco data science field but also the issue continues to be one of organising and analysing the huge amounts of data that a telecoms operator generates. This is not a new challenge bit I sense the struggle for operators today is still confined to organising and then actioning traditional data sets such as network data, xDRs, faults or payment data. This is before trying to include, correlate and action digital data such as web, app or social data insights for a single user. The data insights opportunity continues to be hugely exciting and lends itself to new revenue streams, but it is not without its challenges, which most notably, in my opinion, are operational obstacles.
Digital Transformation
Certainly not new, and possibly at risk of sounding like a broken record for mentioning it but we do anticipate continued investment in digital transformation. It is a wide subject but some areas of note that we see could be impactful over the next 10 years are zero-touch network management, e-sim, sales automation and zero-touch activation.
Zero-touch network management
There is most certainly a trend underway around digital transformation and the digitisation of traditional processes and business functions but one that is very interesting is zero-touch network management. Network operations management still requires considerable human involvement where actions are reactive rather than proactive. An example is the challenging effort to ensure efficient and sustainable network expansion to support the evolution of consumer demands by adding more capacity, devices and new sophisticated services. The overall aim of zero-touch networks is for machines to learn how to become more autonomous so that we, humans, can focus on what we're good at – performing more complex tasks that require deeper understanding. Utilizing zero-touch networks saves time, reduces cost and decreases complexity. A system that is capable of learning how to perform a sequence of tasks is useful in almost every scenario. There are growing possibilities for making the network more automated and intelligent. When the traditional management tasks become automated and network nodes become more intelligent, it opens up the ability to steer the network with KPIs that optimize for business performance.
eSIM
eSIM has been around for donkeys' years but it's the introduction of support across the major device manufacturers that has now meant the technology is a mass-market opportunity. We've been actively working on an e-sim solution for the last 6 months and personally, I think this will be one of the most transformative technologies we've seen in the industry for at least the last two decades and probably the next decade.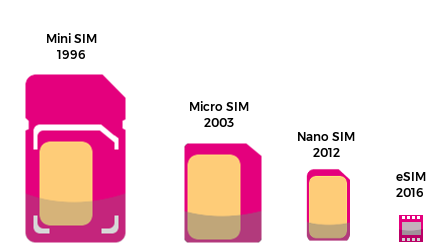 Not only does e-sim facilitate new business models but it also breaks the control that operators have on subscribers. In a matter of minutes, a user can provision and start using a new service. Comparing this to the sales activation process at the start of the last decade where most onboarding journeys would involve visiting a retail store or waiting several days for a SIM to arrive in the post. The opportunities for cost efficiencies in the supply chain are significant. It is slow going however, there are still some barriers to e-sim such as the app store process being quite controlled, there is a considerable vetting process that takes place and you must be an MNO. The QR code solution designed by GSMA, in my opinion, is quite clunky, like for example the user needs an internet connection to receive the QR code but in many cases, a user is purchasing the SIM to gain access to the internet. There are some User Experience quirks to evolve, as with any technology, however, the technology is now gaining sufficient adoption to be a mainstay in the industry going forward.
Network cost optimisation
We wrote an article recently questioning whether the telecoms model is broken, The digital divide: Is the Telecoms model broken, in which we question the current mobile operator cost model particularly as it relates to the viability of deploying mobile networks in remote and rural communities where ROI is difficult to achieve due to available subscribers. The underlying problems primarily relate to costs for deploying base stations, backhaul and less directly the cost of regulation such as licensing and spectrum fees.


Source: GSMA
The issue is not trivial when you consider that today almost half of the world's population do not have access to good or reliable ICT services. When we look at the key problems as mentioned above, there are early signs that these issues can be addressed with initiatives such as CBRS & OpenBTS which is making radio equipment open source and much more accessible. OpenBTS has been around for a long time but it is the progress by regulators to open up spectrum such as the CBRS initiative in the US and Shared Access and Local Access licences initiative here in the U.K. The combination of equipment and regulatory support is what can reduce barriers and drive meaningful innovation, including innovate cost models, in the access part of the network. The RAN is just one component but when you combine this with advancements in Satellite technology such as Starlink leading the LEO satellite industry, where large constellations of satellites can provide high-speed broadband on a global scale (once the full constellation of 30,000 satellites is launched). The business model for Starlink, as an example, seems to be direct to consumer however I see an opportunity to use satellite as a means for backhaul to remote areas. At $300-400 per device, the cost of ground receivers is still prohibitively high to provide direct to consumers in low-income areas. I see a potential connectivity solution where the satellite is providing backhaul, coupled with a low cost RAN solution deployed to provide macro cell radio access and with users accessing services with feature phones or low-cost smartphones. Overriding this is the question of supplying power to the base station, still a significant challenge to overcome.
M&A and consolidation
Finally, as we have seen throughout the last decade, I believe M&A and consolidation will play a big part in the next decade. As operators continue to look for synergies and cost-saving opportunities to deal with a shifting industry so also will some operators need to find economies of scale to maintain margins and evolve with an industry where consumer demand is constantly changing.