Apple's annual product launches are highly anticipated events, generating excitement and speculation about what ground-breaking features the company will introduce.  
This year was no different, as the rumour mill buzzed with whispers of a revolutionary change: the iPhone 15 going eSIM-only for countries outside of the US.  
Many enthusiasts, ourselves included, were eager to see how Apple would embrace this innovative technology and streamline the user experience. However, the disappointment was palpable when the latest iPhone model was unveiled and contradicted the rumours. So, why the let-down?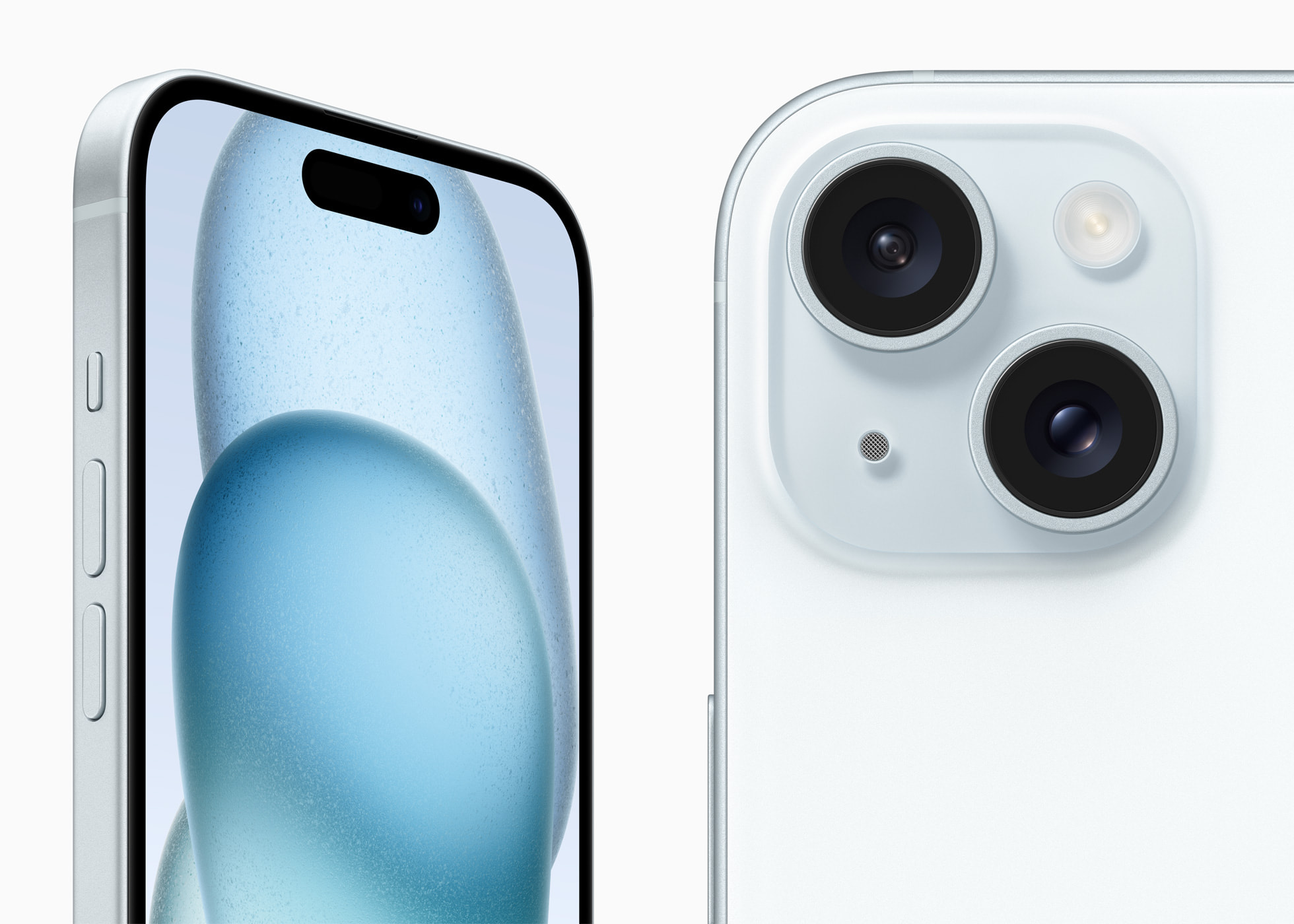 The eSIM-only feature hasn't expanded its reach, but why?
The answer lies in the missed opportunity for Apple. As rightfully noticed by Telecoms.com, "there has been little true innovation in the smartphone space for years".  
Last September, the media was buzzing with the news of an eSIM-only iPhone, and users started exchanging eSIM tips and tricks and getting used to the new technology. Operators in the US (and beyond) were pushed to launch eSIM offerings, triggering the highest adoption of eSIM technology we've seen so far. 
Apple itself has publicly cited many benefits of the eSIM approach, including greater security as they're irremovable, with the ability to manage eight eSIMs from one device, and having two eSIMs active at the same time.  
For consumers, this changes the entire mobile experience. Say goodbye to troublesome travel and the need for different devices for work and personal matters — users can just switch to a different SIM card in as little as a few taps.   
Going eSIM-only benefits everyone – the device manufacturers, consumers, and operators. If there are so many benefits, then why hasn't Apple rolled out eSIM-only beyond the US? 
eSIM awareness and adoption
The most likely reason is low eSIM awareness.  
There are two players in the value chain that drive consumer eSIM awareness — device manufacturers and operators. And both aren't doing enough to boost the awareness and adoption rates among consumers. 
The most recent GSMA data from 2022 suggests that less than 30% of consumers worldwide are aware of eSIM. That means that consumer awareness of eSIM has increased by less than 10pp between 2020 and 2022, much lower than anticipated. 
However, consumers are willing to use eSIM when aware of the benefits and the streamlined experience it offers. So, what are device manufacturers and operators doing wrong? 
Device manufacturers
A recent GSMA Intelligence report revealed that just 15% of consumers learned about eSIM from a device manufacturer. Another report suggests that out of 74% of consumers with eSIM-only smartphones, only 32% were aware that their device had such functionality.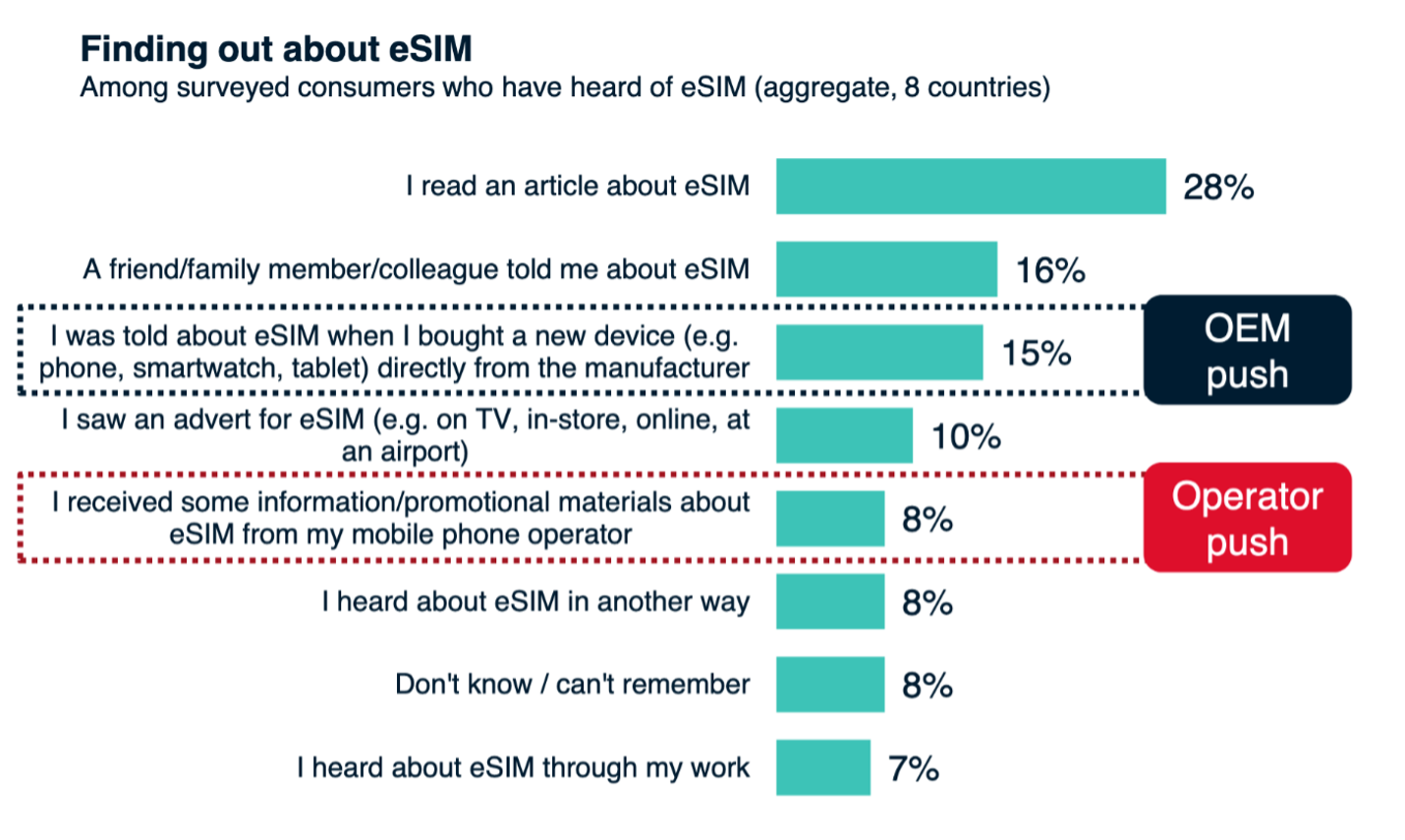 It's clearly visible that device manufacturers are doing a poor job of promoting their products' eSIM capabilities. 
This comes as a surprise, especially when data confirms that 81% of consumers, on average, are in favour of eSIM-only smartphones. 
Furthermore, 51% of consumers think that if Apple favours the eSIM-only approach, it's the future of mobile phones and only 19% aren't ready for eSIM (the remaining 30% is currently undecided). 
Mobile operators
The same report found that 15% of consumers learnt about eSIM from their device manufacturer and revealed that only 8% discovered eSIM through their mobile operator. 
Operators are playing a dangerous game with eSIM. Scared of customer churn and the decrease in the roaming revenue stream, they do very little to promote eSIM and its benefits.  
The more strategic operators have already launched eSIM but barely talk about it on their websites or marketing collateral. Others haven't launched it at all. According to the most recent figures, only 20% of operators globally support eSIM.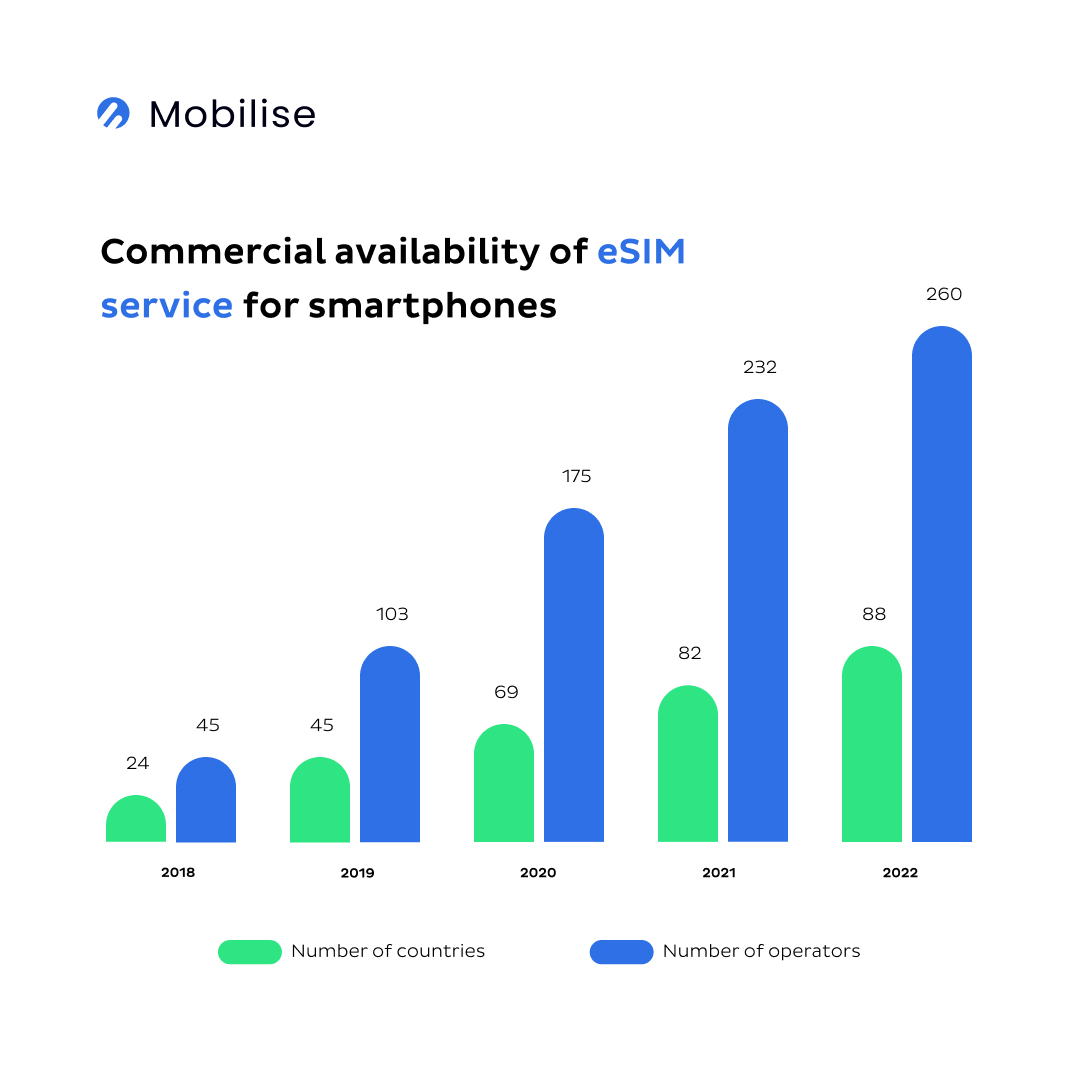 There's a high chance this strategy will backfire. Our recent research found that there are over 60 eSIM-only apps that emerged after the introduction of eSIM to the consumer market. Most of them offer data-only bundles and are targeted at international travellers. However, they seem to attract local consumers too. 
They not only boost the eSIM awareness among consumers, but also take the roamers for themselves by offering them a more streamlined experience and much lower data rates. The most popular one, Airalo, has recently raised $60 million in funding and, with nearly 1 million downloads monthly for the past three months. Making Airalo, and other eSIM-only apps, a force to be reckoned with. 
Nothing motivates operators more than a clear churn risk. But the combination of being afraid of eSIM and an inability to adequately support a new generation of consumers and travellers is a customer experience disaster waiting to happen. 
Conclusion
While the decision to not go eSIM-only outside of the United States may be rooted in various logistical, regulatory, or market-specific considerations, it's still a huge opportunity lost for Apple. Delaying the adoption of eSIM for not only consumers outside of the US, but for operators and other device manufacturers too.  
A company that pressed the most to introduce eSIM to the consumer market before it was eventually approved by the GSMA in 2016 is now scared to make the next step in making the eSIM the new norm. Oh, how the tables have turned.  
While Apple's eSIM-only shift hasn't happened this year for Europe, it's still coming. Operators and consumers alike need to prepare for how it will impact telecoms as we know it, making a slicker, sleeker, and more intuitive experience. 
Perhaps we'll see the global adoption of eSIM technology in future iterations, providing users with the convenience and flexibility they deserve. Until then, the tech world will be watching and waiting for the next big leap in smartphone innovation.