Last year was a strange year, to say the least. In the telecoms industry, we note an exceptional level of consolidation activity in the MNO and MVNO space. In this post, we breakdown some of the key consolidation moves from 2020. We also talk about what these transactions tell us about broader macro trends in the industry.
Lyca Mobile – MÁSMOVIL

Deal Summary
Lyca Mobile Spain was acquired by MÁSMOVIL in March 2020. MÁSMOVIL paid a cash consideration of approximately €372 million for the acquisition of Lyca, which was financed with debt. The payment was to be spread in three instalments:
€307 million to take place at closing,
€30 million in six months after closing and
a final payment of €35 million twelve months after closing.
The value per subscriber equated to €306.
Key Rationale
MÁSMOVIL has a long track record of acquiring MVNO companies to reach their growth targets. The immediate and obvious synergy is moving wholesale traffic to the MÁSMOVIL network, as one of the largest cost centres in any MVNO's P&L, MÁSMOVIL can immediately, and significantly, improve Lyca's profitability.
Secondly, MÁSMOVIL has all but cornered the value end of the market in Spain with the company already acquiring key brands such as Lebara, Llamaya, Yoigo and Pepephone which has given them a dominant position in the market. Finally, from a group level, the addition of Lyca's revenue and subscribers also helps to better MÁSMOVIL's overall performance KPIs.
In summary, some key cost synergies include:
Reducing Lyca's wholesale costs and improving its operating margin by moving wholesale traffic to MÁSMOVIL's network
Reducing G&A expenses by combining operations and management teams
Both of these were expected to achieve c€30m in synergies. That's a significant amount on a business that was generating €137m in annual turnover.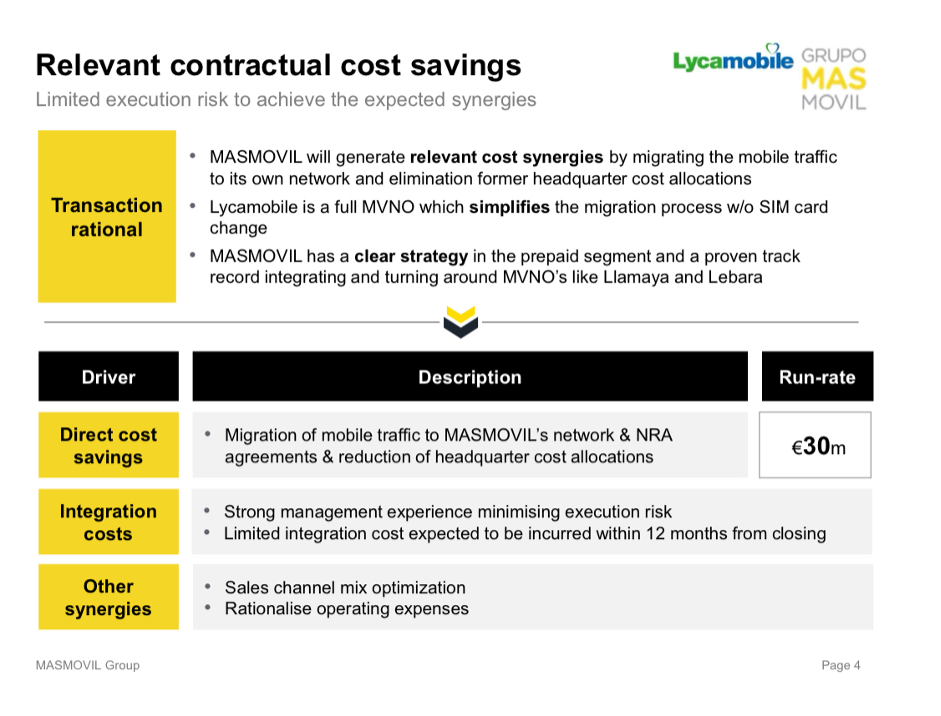 O2 and Virgin UK merger
Deal Summary
In May 2020, Liberty Global and Telefónica announced a merger of their UK operations. The deal values the two businesses at a combined £31.4 billion (US$38.9 billion) and creates a fully "converged" operator to challenge incumbent BT in the market for mobile and fixed broadband services. The 50:50 joint venture unites Telefónica's O2, the UK's biggest mobile operator, with the Virgin Media cable business owned by Liberty Global, generating about £11 billion ($13.6 billion) in annual sales.
Key Rationale
The JV offers Telefónica and Liberty Global an opportunity to realise cost synergies and service the not insignificant debt pile Telefonica are trying to reduce. Telefónica believes that more than £1 billion revenue growth will be available from the bundling opportunity as part of this merger.
An O2-branded dual or triple play bundle offering could also be launched as part of the merger. This could be marketed under the O2 brand but would also be a good fit for GiffGaff at the value end of the market. As we show in our infographic O2 is one of the only MNO's in the market that is not doing something in fixed or fixed wireless broadband space, so this tie up moves O2 from an outlier in the FMC arena to a potential front runner.
OVO Mobile – Amaysim
Deal Summary
In June 2020, Amaysim bought OVO Mobile for AU$15.8m to add 77,000 customers to their subscriber base. At AU$15.8m for 77,000 customers that gives a value per subscriber of AU$205. OVO's acquisition trail includes Vaya (140,000 subscribers) in June 2016 and Jeenee Mobile (41,700 subscribers) in 2019.
Key Rationale
The Australian market has experienced fierce competition in recent years. Significant pricing discounts have been offered by most service providers with a particular focus around data pricing. The market has high penetration rates and strong competition, meaning acquisition of complementary businesses is an alternative route for Amaysim to grow its customer base. It is also likely that Amaysim was able to achieve additional cost efficiencies in its wholesale agreement with Optus by bringing OVO's wholesale traffic and therefore also improving the profitability of OVO's subscribers.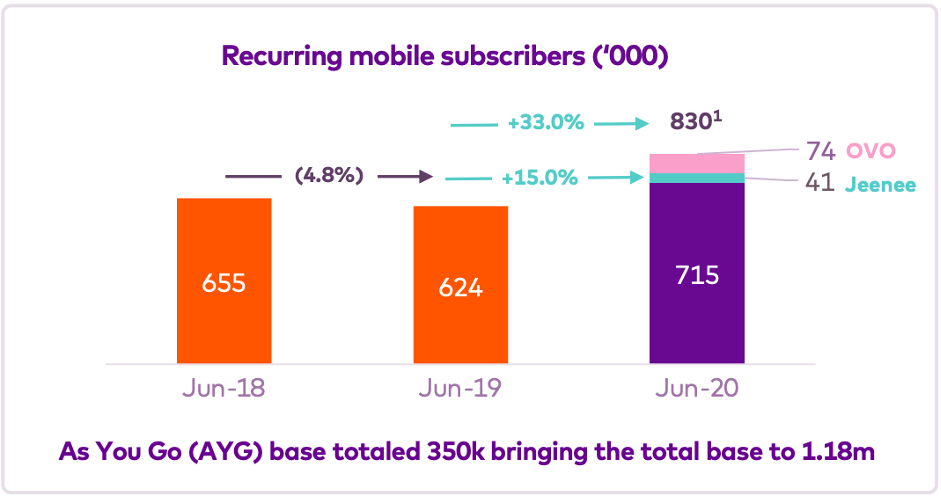 Euro-Information Telecom – Bouygues
Deal Summary
In June 2020, Bouygues Telecom announced its intention to buy out Euro-Information Telecom from Crédit Mutuel. EIT is France's largest alternative telecoms provider. EIT operates 5 MVNO brands: NRJ Mobile, Auchan Telecom, CIC Mobile, Credit Mutuel Mobile and Cdiscount Mobile with a total of 2m subscribers. The deal was constructed with a performance earnout:
€530m on closing and
between €140m and €325m depending on success criteria being achieved.
This gives a subscriber value of €335 per subscriber at the bottom or €427.50 at the top.
Key Rationale
Bouygues Telecom said the deal was expected to bolster its customer base by more than 2 million. Additionally, it should expand its distribution network via the tie-up with Credit Mutuel. Bouygues stated a key strategic element in the acquisition was to gain access to Crédit Mutuel's distribution network with over 4,200 CIC bank branches.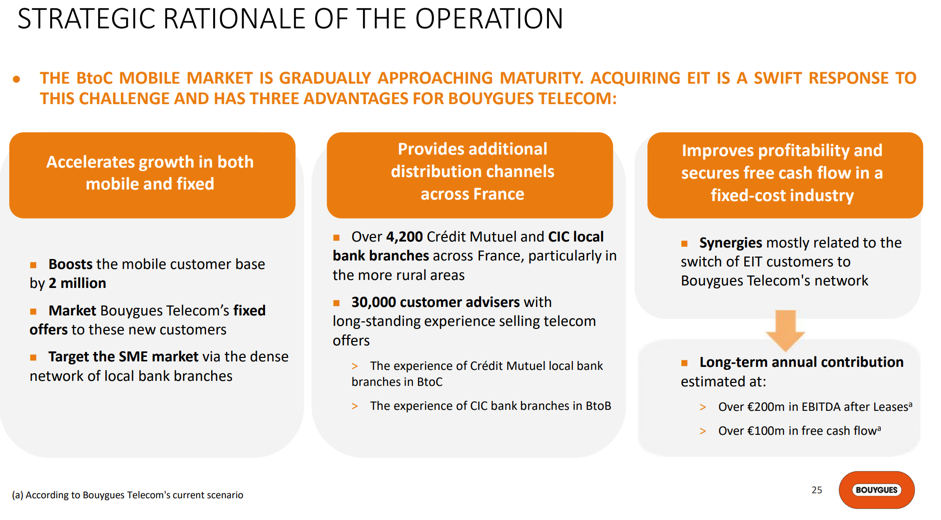 Boost Mobile – Dish
Deal Summary
Dish, on July 1, 2020, finalised the $1.4 billion acquisition of Boost Mobile. The divestiture of the MVNO was a remedy condition of the government's approval of the T-Mobile/Sprint merger. As part of the deal, Dish "gets a seven-year wholesale agreement allowing it to sell T-Mobile wireless service under the Dish brands", Bloomberg reported. Dish acquired about 9 million prepaid subscribers. At $1.4 billion valuation with 9 million subscribers the per subscriber value of $155 was comparatively low.
Discussions around the industry have suggested that the Boost business was quite unhealthy in many respects. These discussions suggest a large proportion of inactive customers, lack of innovation in products, services and marketing and a struggling retail distribution function. The latter worsened by impacts related to the pandemic. Indeed, there were suggestions at one point during negotiations that Dish would walk away from the deal altogether. In simpler terms, that will give Dish wide and clear access to T-Mobile's network as it tackles the time-consuming process of monetising its own infrastructure. T-Mobile is also on the hook for three years of operational support as prepaid customers make the transition to becoming Dish customers. All in all a pretty good deal for Dish.
Key Rationale
The acquisition of Boost gives Dish a substantial initial customer base and revenue stream when entering the US market. As mentioned, when Dish turns on its own network, it will be able to pull those customers across and realise network utilisation. It will potentially also improve its unit economics for those Boost subscribers, depending on the wholesale terms Boost had with Sprint. With the acquisition of Boost, Dish also gains access to Boost's extensive network of distribution partners. This marks a key channel to support driving additional customer acquisition in the future. Dish also owns a large amount of wireless spectrum which it has never used. Some reports indicate it could be valued near $30b. Dish has been coming under increasing pressure to make use of the scarce resource or offload it.
The deal with T-Mobile and Sprint gives Dish the opportunity it needs. With its pay TV business underperforming, Dish has had several quarters of negative customer growth. This will set the company on a whole different course. Immediate opportunities have been to shake up Boost Mobile's pricing, which was done with the introduction of several new tariff plans. Long term we'd expect that Dish will look to offer bundled services with its Pay-TV business.
Ting – Dish
Deal Summary
In August 2020 Dish and Tucows announced that Dish has chosen Tucows as a technology partner for its retail wireless business. Tucows at the same time made the strategic decision to offer Mobile Services Enabler (MSE or MVNE) solutions, beginning with Dish. As part of this agreement, Dish has also acquired Ting Mobile assets, including customer relationships.
The per subscriber value has not been disclosed for this transaction. Nevertheless, we thought to include it in our list because of the unusual deal structure. There is no upfront cash consideration. Instead, Ting will receive an ongoing fair value earnout for the life of those Ting customers. Ting believes that it will lead to better profitability per subscriber long term. Ting/Tucows will continue its move to becoming a Mobile Service Enabler and Dish will be its first customer.
As for acquiring Ting Mobile subscribers, New Street analysts didn't attribute much value to the move. It noted ARPU of $37, churn of 3.25%, gross margins of 60% and subscriber acquisition costs below $100.
"We estimate these characteristics would support a customer lifetime value of $583, or a valuation of nearly $160MM for all subs; however, the subscriber base has been declining, reaching 4% declines in 1Q20, so this valuation may be optimistic," wrote Chaplin.
Key Rationale
The primary strategic value in the deal seems to be Dish buying into Ting's backend systems. This includes billing, CRM, provisioning etc. and operational know-how. This will likely aid in supporting Dish's retail business but more importantly its plans in wholesale access services. Dish has mentioned on numerous occasions, it sees a considerable opportunity in that market.
PLAY – Iliad
Deal Summary
More M&A activity with Iliad setting its sights on Play in a deal involving both cash and debt valuing Play at an enterprise value of around €3.5 billion. Play with its 15 million customers, gives the deal a per subscriber value of €233 using enterprise value, which is quite in line with recent comparable transactions.
Iliad appears to be financing the transaction predominately with debt as its leverage ratio will increase from 2.2x to 3.2x following the transaction. Iliad state they will continue Play's existing plan to sell its tower infrastructure. The proceeds will likely be used to pay down some of the debt taken to facilitate the purchase.
Key Rationale
Iliad has a reputation for undercutting the competition with aggressive pricing strategies, as they did in France, Italy and later Ireland with their sub-brand GoMo via Eir. We can expect a similar strategy in Poland, albeit the Polish market is already quite price competitive versus those markets where Iliad has previously adopted this strategy. Only time will tell if this strategy proves successful. Iliad could also look to bring its expertise in fixed-line voice and broadband and launch a triple play offering given Play is mobile-only.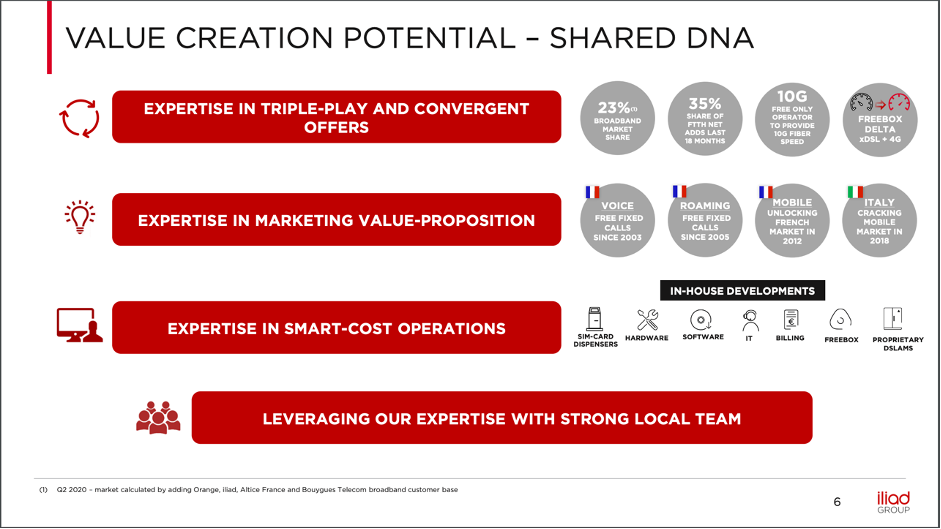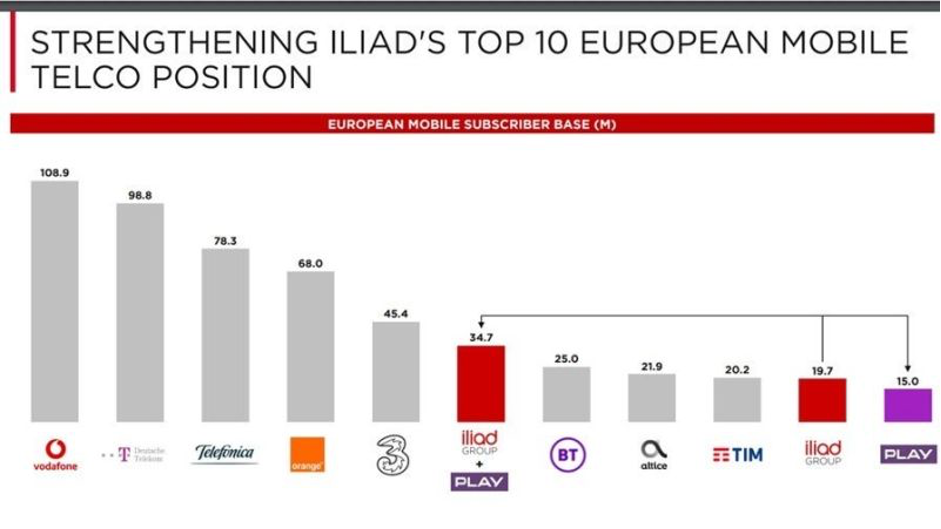 Tracfone – Verizon
Deal Summary
In September 2020, Verizon announced its intentions to acquire Tracfone Wireless from América Móvil for $6.25b. Another major consolidation play in the US wireless market with the world's largest MVNO to become part of the largest US carrier, Verizon. The deal will include $3.125 billion in cash and $3.125 in stock at a value of $297 / subscriber. The total deal value is lower than TracFone's 2019 revenue of $8.1b, and the per sub value is arguable low given the maturity of the TracFone business and size of the customer base. As mentioned, the fact that the Tracfone brands have traditionally been high churn and low ARPU, we suggest these are key drivers for the lower valuation.
Key Rationale
For years, Verizon appeared to bend over backwards to avoid the prepaid segment, where service plans traditionally targeted the cheaper end of the market and customer turnover runs higher. The acquisition expands Verizon's portfolio into the value segment, bringing enhanced access to its industry-leading wireless network and comprehensive suite of mobility products and services to a new customer base.
Tracfone is the largest reseller of wireless services in the US, serving approximately 21 million subscribers through a network of over 90,000 retail locations nationwide.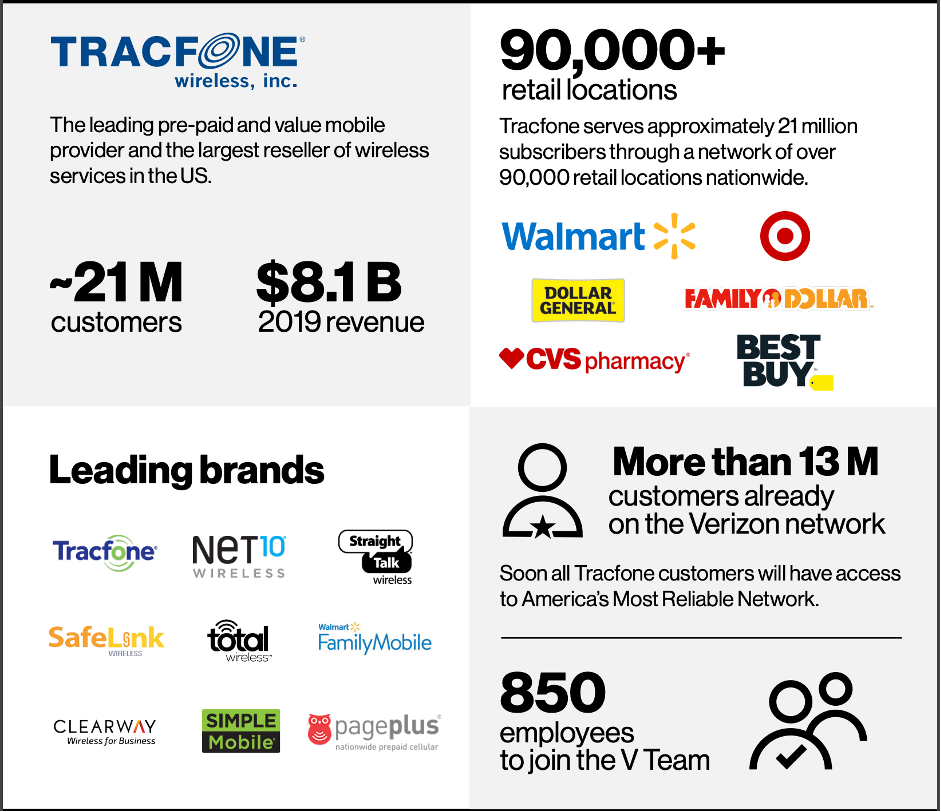 Amaysim – Optus
Deal Summary
The MNO Optus has announced an all-cash offer for Australia's largest MVNO Amaysim. Optus offered AU$250m for Amaysim's 1.19m customers, giving a value of AU$210 per subscriber. A 5% premium to the 30th of October closing share price, slightly lower per-user than the average for other recent comparable transactions but similar to that which Amaysim paid for OVO Mobile several months previously.
Key rationale
Optus state the acquisition will strengthen its position in the value end of the market, however, I suggest that a big part of the deal for Optus is defensive in nature. Amaysim has been vocal about tendering out its wholesale agreement after their deal with Optus ends. Rather than risk losing a significant amount of wholesale revenue to one of its MNO competitors, Optus acquires the entire business securing the revenue and owning the largest challenger brand in the market. The Australian market is also hyper-competitive, but with the removal of a few key players, pricing might stabilise medium term.
Mobile Vikings – Proximus
Deal Summary
Belgian telco Proximus has announced that it has signed a definitive agreement with DPG Media to acquire Mobile Vikings, which also includes the JIM Mobile brand. The transaction is valued at EUR130 million or a whopping USD468 per subscriber considering Mobile Vikings 335,000 subscribers. A very high per subscriber value versus recent comparable transactions, even considering high ARPUs in the country.  Completion of the deal is subject to the approval of the Belgian Competition Authority. However, Proximus expects to close the transaction in 2021.
Key Rationale
Founded in 2007, Mobile Vikings targets the data-hungry youth segment and will strengthen Proximus's position in this space. Proximus noted that the acquisition will enable it to target a different market segment from the core Proximus and Scarlet brands. It will provide a boost to its "multi-brand positioning" in the Belgian residential market. Proximus will no doubt also be happy to be taking Belgium's largest MVNO from its MNO competitor, Orange. Proximus will also be able to improve the profitability of Mobile Vikings through a reduction in the wholesale cost.
Wrap Up
It does feel like the last 12 months saw significantly more consolidation activity than in other recent years and this gives the sense that there is a shift taking place in the industry. The key drivers for this consolidation, as we see them, is the simplification of retail pricing towards unlimited plans and the saturation of markets. Unlimited plans mean standalone mobile-only players or players that differentiated with niche or complex offerings, such is often the case with MVNOs, are finding it harder to compete. In saturated markets, organic growth becomes challenging, and therefore a natural path to achieve growth is via inorgainic means such as an acquisition.
Since many markets have seen significant consolidation of key market players, it will be interesting to see how this affects innovation and pricing competition in the future.  I'm particularly interested to see how some of those more active markets evolve, for example, Spain.
From our list above that the most common drivers for acquisitions revolve around:
A way to achieving subscriber and revenue growth in saturated markets
Driving cost efficiencies and profitability improvements by aggregating wholesale traffic
Strengthening market position by consolidating the number of market players