The telecommunications industry is brimming with untapped potential. With the dynamic nature of customer expectations, service providers (SPs) now have the potential to understand their clients better than ever before. Today, digital customers and customer experience (CX) are the leading factors in driving customer loyalty and in turn, revenue growth. SPs will need to be quick to adapt, provide a more personalised experience, and embrace data-driven technologies if they are to survive and thrive in a CX-focused landscape. 
The rise of the digital consumer
Digital natives are raising consumer expectations, creating direct and indirect competition for telcos of all sizes. Telcos face pressure from other adjacent competitors in addition to the SPs that have successfully appealed to digital customers. Over-the-top (OTT) service provider giants like Netflix, YouTube and Spotify have all embraced the digital era and have adapted to their ever-changing demands. Through features such as 24/7 customer service through multiple different channels and highly analytical personalisation, these brands continuously achieve high-quality CX.  
Thanks to this, end-users have come to expect a premium frictionless and simple level of CX in every interaction they have as the standard. Telcos must prioritise and put CX at the forefront of their agendas to provide the experience their customers expect, to be able to differentiate in the industry and compete with the likes of Netflix and Spotify. 
But what makes digital natives different from the previous generations of consumers? Previous generations are moulded by the context of their upbringing as found by McKinsey & Company. Baby boomers (1940 – 1959) typically demonstrate consumption as an ideological expression. Gen Xers (1960 – 1979) consume for status while Millennials (1980 – 1994) consume for experiences. On the other hand, Gen Z's main driver of consumption is the desire for truth, both personally and communally.
They are comfortable with having more than one way to express themselves. And their pursuit of authenticity leads to greater freedom of expression and increased openness to understanding different types of people. Millennials and Gen Z consumers are now becoming a powerful force in the economy, and according to a report by Clearpay, they account for 25% of the total retail spend in the UK. And ignoring their needs can be fatal to telcos, even at a B2B level. 
Source: McKinsey & Company
What makes the 21st-century consumer?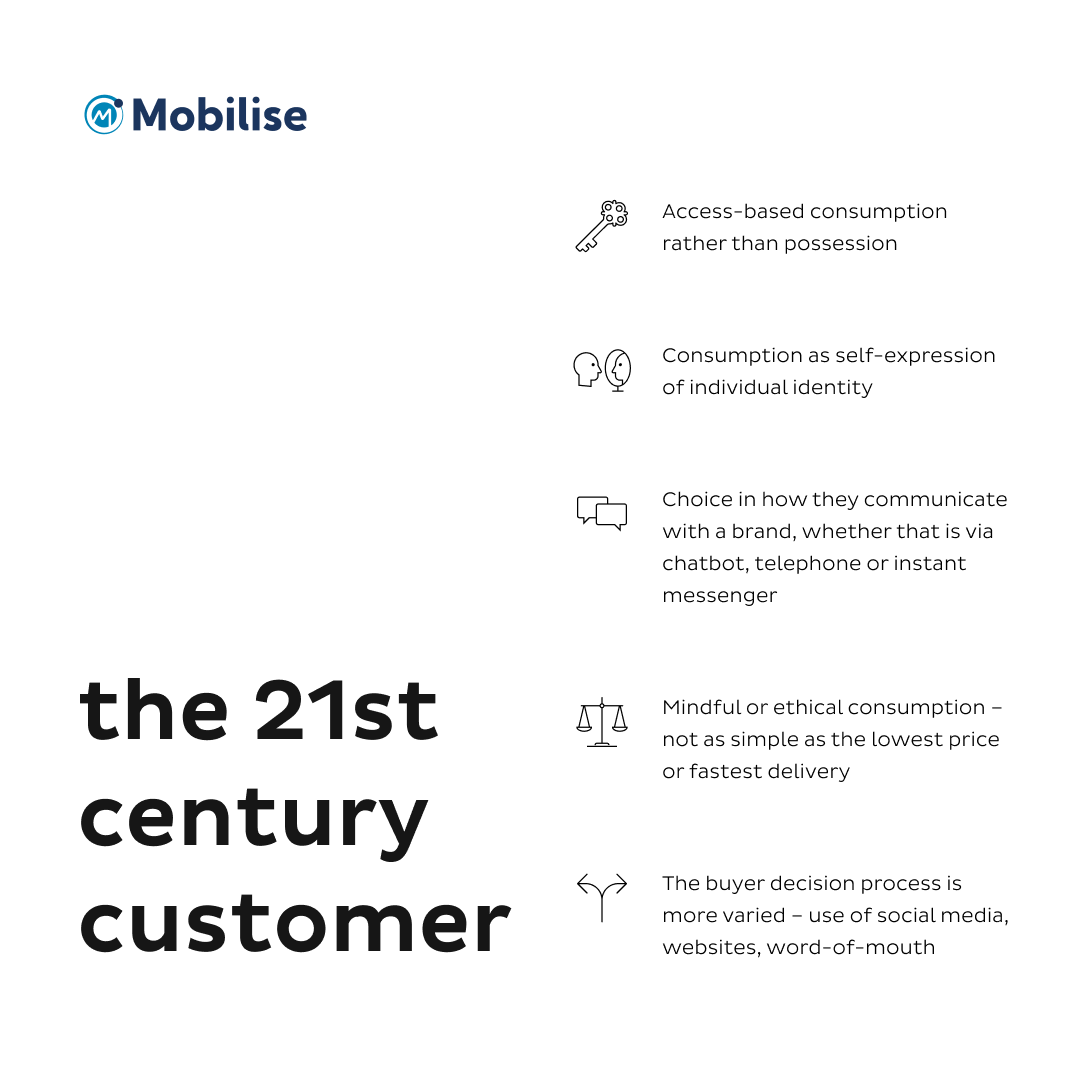 With the increased buying power of both Millennials and Gen Z consumers, the modern consumer is an amalgamation of both these generations. And they're leading the consumer behaviour transformation that telcos are grappling with. 
Shoppers' days of asking in-store sales associates for help could soon be a thing of the past, according to the latest Global Digital Shopping Index from PYMNTS.com and Cybersource. Of the six nations the index surveyed, it found that 34 per cent of consumers used their smartphones to assist their in-store shopping journeys, whether that was to check prices, access coupons or even locate items in-store. 
The index revealed that 16 per cent more merchants allow users to set up digital profiles that are accessible across multiple devices. And 17 per cent more support mobile features that consumers can use to enhance their in-store shopping experiences than did so in 2020. The decreasing popularity of retail stores isn't anything new, but the past two years' events have certainly accelerated the decline. 
The convenience of e-commerce has had a lasting effect on the telecoms industry. In May 2021, electrical retailer Dixons Carphone announced that their Dixons, PC World and Carphone Warehouse brands will disappear from the high streets as part of their rebrand to Curry's. Virgin Media also announced it would not reopen 53 of its high street stores after the pandemic. 
Forced store closures during the pandemic's peak meant that e-commerce became the only option for both consumers and retailers. Telcos were left with no choice but to digitalise their retail operations to offer their customers an alternative way to shop and purchase hardware and mobile plans. Thus, reinforcing the idea that consumers should rely more and more on digital avenues for telecoms products and services. 
Becoming digital-first
"Digital-first companies are 64% more likely to achieve their business goals than their peers"
-Adobe
Digital transformation in telecom is no longer an option, but a necessity to survive in a digitally dynamic world. Telcos need to put digital at the forefront of their efforts and improve CX to be able to effectively cater to the 21st-century customers' needs.
The telecoms industry is at the centre of our increasingly digital world — allowing for smooth communication between both people and devices. Facilitating the digitalisation of other industries and the entire world, it's important that telcos maintain the level of digitalisation that they are enabling in their operations, products, and services. 
A 2021 report from the Technology Innovation Council, commissioned by mobile technology specialist Upstream, shows that almost two-thirds (65 per cent) of telcos have developed a roadmap for their own digital transformation. The report also delves deep into the key benefits of digital transformation: 
66 per cent believe cost reduction via automation is the greatest advantage

 

Improving the customer experience is hailed as the best benefit by 59 per cent of telcos

 

46 per cent favour improved revenue growth as the biggest boon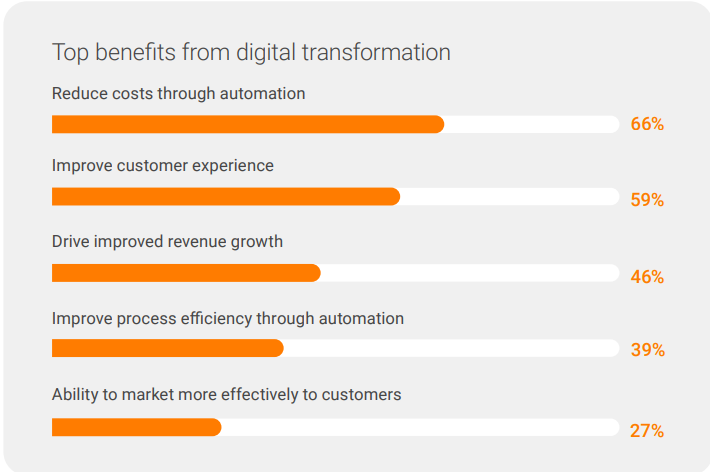 Source: Upstream
Alongside these benefits, consistent digital experiences throughout the customer journey can produce significant results. It's possible to decrease expenses and boost client satisfaction and digital sales. 
But being digital-first isn't simply bolting on a chatbot to your website's customer service section. Nor is it to minimise the crucial part that human operators play in service delivery. It involves making a vital switch — placing digital interactions as the first line of customer support, enriched by human expertise when required. The results are quicker and more personalised customer outcomes, better customer insight, greater flexibility, and the ability to operate with more agility. Ultimately, the only real way to satisfy digital customers in the modern era is by adopting a digital-first strategy. 
Digging deeper into data and personalisation
84 per cent of consumers say being treated like an individual, not a number, is critical to preventing customer attrition. Offering a personalised CX is essential to preventing telco churn but having access to the right data is essential. Customer demands and expectations are becoming increasingly specific. Superb service for one customer could be sub-par to another, so having the ability to cater to different preferences and requirements is key to standing out. 
To simplify how personalisation is executed, SPs should invest in a solution that enables easy creation and management of customer experiences. Mobilise's HERO is a fully customisable digital-first platform that allows SPs to develop bespoke user interfaces, using business-specific modules. The Self-Care Environment enables users the control to buy and manage service subscriptions without the help of a call centre agent, using a personalised chatbot instead.
eSIM enables the new generation of digital customer
Flexibility is the driver for the digital customer. And eSIM is a truly transformative technology. It provides an opportunity to deliver a fully digital customer onboarding in telecom. Furthermore, the whole process takes minutes instead of hours or days to complete. And it's all possible thanks to remote SIM provisioning, in particular, eSIM in-app activation. 
Mobilise offers both eSIM and eKYC as services to enable SPs' digital transformation. Electronic Know Your Customer, or eKYC is a remote, paperless, and real-time process. It minimises the costs and bureaucracy necessary in traditional KYC processes. And it facilitates the completion of verifying your customers' credentials through their smartphones and your self-care app. It enables Service Providers to gain a competitive advantage and diversify their value proposition. All the while minimising costs, timelines and project risks. 
Conclusions
Customer expectations are not what they were two years ago. Digital consumers expect frictionless digital services, and SPs need to make the leap. 
Change isn't easy — much of what holds SPs back is the fear of the unknown. However, the majority of SPs are closer to embracing digital CX than they may think. All companies have access to data. But they need to integrate smarter ways of capturing and managing it to meet customer expectations for a digital, personalised service.