Last week, we had the pleasure to host a webinar ​with Oasis Smart SIM and ARIADNEXT, where we discussed the most common mistakes made by telcos when implementing eSIM. The presentation was moderated by Martin Erkal, Strategic Partnership Lead at Tata Communications. You can find a video recording from the day at the end of this article.
Digital transformation in telecom
Digital transformation in the telecoms industry is imperative. Shareholders demand it. Customers expect it. The impacts of the COVID-19 pandemic are accelerating it. Yet, a staggering 70% of digital transformations fail.​
The telecoms industry has lagged behind other sectors in realising the importance of digital transformation. However, to avoid the most pressing industry challenges – slow growth, increasing competition from OTTs, low NPS scores, declining ARPU and rising churn – telcos must disrupt and reinvent themselves, and fast.
Customer experience
Research revealed several keys to digital transformation success. Well-planned technology adoption, customer-centrism, application of innovation culture are just some of them. But in the telecom industry, the main differentiator is customer experience (CX).
Telcos have historically been oblivious to CX. They have competed primarily on the basis of coverage, value-added services (VAS) and price. However, due to the growing digitalisation and the use of mobile devices, customer expectations towards telecom service providers have changed.
Fast, frictionless, fun
In 2021, an average person spends over 2.5 hours with the internet on their mobile devices every day. It's almost a five-fold increase since 2011. Additionally, it is estimated that 142.9 billion apps and games were downloaded in 2020 alone. On a daily basis, we tend to use 9 apps and around 30 each month. The most popular apps in 2020 were TikTok, WhatsApp, Facebook and Instagram and there a high chance we all use at least one of them as our daily "9-a-Day".
Daily time spent with the internet on mobile devices​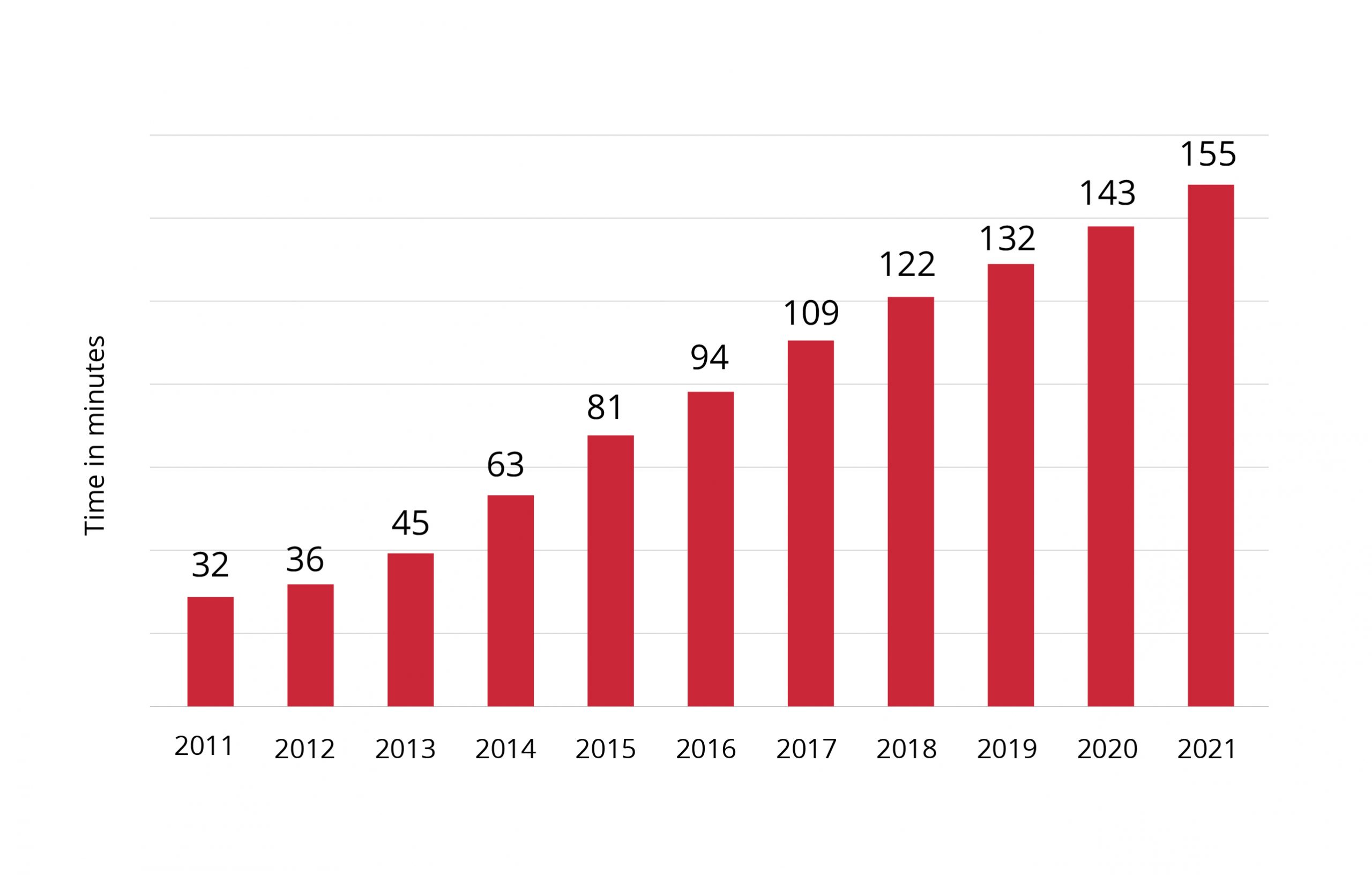 As a result, customers expect the same level of experience from all apps and services they interact with, including their mobile service provider. And herein lies the problem for mobile service providers. To achieve customer satisfaction in digital channels, mobile providers need to be delivering to the experience benchmarks set by these brands. It is not an easy task considering the resources and level of investment these Big Tech brands put towards their digital platforms.
Easier with eSIM – digitalised onboarding
The introduction of eSIM to the consumer market in 2016 has enabled service providers to move their entire customer journey online, especially the onboarding process. Onboarding has historically been one of the most challenging processes for a telco to digitalise, due to the need to complete both SIM activation and identity verification in person.
eSIMs facilitate digital onboarding by eliminating the need for a physical SIM card. Instead, a device is authenticated by downloading network authentication credentials that are embedded into the device, for completely digital onboarding.
However, while eSIM facilitates speedier onboarding, it's important not to rush things. A poorly executed digital onboarding solution can do more harm than good to customer satisfaction, resulting in a high churn rate.
We talk a lot about eSIM on our blog, so if you want to find out more about where it came from and how it works, read our whitepaper Consumer eSIM – a gamechanger or a gimmick? 
eSIM implementation – the most common mistakes
Unfortunately, many service providers approach digital onboarding the wrong way, creating a customer experience that works against, rather than in conjunction with, eSIMs.
An ineffective digital onboarding process starts with an ineffective communication channel choice. Constantly switching between different platforms creates unnecessary complications. There are five key steps to eSIM customer onboarding: selecting a plan and ordering an eSIM, providing contact details, identity verification, payment, and finally, eSIM activation.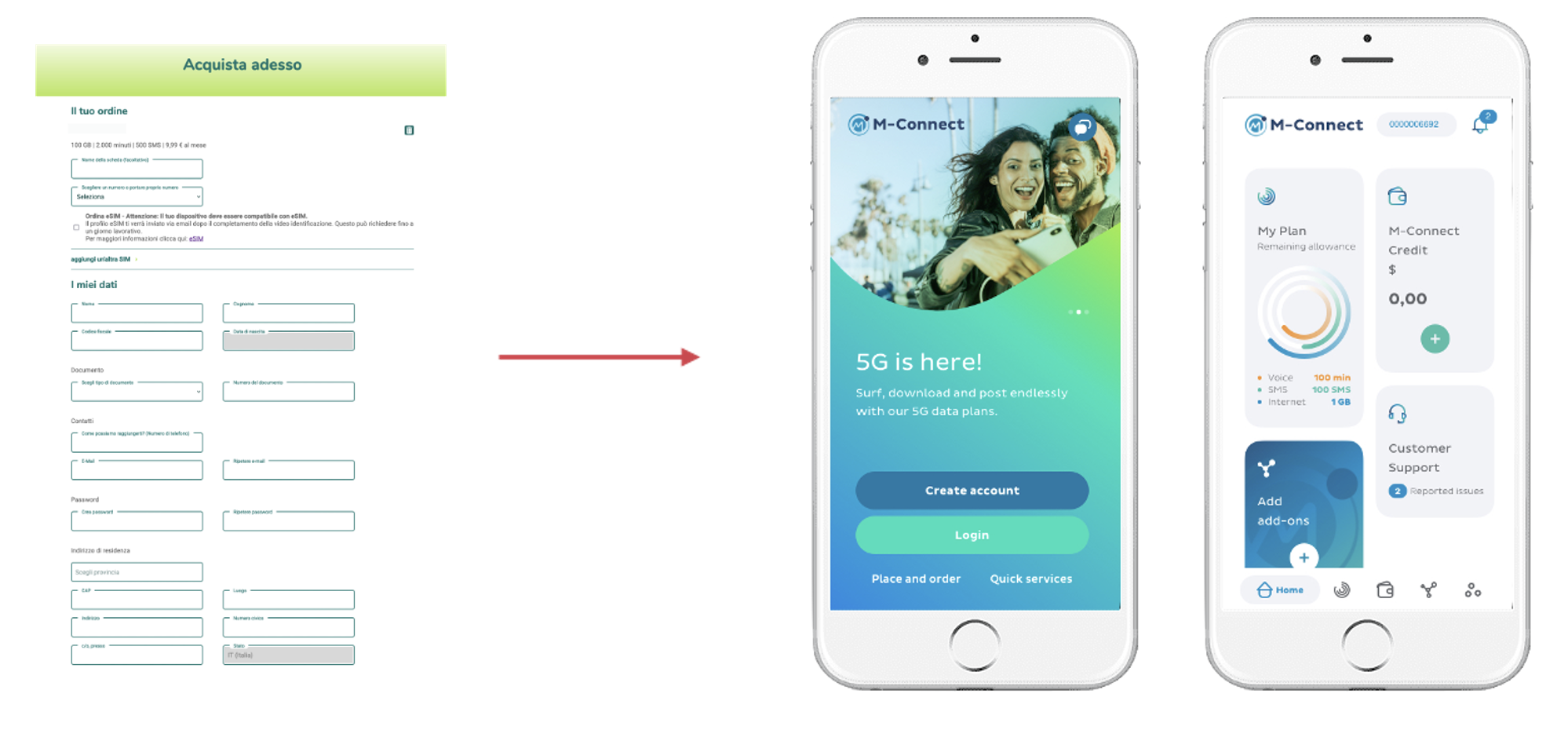 A user can select and order an eSIM, enter contact details and handle payments simply from a service provider's website. However, the process becomes complicated when it comes to identity verification and eSIM activation.
Digital identity verification typically takes the form of a video showing the customer's face and identity document and verbally confirming that they have purchased the outlined plan. Then, the customer needs to upload a photographic copy of the same identity document for more detailed inspection. Once the identity has been confirmed and payment processed, the customer then has to activate their eSIM.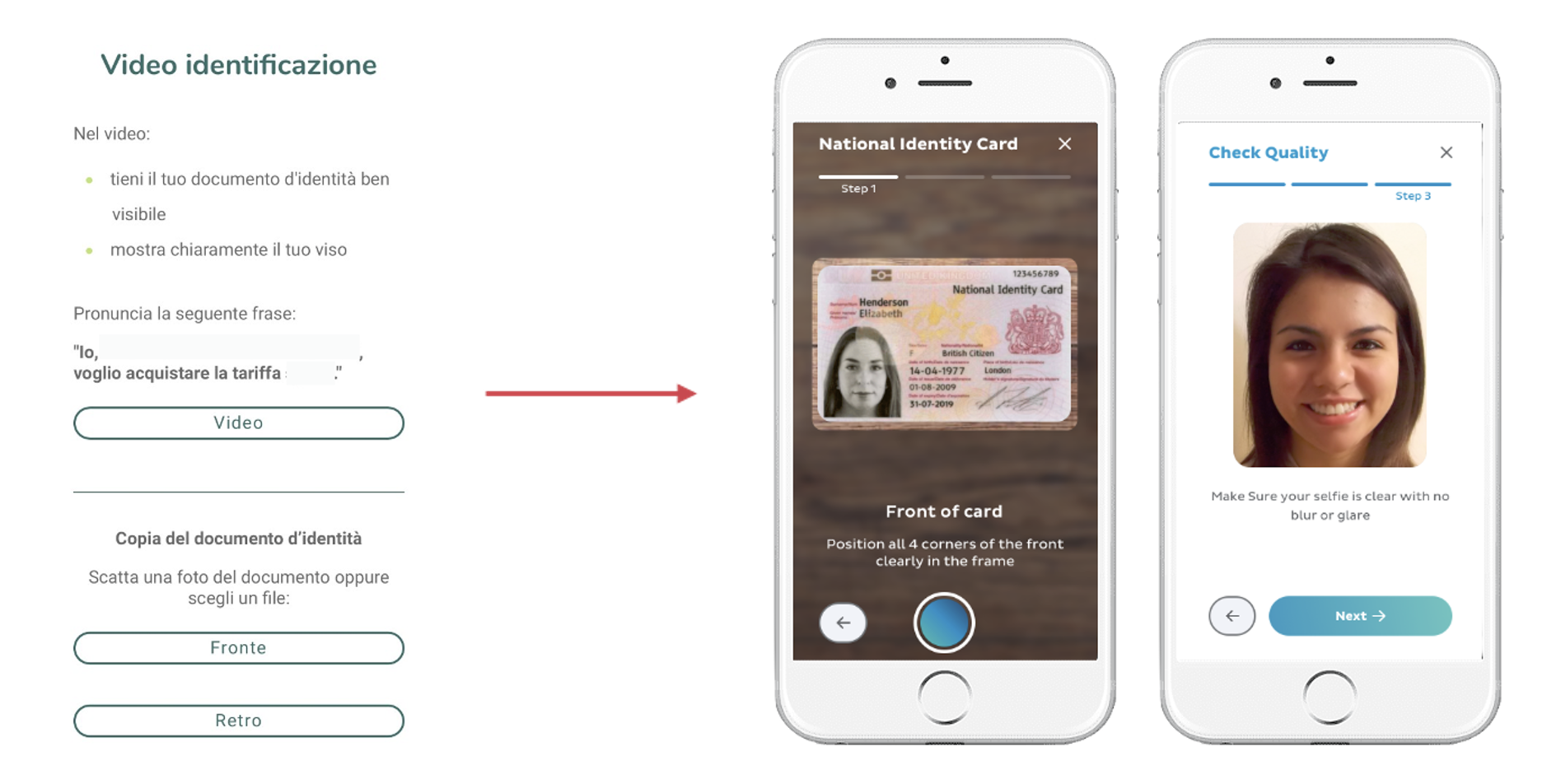 Digital onboarding via a website requires customers to activate their eSIM using a QR code. A QR code is emailed to the customer, who can scan it on their device and securely download and activate their SIM profile. Although this activation method works, it requires the user to use another device to onboard. It complicates the digital experience and requires more effort and time from the customer.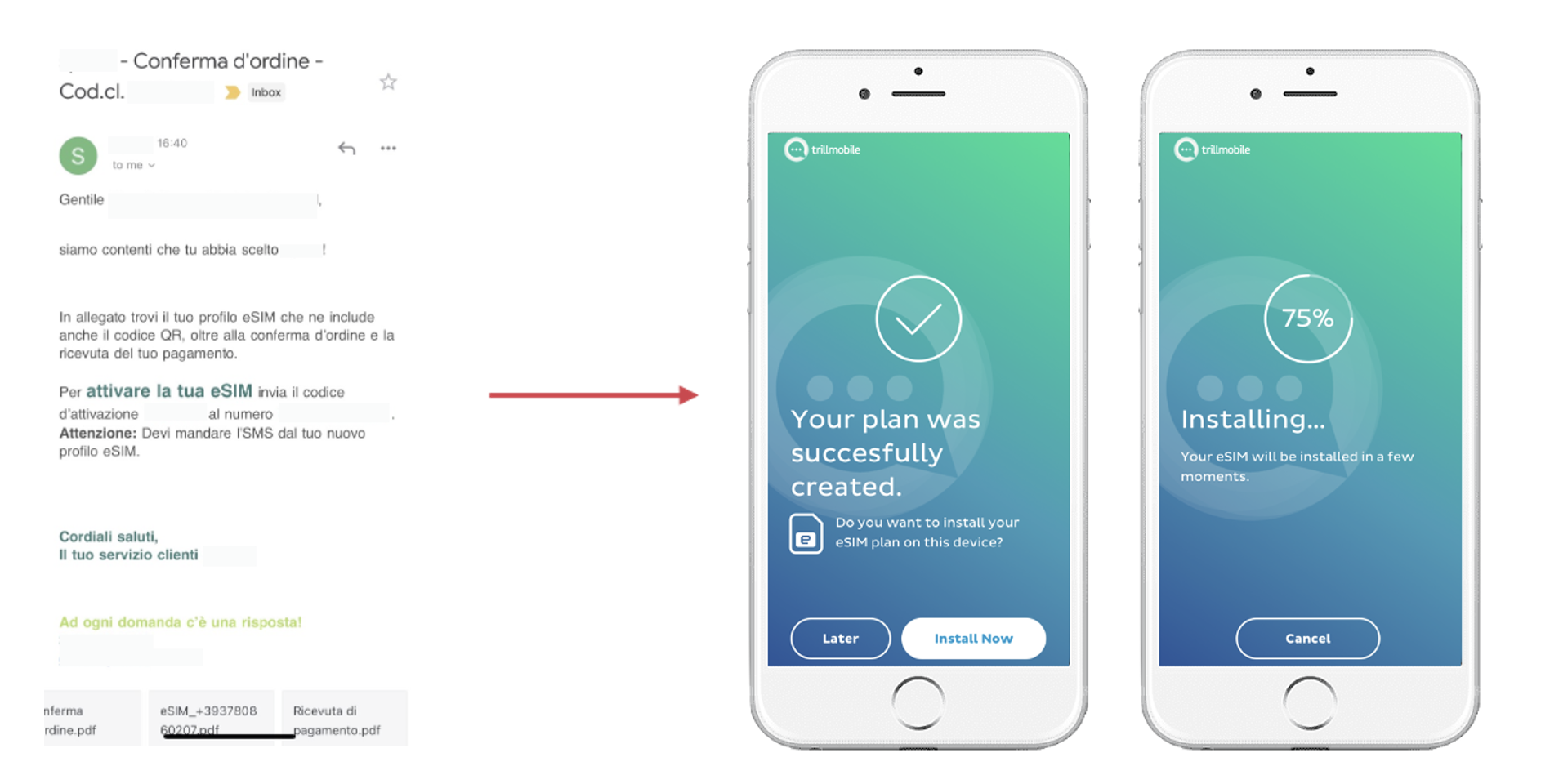 Digitally onboarding in this way creates a clunky, confusing and complicated first experience for telco's customers. As a result, it could leave them frustrated and result in them abandoning the process. So, it's essential for companies to create a frictionless digital onboarding process for excellent customer service right from the get-go.
Going digital the right way
To avoid these common onboarding mistakes that could hinder customer satisfaction and retention, telcos should consider the benefits of a well-designed app. An app allows telcos to interact with their customers directly from their smartphones and offers a range of services through one channel — including the entire onboarding process.
The two sticking points of web-based onboarding — identity verification and eSIM activation — enable telcos to create a seamless user experience. Identification can be verified through videos and ID document upload from right within the app. In-app eSIM provisioning replaces the need for a QR code, enabling customers to activate their profile in just one simple tap.
Mobilise's eSIM as a Service platform is designed to empower telcos to digitalise their onboarding process quickly, simply and correctly. Taking an in-app approach streamlines the onboarding process to create a simple, intuitive customer experience. What's more, opting for an app-based solution cuts down the onboarding time from days to just a few minutes.
Making digital onboarding a positive customer experience is crucial to improving customer satisfaction and reducing churn. Onboarding is the first significant interaction that many companies have with their customers. Avoiding these common pitfalls by adopting in-app onboarding gives telcos and their customers alike the confidence in digital-first customer experience and makes sure that first impression really counts.
If you want to find out more about those and other mistakes, watch the recording from our latest webinar!