Telecoms is an industry battling constant change and multiple challenges. A lack of connectivity in rural areas, hurdles to the full fifth-generation (5G) rollout and the impact of the pandemic are just some of many challenges that must be overcome in order to thrive. To help telecommunications companies navigate an ever-changing landscape, we wanted to shed light on some of the key challenges telcos face in 2021.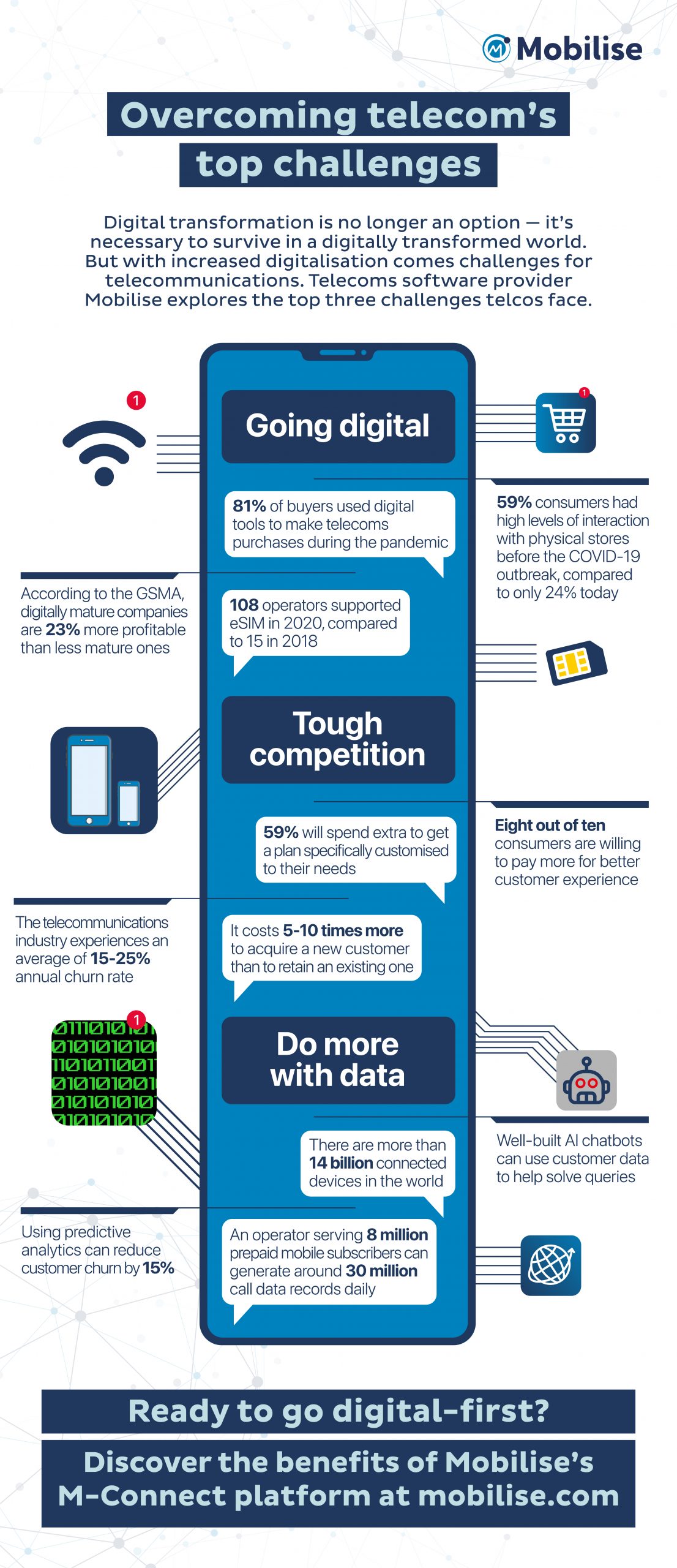 Digitalisation
According to the analysis by Digital Commerce 360, 81 per cent of buyers used digital channels to make telecom-related purchases during COVID-19, and 36 per cent plan to use digital channels more in 2021. However, the rise of digitalisation presents telecommunications with both opportunities and challenges. After all, digital transformation is a complex and costly process and requires telcos to completely change their mindset and company culture.
Telcos have been slowly but surely migrating to the cloud and digitalising their customer experience. We believe that eSIM will accelerate that process as 60% of smartphones will be eSIM-compatible by 2025 and represent a significant opportunity for providers (source: GSMA Intelligence).
eSIM technology presents telcos with an opportunity to fully digitalise their onboarding process. In addition, telcos can reduce logistics costs and can target the wider market for eSIM-enabled devices. Without seriously considering eSIMs, telcos could risk losing customers to other providers.
Competition
In addition, telcos must consider how customer expectations are changing. They want more flexibility, personalisation and more meaningful interactions with providers. Over-the-top (OTT) providers are able to cater to those needs, causing high churn and low usage of traditional telco services. While difficult to define, annual churn rates for most telcos are thought to be anywhere between ten and  67 per cent, making the industry one of the biggest sufferers of customer loss. 
Additionally, competition between mobile network operators (MNOs) and mobile virtual network operators (MVNOs) is fierce. Smaller MVNOs are trying to keep up with their larger counterparts, and as customer expectations change, MVNOs must define their niche.
Our M-Connect platform supports customisable services that can help MVNOs to better position themselves in the industry. The interface enables customers to buy and manage subscriptions independently and permits sales and customer service staff to manage customer demands with greater agility. We've seen companies improve their net promoter score (NPS) by 25 per cent with our M-Connect.
Data Analytics
Data analytics is an area that has thus far seen slow adoption across the telecoms industry. Previously, analytics, reporting and data management have largely been regarded as 'add-ons'. However, we believe that analytics should be mandatory.
Analytical tools can show operators customer profiles, device information, network data, customer usage patterns, location data and more. They can be used to monitor how customers interact with a telecoms service, providing an opportunity to enhance the user's experience. This can incorporate technologies including artificial intelligence, which can be used to predict and prevent churn and improve customer retention.
Furthermore, with data analytics tools, telcos can develop a far deeper understanding of the drivers of churn and when customers might terminate their contracts. These enhanced insights allow telcos to foster better customer relationships, implement effective retention programmes and upsell tailored products and services before a customer becomes a risk of churning. 
To sum up

Telcos must pay attention to changes in the industry and the shifting expectations of their customers. Integrating technologies such as eSIMs and predictive analytics offers many operational and user benefits that could be key to overcoming common challenges.