In a post-pandemic era, the travel industry is witnessing a resurgence. One technology that is gaining traction is eSIM travel ancillary. However, with the number of travellers increasing, so are their expectations of travel operators.
Travel operators, in response to this evolving landscape, need to go beyond the conventional and elevate their offerings to keep travellers engaged. In this blog, we'll explore an innovative solution to maximise ancillary services revenue by leveraging eSIMs to create richer and more connected travel experiences.
What are ancillary services?
Ancillary services refer to a diverse array of supplementary offerings provided by organisations that, while not directly involved in the core aspects of travel, play a pivotal supporting role by delivering related products and services.
Take, for instance, an airline – its primary focus is undoubtedly flights. However, airlines also offer a wide variety of secondary or additional and diversified services such as car hire or insurance to earn extra revenue. These services fall under the category of ancillary services.
Some examples of ancillary services in the travel and tourism industry include:
Extra luggage.
Travel insurance.
Foreign exchange currencies.
Car hire.
Luggage transportation.
Theatre and event tickets.
Tour guides.
Equipment hires.
Travel SIM card/eSIMs.
Ancillary services, in essence, not only bolster the bottom line for travel operators but also contribute to enriching the overall travel experience for customers.
Why are ancillary services important?
As the travel industry grappled with the monumental challenges brought about by the Covid-19 pandemic, its resilience has been put to the test. The abrupt decline in international travel, coupled with recent inflationary pressures, has cast a shadow on the industry's post-pandemic recovery.
The result? A reduced number of travellers and a consequential decline in revenues for travel operators across the board. In response to these pressing challenges, travel operators have been compelled to explore ancillary services as a means of generating additional revenue and meeting the changing expectations of modern travellers.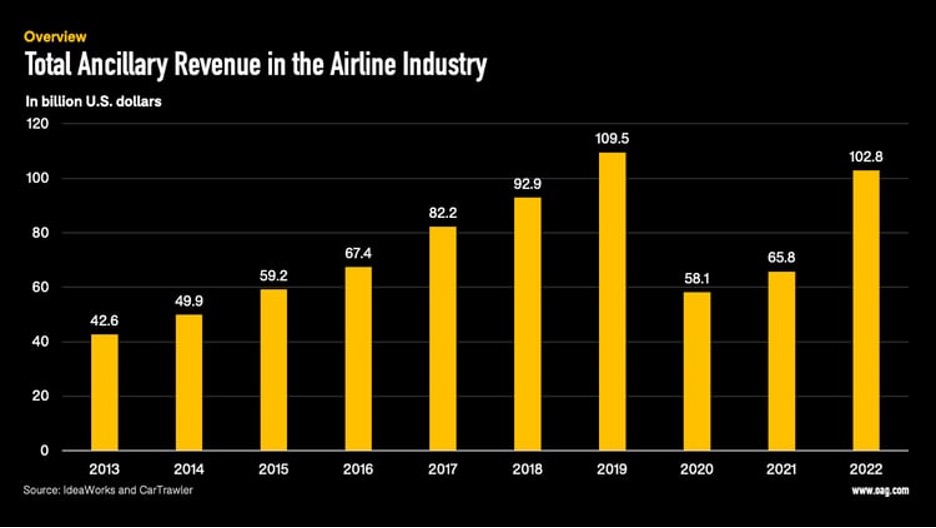 Source: OAG.com
In fact, according to research conducted by IdeaWorks and CarTrawler, in 2022, the total ancillary revenue in the airline industry almost matched 2019's figures, despite the global pandemic disruptions. Experiencing an impressive 56% increase compared to 2021's figures.
On top of this, a survey conducted by PwC found that consumers are willing to pay up to a 14% price premium for their hotel stay and up to 10% for their airline tickets for great customer experiences.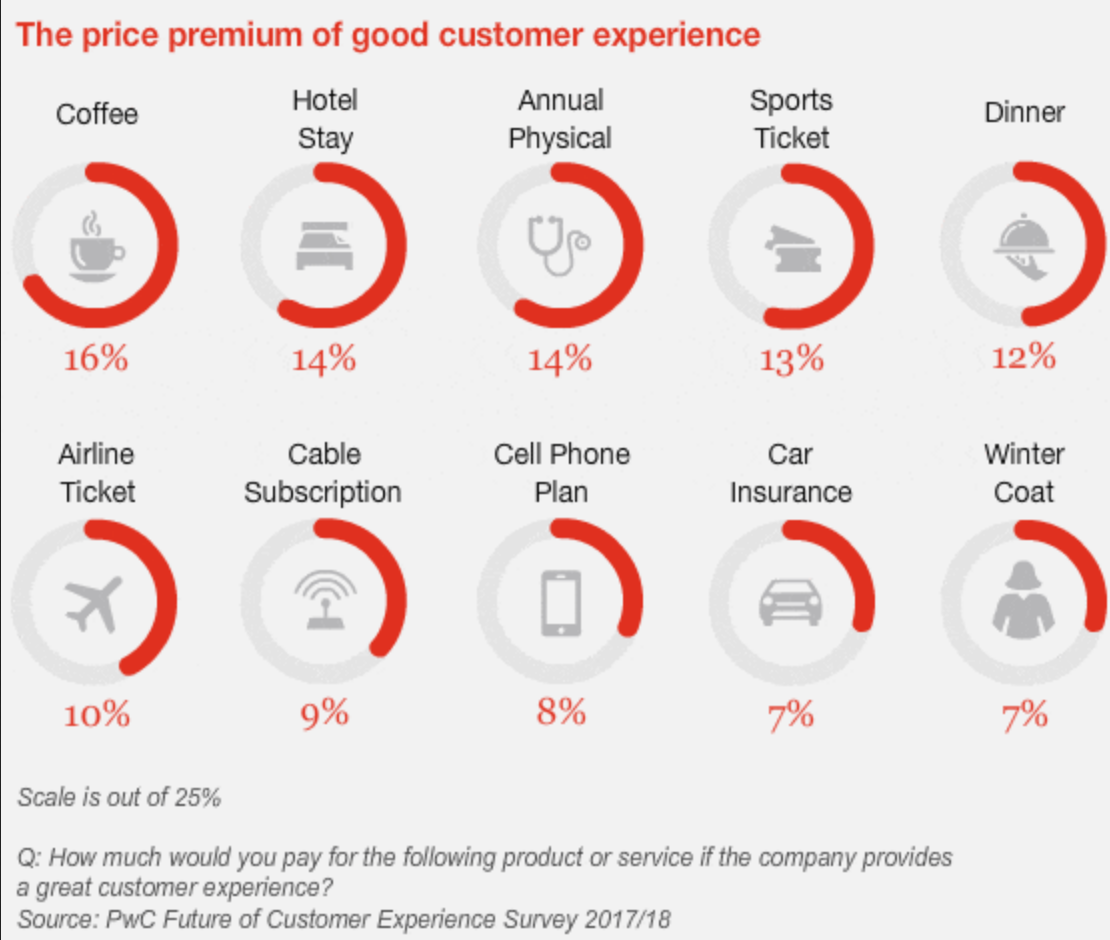 Source: PwC
In every sector, the prospect of higher prices in exchange for a satisfying customer experience is evident, but luxury and indulgence purchases tend to reap the greatest rewards from exceptional service. Furthermore, customers expressed a higher inclination to explore additional offerings or products from brands that deliver an outstanding customer experience.
How to diversify an ancillary services portfolio?
As much as ancillaries have grown to become crucial for travel operators, we've reached the point where in order to differentiate from competitors, travel operators need to think outside the box and provide ancillary services that meet their customer needs.
One of the examples we'll talk about is travel SIM cards and their new alternative: eSIMs.
Travel SIM cards as an ancillary service
Travel SIM cards have long been convenient for travellers seeking to stay connected while exploring new destinations. It would often be the case that they would rely on pre-paid plastic SIM cards from the country they're visiting. All to avoid extortionate roaming charges.
However, as the travel landscape evolves, so do the needs of travellers. The limitations of the traditional plastic SIM cards have become much more evident in recent times.
Thanks to the development and rise of social media and apps making travel easier, such as Instagram or Waze, people can't be without an internet connection on their travel anymore. It's created an opportunity for travel operators to target and appease their evolving demands.
Not only are users using their smartphones for travel information, but they can also book flights, hotels, and tours online with just the tap of a button.
Statista reports that global mobile travel sales are projected to reach $1.1 trillion by 2027. Furthermore, travel app bookings in 2022 grossed $798 billion in booking volume. Recently, we found that 73% of UK travellers consider it important to use mobile data to remain connected to the Internet.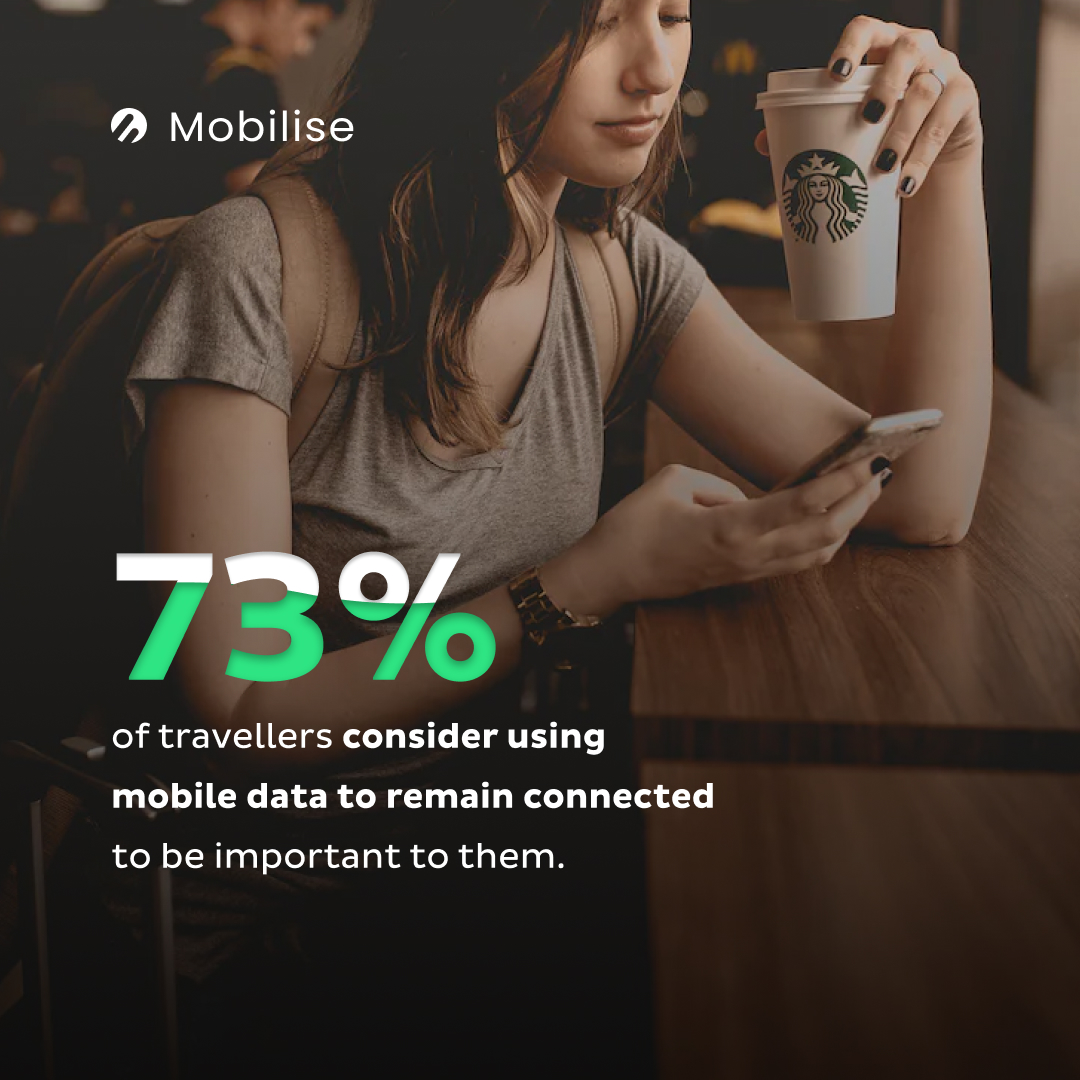 eSIM travel ancillary
Just as travellers and their needs, ancillaries have evolved over time. The same thing applies to SIM cards. And that's where eSIMs come in.
An eSIM is a digital SIM that cannot be removed from a mobile device. Since eSIMs are embedded within a mobile device, consumers can purchase, activate, and use them from anywhere and at any time. The entire process is online, making the plastic SIM cards redundant, allowing any service provider in any industry to embed connectivity within their mobile applications quickly and with minimal effort.
However, telecom operators are hesitant to offer them to their customers due to the possibility of increased network switching and thus, customer churn. But customers are ready for eSIM, and this creates the perfect opportunity for travel operators to invest in the technology as an ancillary service.
It's a game-changer for travellers and travel operators, offering a streamlined approach to connectivity and communication. Data from our recent eSIM for travel survey found that 9 in 10 UK travellers value mobile data connectivity whilst abroad.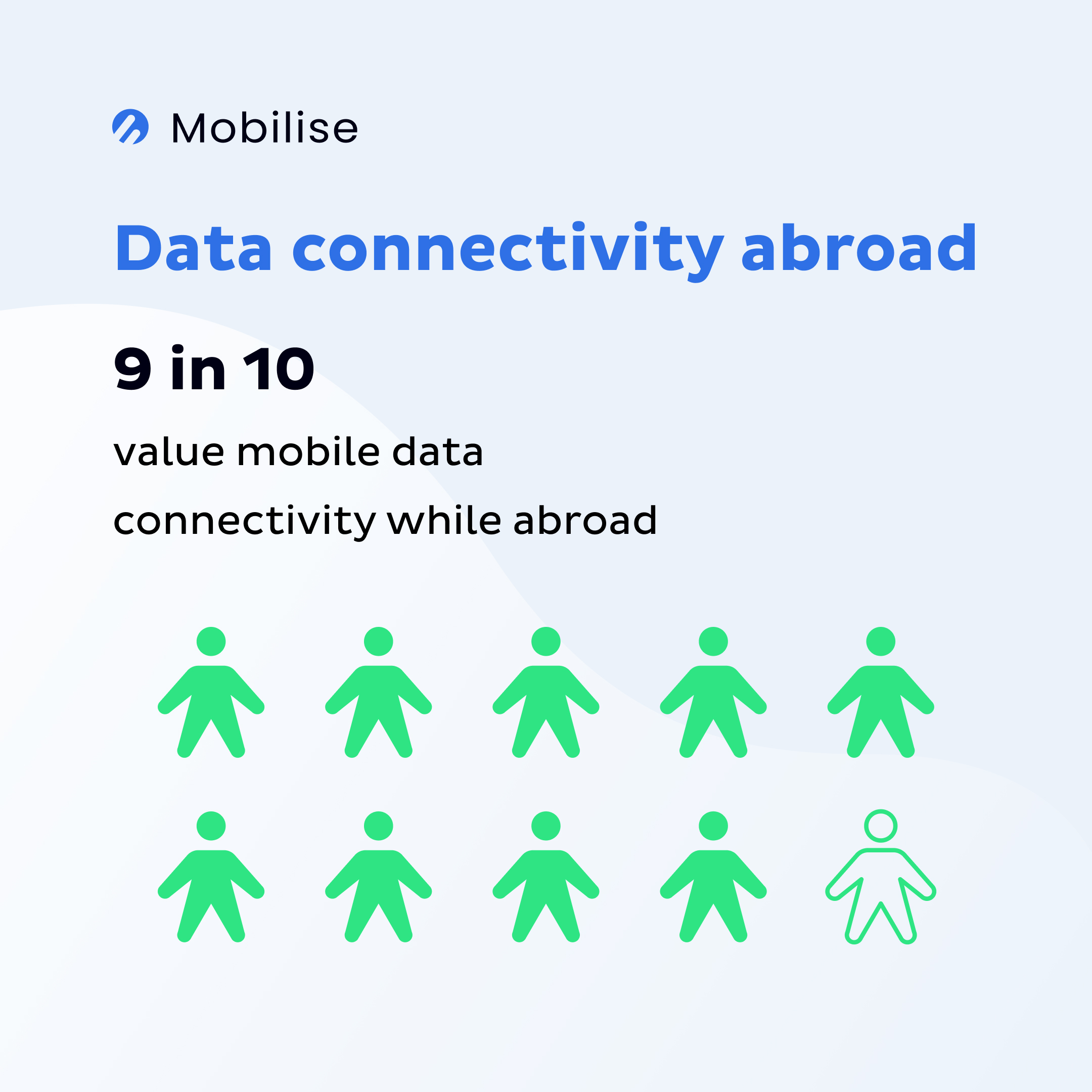 Benefits of eSIM travel ancillary for travellers
Seamless mobile connectivity while travelling
Easy to purchase, activate and use, the process is entirely digital and takes place online
No global roaming charges
No need for multiple phones
No need for local SIM cards
No need to rely on public Wi-Fi
More secure than traditional SIM card
Better user experience
Benefits of eSIM travel ancillary for travel operators
Revenue boost
Opportunity for differentiation
Easy implementation
Increased user loyalty and retention
Global eSIM support
Futureproofing
Growing customer awareness of eSIM
Solution – Embedded Connectivity
Embedded Connectivity can be applied to any and every industry. Now you may be wondering, how can a travel operator embed connectivity? That's easy – through eSIM.
Since eSIMs are embedded within a mobile device, consumers can purchase, activate, and use them from anywhere and at any time. The entire process is online, making the plastic SIM cards redundant, allowing any service provider in any industry to embed connectivity within their mobile applications quickly and with minimal effort.
With our eSIM SDK, travel operators such as airlines and hotels can easily expand their product portfolio with eSIM to remain competitive while providing unforgettable customer experiences. It's an out-of-the-box plug-and-play solution that we've created to minimise the time-to-market and the complexities of eSIM. We're the telecom experts so travel operators can focus more on what they do best!
To show you exactly how it could look, we created two theoretical case studies – our fake airline Ryanfare and our fake hotel Fullton Hotel. Both case studies are free to download and include an interactive prototype!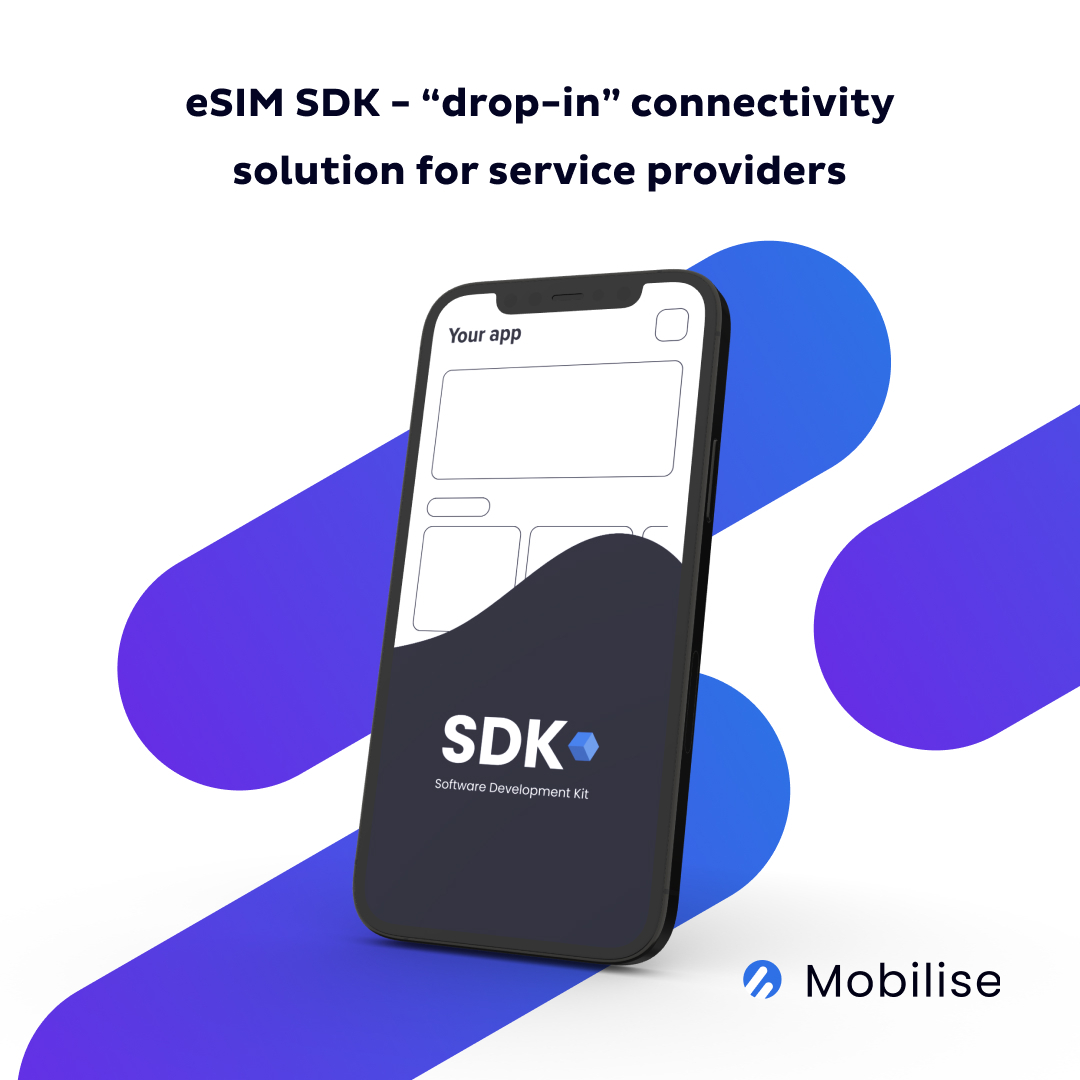 Conclusion
As the travel industry evolves, embracing innovative solutions becomes more important than ever for operators aiming to not only survive but thrive in the competitive environment. To stand out, travel operators need to think outside of the box to satisfy their customers' ever-changing needs. And ancillary services can facilitate that.
Embedding connectivity is the perfect solution for operators to stand out from the crowd all while offering customers what they want. To stay connected, no matter where they go, easily and affordably.
For information on what Mobilise's eSIM SDK can do for your travel business, click here to find out more or contact us now!