With eSIM growing in power and popularity, more and more companies are launching eSIM offerings. However, the eSIM experience offered to customers is fragmented and, in most cases, could be done much better.
We've recently analysed 11 eSIM apps and found 7 key mistakes made while designing the customer eSIM experience.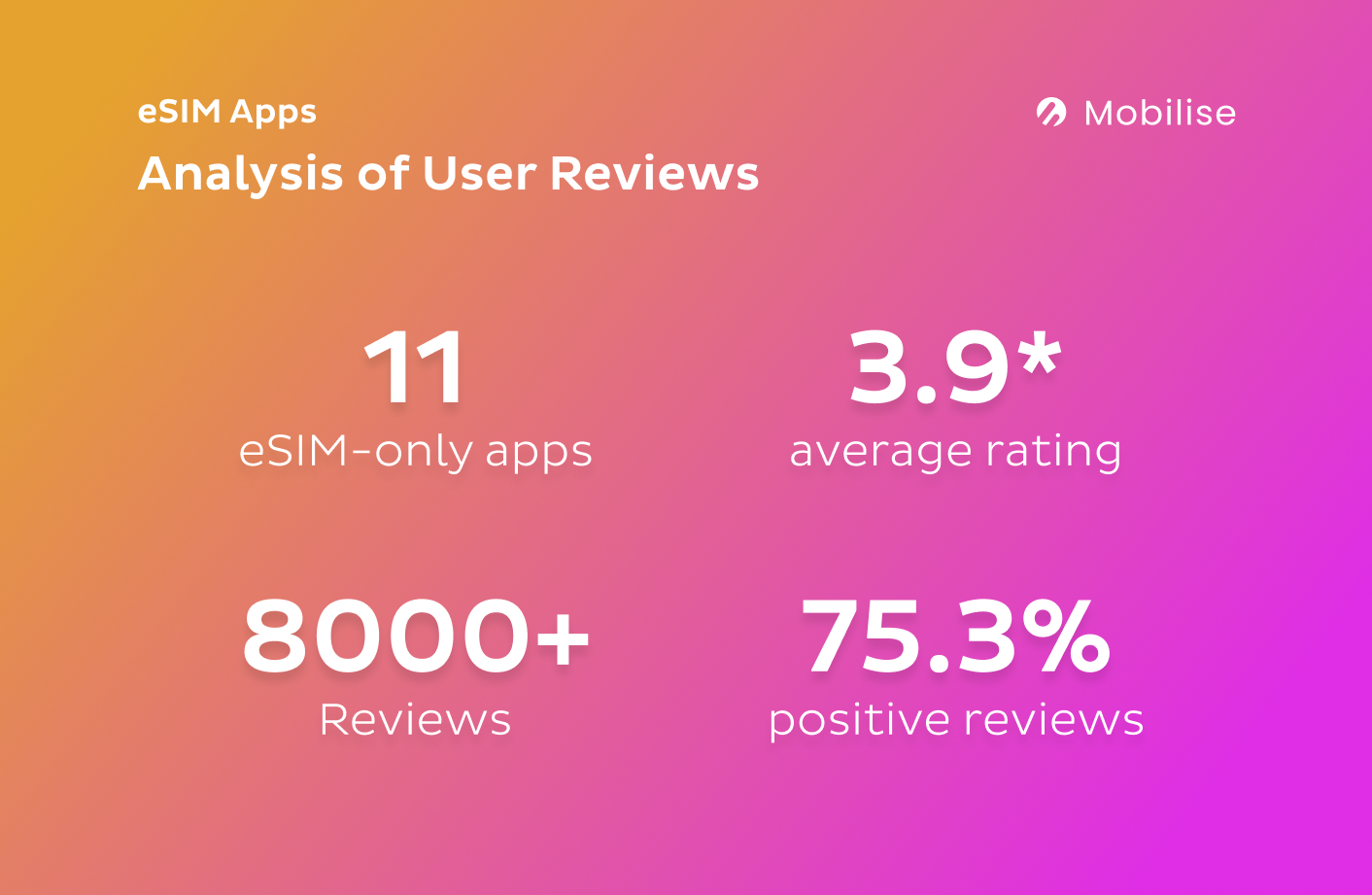 While the analysis focuses on eSIM providers, a lot of parallels can be drawn between them and travel companies aiming to launch an eSIM experience. Both will have to design optimal onboarding and overall experience to meet the ever-changing customer needs…
The importance of customer experience
Customer experience has become a pivotal factor for consumers, especially when it comes to the travel industry.
A staggering 73% of travellers now prioritise customer experience when making their purchasing decisions. This signifies a fundamental shift in consumer behaviour, emphasising the need for travel companies to prioritise customer satisfaction across all touchpoints.
Furthermore, 45% of travellers are willing to spend more by purchasing ancillary services. And there's a 20% increase in ancillary revenue per customer if an airline provides ancillary services during the booking process.
This suggests that when travel operators offer additional services that cater to specific customer preferences and needs, they not only enhance the overall travel experience but also boost their revenue potential.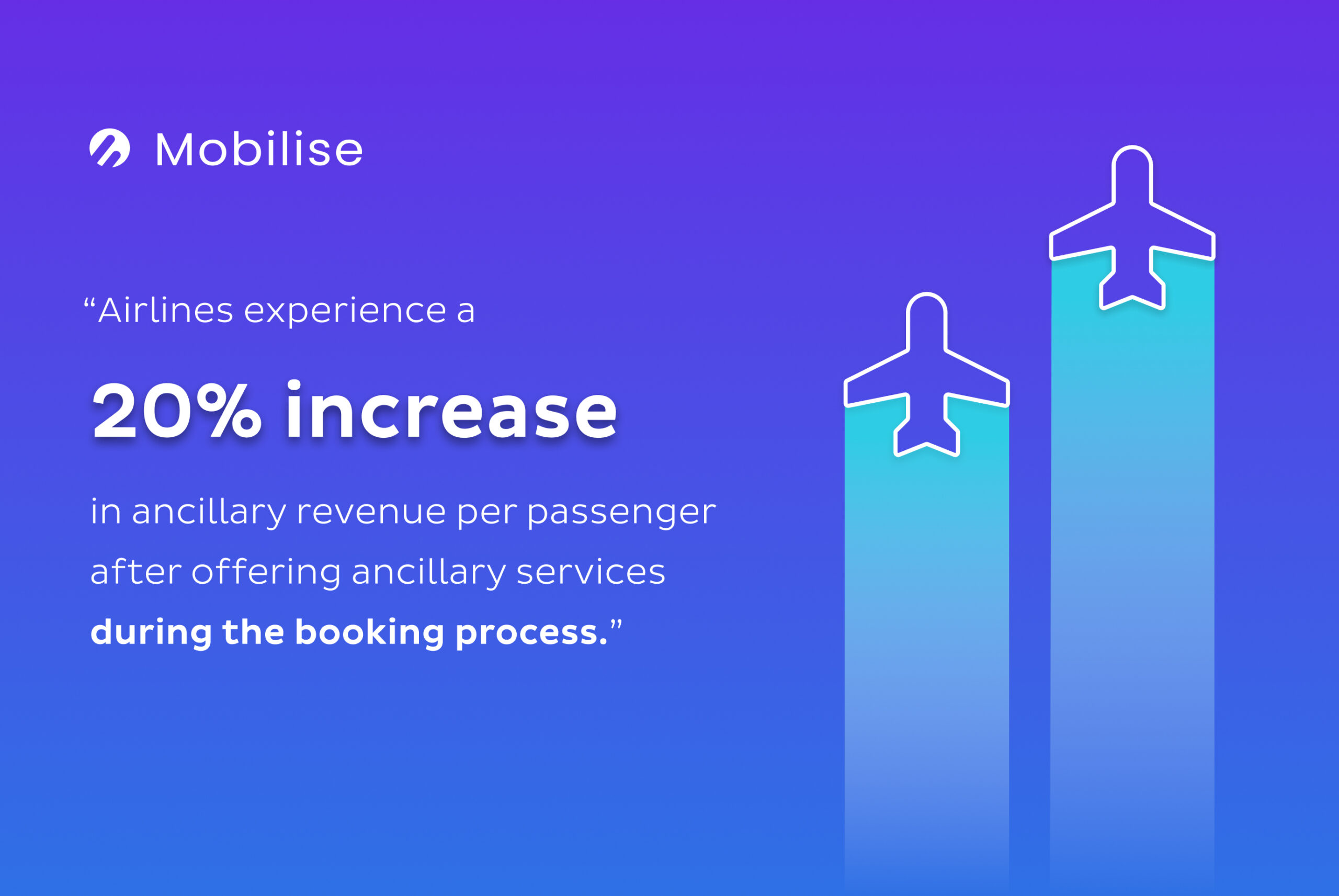 To succeed in the digital era, hotels, airlines, and travel aggregators must listen to their customers, personalise their offerings, and leverage technology to create unforgettable journeys. The power of customer experience can't be underestimated, and those who embrace it wholeheartedly will undoubtedly emerge as winners in the dynamic world of travel.
And one way they can do so is by embedding connectivity and providing reliable and affordable data bundles to their customers.
Common mistakes in the eSIM experience journey
eSIM experience is the overall experience your customers have with the technology. From onboarding to usage and cancellation. To truly harness the potential of eSIM, service providers must prioritise a frictionless customer experience at every step of the process.
In this blog we'll focus on the onboarding and usage parts, and provide examples of mistakes at each of those stages:
1. Browsing bundles
It all begins with allowing customers to easily browse through a diverse range of data bundles, tailored to their needs and the country they intend to use the data in.
One of the most crucial factors to consider when opting for eSIM connectivity is pricing. Unfortunately, some providers fail to strike the right balance, leading to exorbitant prices for data bundles. This misstep not only drives potential customers away but also contradicts the very essence of eSIMs' allure—providing a competitive alternative to traditional roaming charges.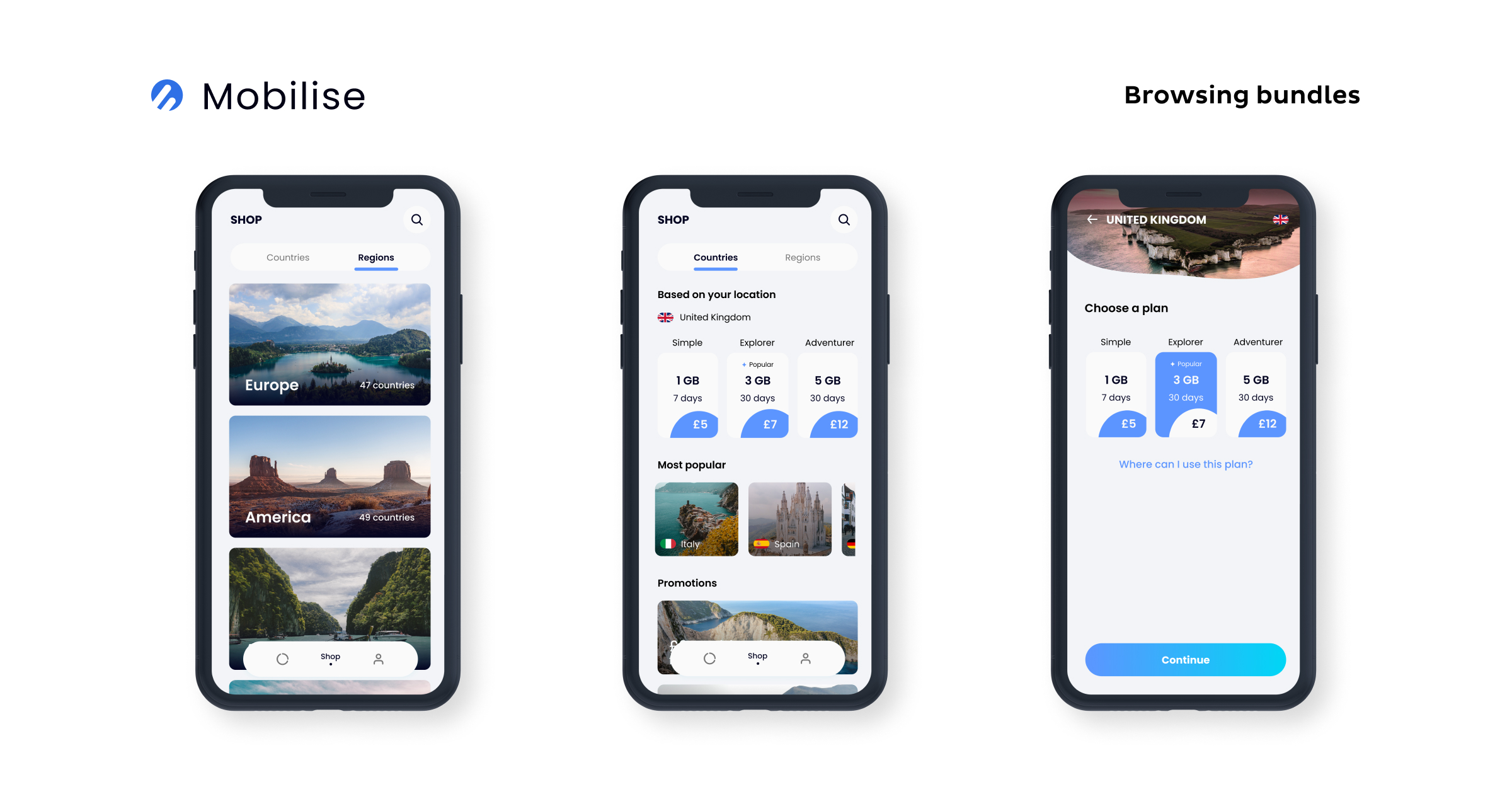 2.     Account creation
Creating an account should be a straightforward process. Typically featuring quicker account creation options such as signing up using an existing Google account or Apple ID.
We find that some service providers overlook the importance of convenience by not offering alternative login options like using existing accounts. This oversight can frustrate users, making the process unnecessarily cumbersome, time-consuming and cause more effort than needed. Following a report by Visa, if the digital onboarding process takes longer than 20 minutes, 70% of customers completely abandoned their attempt to open an account.
In the case of travel operators who already have an app and want to provide eSIM as an add-on or ancillary service, this step (in most cases) won't apply. Their users would already have an account and be logged in when undergoing a booking process. That removes the need to do it again to activate their eSIM.  However, it's important to efficiently implement eSIM into the existing app and the booking process by removing all the unnecessary steps and providing a simple way to obtain an eSIM.
3.     Payment
Payment methods play a significant role in ensuring a seamless customer experience. The payment process must be smooth and secure, with multiple different payment options for users. Yet, certain platforms limit their payment options, neglecting popular choices like Apple/Google Pay or PayPal, which many users prefer for their convenience and security. According to a report by Salesforce, 74% of people say they would be more likely to take their business elsewhere if a purchasing process is too difficult to complete.
4.     eSIM installation and activation
The critical stage of eSIM installation and activation demands a user-friendly interface and well-explained instructions for consumers to quickly install and activate their eSIM.
This can be achieved either through QR code-based activation or through in-app activation. While QR codes may seem modern, they can confuse users, especially those unfamiliar with eSIM technology. It usually requires a user to have 2 different devices on hand to be able to complete the process and can be far more time-consuming. In-app activations, on the other hand, provide a more straightforward and user-friendly approach. eSIM installation and activation is triggered by a single tap, takes up to 60 seconds and doesn't require the user to leave the app.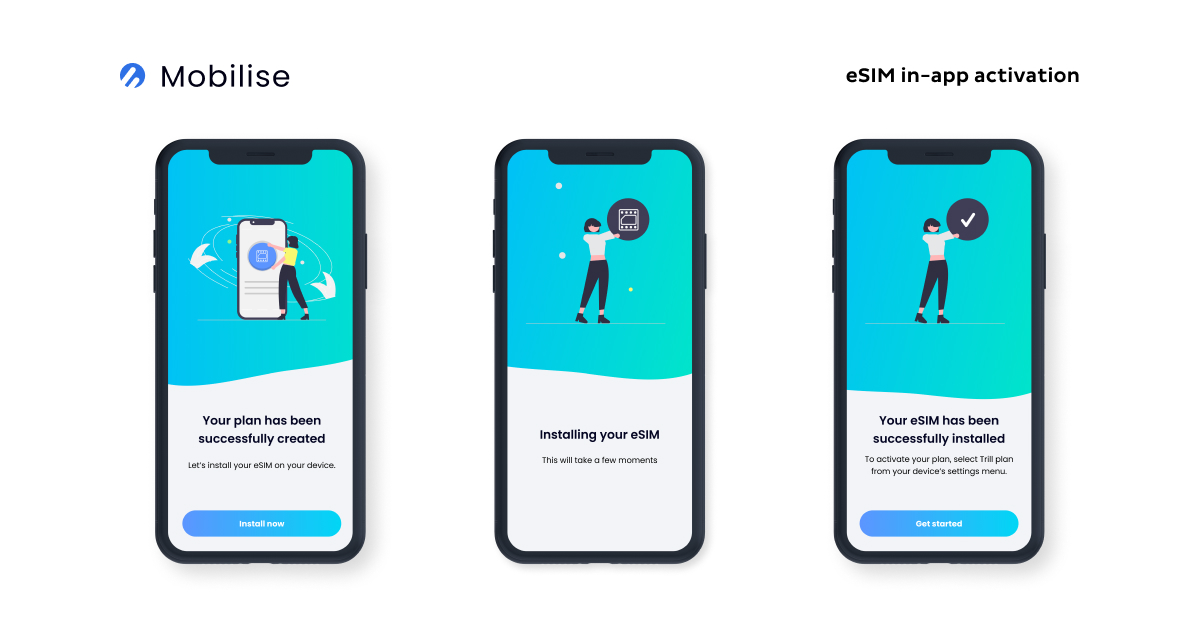 5.     Usage
Customers expect to have easy access to their remaining data balance. The post-activation stage requires easily accessible features to monitor data usage, top up data plans, and check remaining balances. However, some providers fall short of providing up-to-date information, leaving users in the dark about their data usage and causing potential overage charges.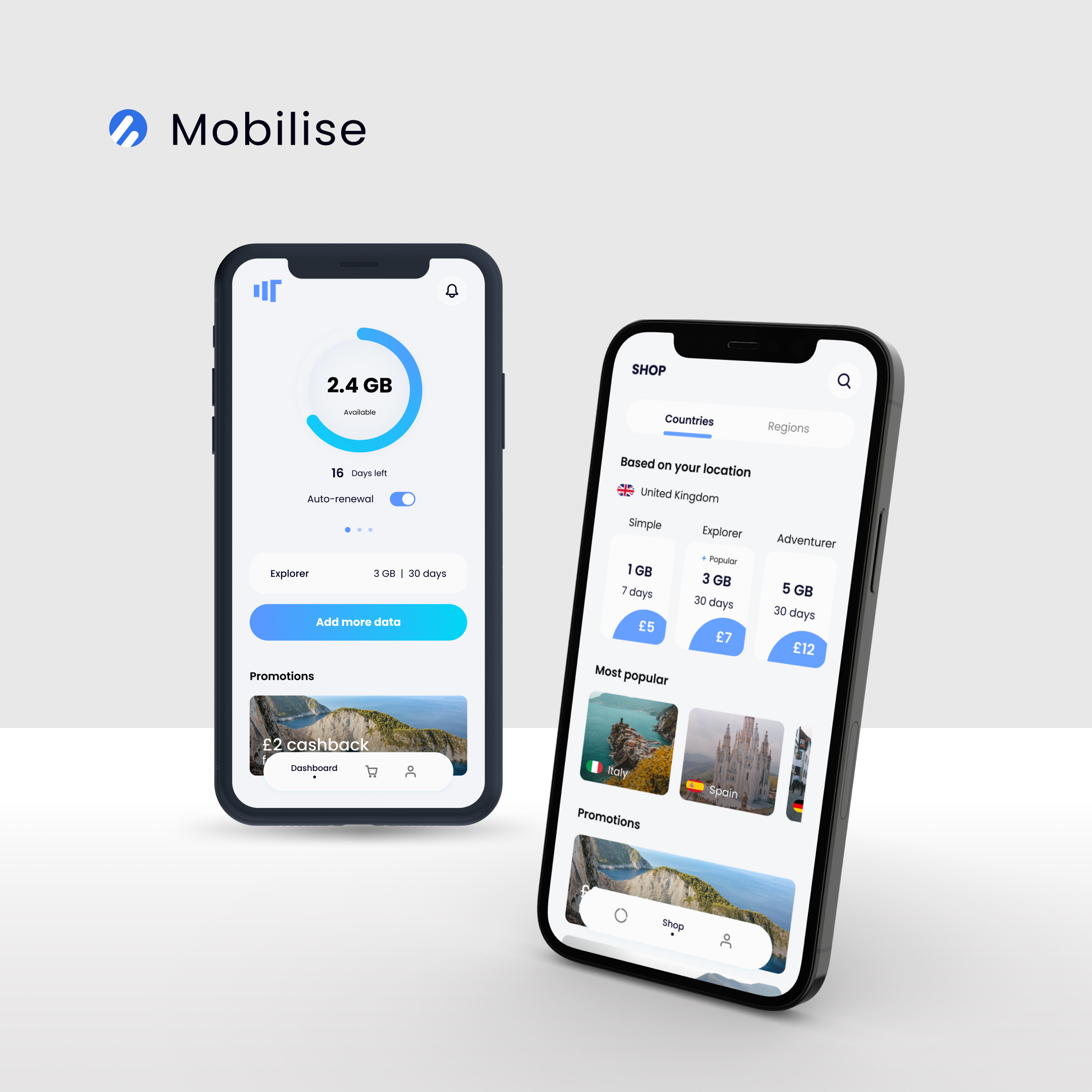 Bonus: keep it simple!
As a bonus, we'll address the importance of simplicity in the overall setup and usage of eSIM. Given its novelty, end-users require clear, step-by-step guidance throughout the journey. A successful onboarding process should be intuitive and straightforward, helping users fully embrace the potential of eSIM technology.
By avoiding these common mistakes and focusing on delivering a frictionless experience, eSIM service providers can unlock this cutting-edge technology's full potential, earning the loyalty of satisfied and empowered customers.
A successful onboarding process would increase 46% of consumers' likelihood of spending more on a product or service.
Our eSIM experience solution
Mobilise's eSIM SDK is the perfect solution for travel companies looking to implement a memorable eSIM experience. Our solution enables brands to capitalise on eSIM technology through digital-first services, allowing companies to provide connectivity to their customers, minimise costs and improve conversions, all while delivering a fully digital customer experience to future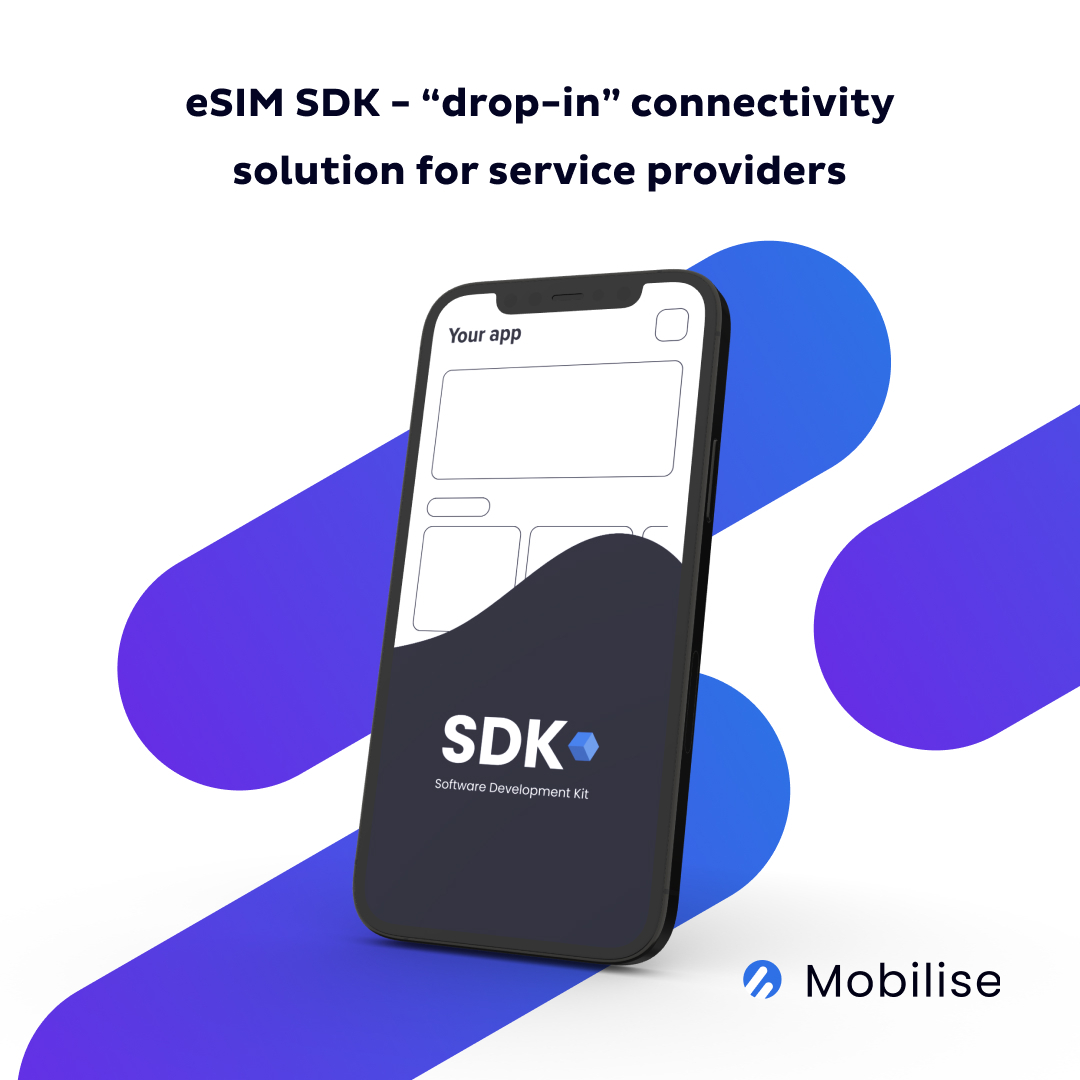 Conclusion
While eSIM is indeed gaining popularity and usage, it's very easy for companies to fall into the trap of FOMO and implementing a fragmented eSIM experience for their customers, causing them more frustration and hassle than intended. By avoiding these common mistakes that we've highlighted, you'll be more likely to remain competitive and provide a higher-quality customer experience.