eSIM is a generic and loosely used term in the telecoms industry and describes a collection of different technologies and applications. Today, we will focus primarily on the benefits of eSIM to both customers and Service Providers.
A short recap of eSIM history
Before we embark on our eSIM journey, I would like to provide a short recap on the basics of SIM technology and how we got to the eSIM version.
Subscriber Identity Module (SIM) cards were first introduced in 1991 as an authentication method for mobile subscribers to access mobile services allowing service providers a robust security measure to prevent unauthorised users from accessing their networks. Inside the SIM card sits a programmable IC chip called UICC that stores the authentication parameters, including network and subscriber credentials and authentication keys.
In 2010, the standards of an embedded SIM and embedded UICC (eSIM & eUICC) were introduced by the GSMA, primarily to serve Internet of Things (IoT) products, allowing service providers to provision – or programme – the service profile remotely. However, the same technology could be applied in consumer products, meaning a SIM profile could be provisioned remotely without the need for a physical SIM card.
The consumer use case was a direction that Apple was strongly advocating for, but it was initially opposed by the GSMA. The reason for this opposition is debatable, but many believe it's because the physical SIM presents a point of friction dissuading users from churning to a competitor network, and the Service Providers were against this.
The consumer application that Apple was pursuing was to allow them – and other device manufacturers – to embed the UICC chip (eUICC) within the mobile devices and allow service providers to programme the subscriber profile remotely. It would eliminate the need for a physical SIM card to authenticate the service. The consumer use of eSIM was eventually accepted by the GSMA in 2016 but has only really started to gain traction in the last 12 months. This is attributed to the growing penetration of eSIM capable devices.
eSIM benefits for consumers
The major benefit of eSIM to consumers is flexibility. As a key component of connectivity services, eSIM makes selection, contracting and onboarding much easier.
One of the most convenient aspects is remote provisioning. Whether using QR codes or via in-app activation, consumers can activate their service from the comfort of their couch. They no longer need to look for SPs and go to their shops to buy SIM cards or sign contracts.
It also makes it easier for customers to switch networks. They do not need to swap plastic SIM cards every time they want to change a provider. eSIM allows consumers to download, store and manage multiple operator profiles. They can switch from one operator to another remotely and within seconds. Even though only one profile can be used at a time, the specification now extends to a wider range of devices.
Another important aspect for consumers is that a growing number of device manufacturers offer eSIM as a standard in their devices. Additionally, more and more service providers offer eSIM services, which further increases the flexibility and convenience for the users.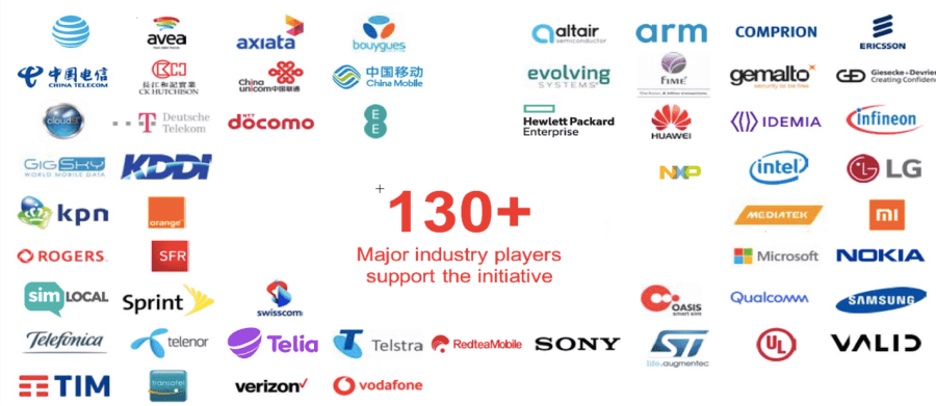 Source: GSMA
eSIM consumers can continue to enjoy all legacy SIM services such as roaming services, local breakout services, or SIM applets with Multi-International Mobile Subscriber Identity (IMSI) services when and where applicable. As a key innovation, eSIM can trigger a localisation service with the flexibility to choose a new local CSP to remotely provision and activate a new subscription to the device when needed, over the air.
What does it mean for device manufacturers and service providers?
This flexibility truly enables global device manufacturers to rely on a single global eSIM to be able to connect all their devices all over the world. eSIM technology simplifies device manufacturing and logistics by enabling a single stock-keeping unit. Another benefit is guaranteed seamless global connectivity services provided by CSPs across the entire device life cycle.
Yes, that all sounds great, but what about the penetration of eSIM capable devices, you say?
It is a very valid question, particularly considering that eSIM technology has been discussed for more than 10 years and the GSMA specification is available for 5+ years. However, the penetration in the consumer space has remained low. But the data tells us the change is happening, and quickly. All flagship models from the main device manufacturers now come with eSIM capability as can be seen from the below insights: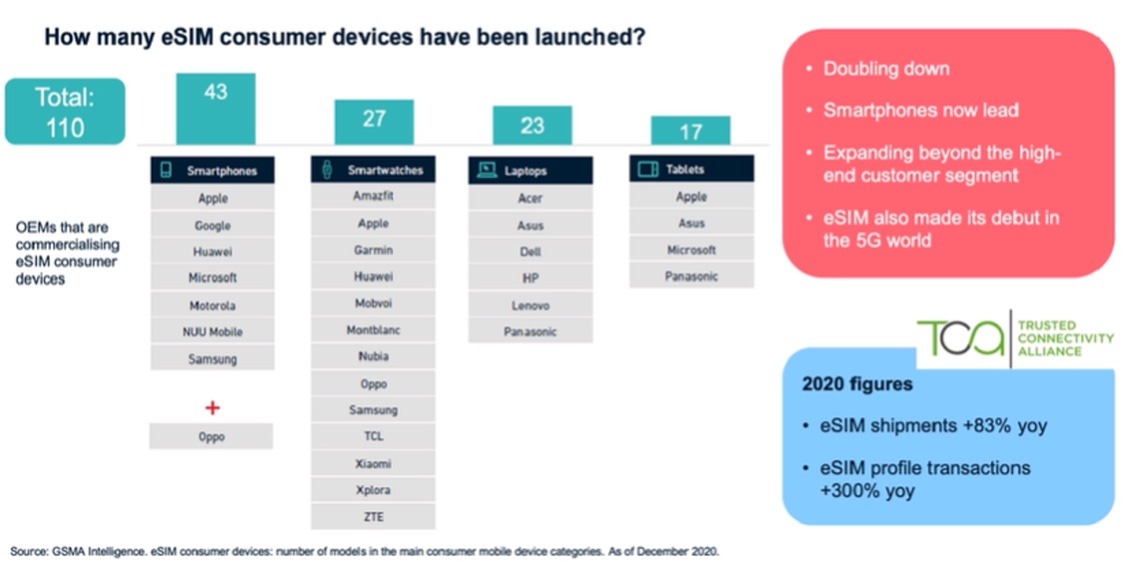 And Operator deployments of eSIM are also gaining significant traction: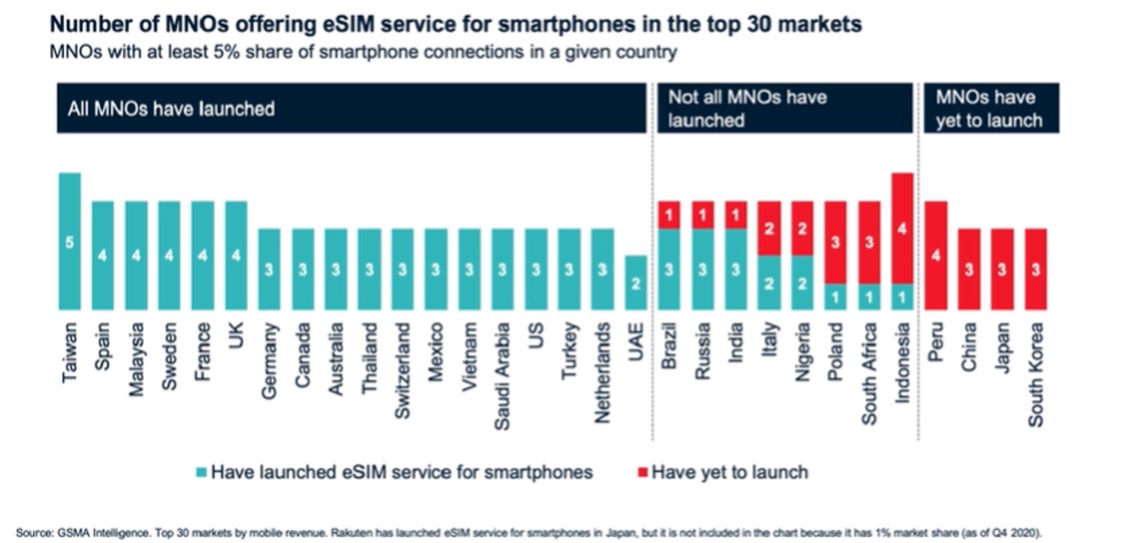 Indeed, this data matches finding from our own M-Connect platform. We have seen the penetration of eSIM capable devices increase from c5% 12 months ago to c35% now. Following this trajectory, by the end of 2022, we expect to see 70-80% market penetration of eSIM capable devices in Europe.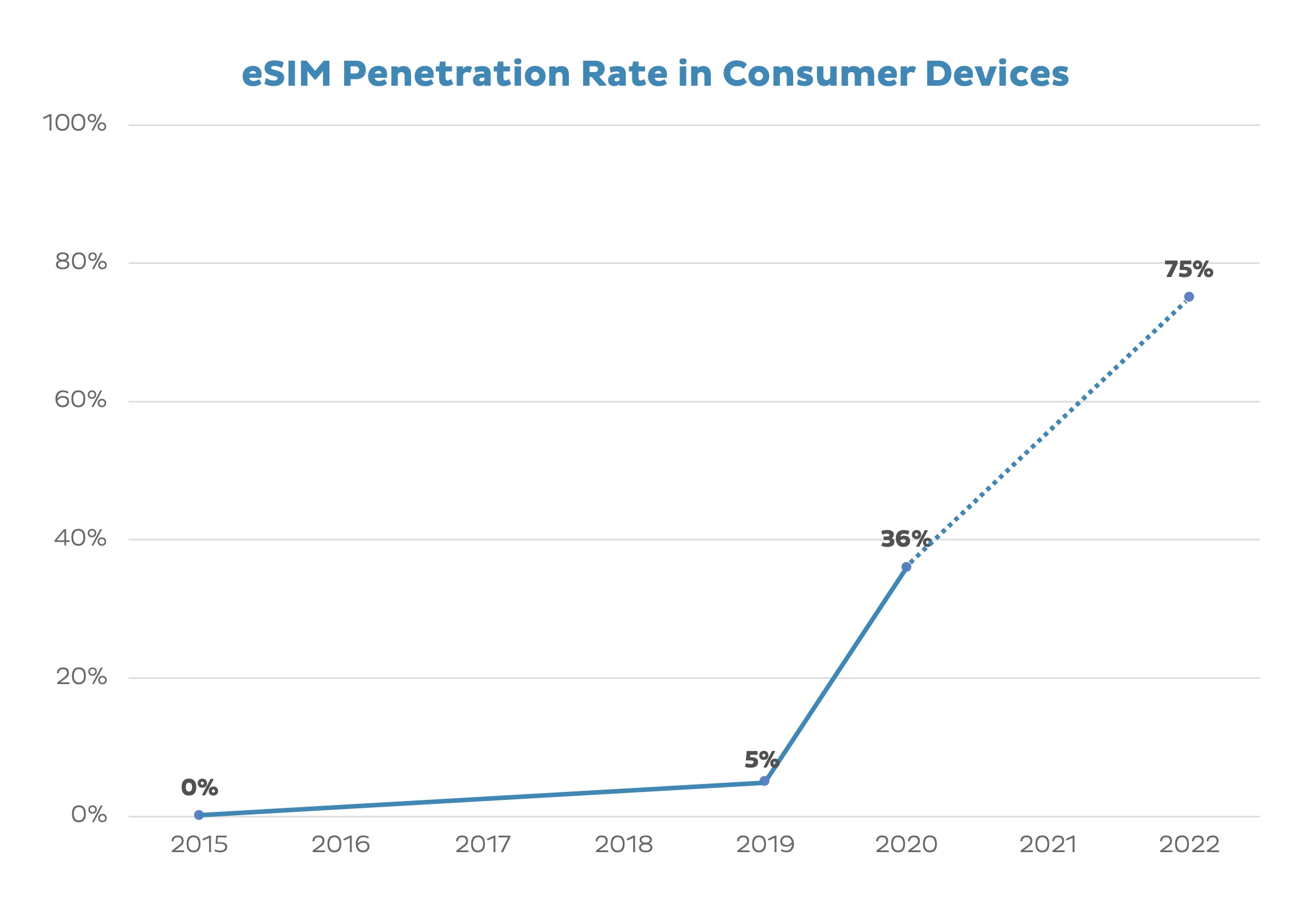 Source: Mobilise's M-Connect data
So the move towards eSIM is happening very quickly. However, it is debatable as to whether Operators are fully prepared to capitalise, either from a technology or a business process perspective. Front runners deploying eSIM early will have the benefit of competitive advantage, whilst others, before long, will find themselves in a race to catch up.
eSIM benefits for Service Providers 
We see several benefits arising from eSIM for Service Providers. These can be categorised as either revenue enhancing or cost-saving benefits.
Cost-saving

Drive greater use of digital distribution channels.

Streamline logistics costs.

Reduce churn costs resulting from migration.
Revenue enhancing

Enhance customer experience – in-app provisioning reduces friction during onboarding & activation flows. 

Improve customer acquisition rates.

International roaming and travel connectivity products use cases.

Increase inbound roaming revenue by unlocking the silent roamers segment.

Enable horizontal market opportunities through embedded connectivity products.
Not by any means an exhaustive list but some of the obvious ones. In this post, we will investigate a little further the first point regarding digital distribution as a value driver.
Greater use of digital distribution channels
As folks in the telecoms world will know all too well, physical distribution is a costly component of the P&L. It entails rental costs, staff costs, facilities and commissions, not to mention the often inflexible lease agreements required to have a storefront in high footfall areas. Physical distribution is costly and can be a significant drain on profitability, if not performing. 
From our experiences, the costs for physical distribution, if broken down per customer, can run up to 3-6 times monthly ARPU. This will vary based on the efficiency of stores and the volume of customers that are acquired. Nonetheless, it shows that it can be at minimum between 3-6 months before distribution costs are repaid, and that is in the unlikely situation that the customer is generating pure profit. Layered on top is the cost related to a traditional distribution of a SIM card.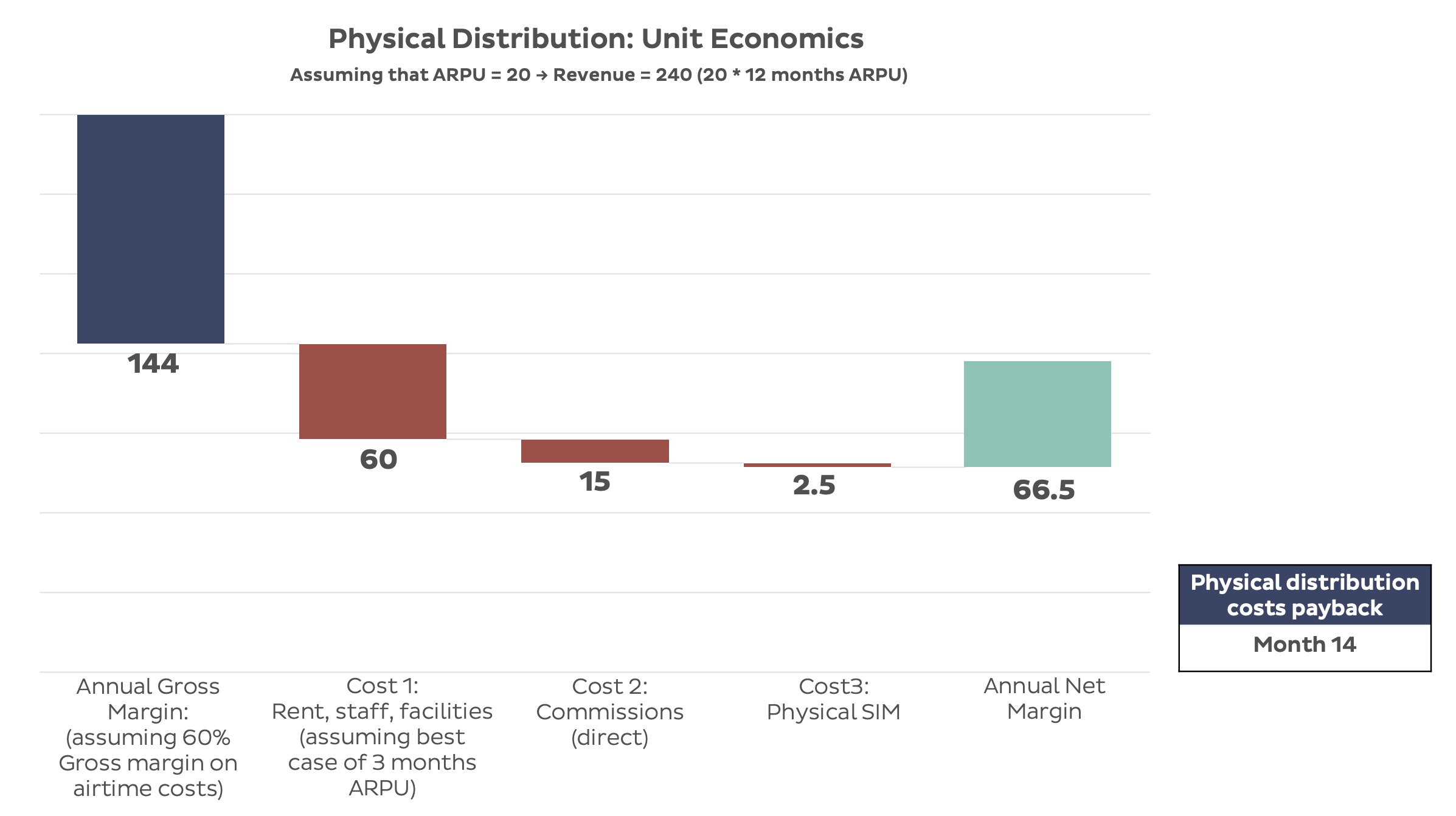 This is grossly oversimplifying the cost structure for a service provider, but we can see basic unit economics improvements with a truly all-digital service offering.
Conclusion
eSIM will be a disrupting force for many industries in the value chain, most notably the SIM card vendors, who have built their businesses around the highly complex supply chain that is SIM manufacturing and delivery. From materials, production processes, logistics and security, the SIM supply chain has historically been a highly valuable part of the mobile value chain. Most SIM vendors have seen the writing on the wall and invested in eSIM platforms, however, the shift is deeper than just the user part of the equation changing. With the digital format of eSIM, this supply chain vanishes altogether, effectively commoditising the 'SIM' as we know it.