eSIM is a relatively new technology, but the benefits of eSIM bring a lot of advantages for both Service Providers (SPs) and consumers. And therefore, eSIM deserves a bigger uptake in the industry.
In the last couple of years, eSIM has become a buzzword – widely discussed, marketed, and publicised. But like with any upcoming technology, there is a lot of ambiguity on the real benefits of eSIM for both telecom service providers and consumers.
What is eSIM and how does it work?
eSIM is a digital SIM. It has the same function as the plastic SIM card, but it's physically integrated into the device. Or in other words, it cannot be removed from the device and replaced with another SIM. eSIM is remotely activated which allows operators to move their entire customer journey online.
"eSIM is a SIM but delivered in a different way. It's a new experience for the customer."
-Jean-Christophe Tisseuil, CMO of Oasis Smart SIM
Benefits of eSIM for service providers
Cost savings
eSIM technology streamlines manufacturing and logistics costs by relying on digital channels. And, in turn, less expensive distribution channels.
As folks in the telecom world will know all too well, physical distribution is a costly component of P&L. Physical SIM cards and their packaging represent a significant fixed cost for service providers. On average, it costs 1-2.5 USD to produce, package and deliver one SIM card. eSIMs' cost in comparison is up to 80% lower. The cost of eSIM only includes soldering the eSIM chip into the consumer device. No packaging or delivery cost involved.
To put this into perspective, an SP with a 1 million customer base and approximately 50% gross additions per annum could save 1 million US dollars of cost per annum if they switched to 100% remote SIM provisioning.
Revenue enhancement
There are several opportunities for SPs to capitalise on eSIM. First, it allows SPs to offer enhanced, multi-device and multi-user subscriptions which drive higher ARPU and attract high-spending customers.
Second, it provides an opportunity for international roaming and travel product use cases. These increase the inbound roaming revenue by unlocking the silent roamer segment.
Lastly, eSIM enables horizontal market opportunities through embedded connectivity products.
Improved NPS
eSIM allows to fully digitalise customer onboarding and, in turn, the entire customer journey. In a world driven by digital experiences, digitalisation is what customers expect from their service providers. And satisfactory digital customer experience in telecom is widely linked with improved loyalty and satisfaction.
Sustainability
eSIM allows SPs to significantly reduce waste. ABI Research found that 4.5 billion plastic SIM cards were produced worldwide in 2020 to connect mobile devices to the network. This required a plastic and carbon-intensive manufacturing process. And the estimated carbon footprint of SIM cards in 2020 contributed about 4,500,000,000×35g CO2e or 157,500 tons, following a formula from ICMA. Offering eSIM services can completely dematerialise SIM cards. Helping to reduce the plastic waste and carbon emissions associated with SIM card manufacturing and transportation.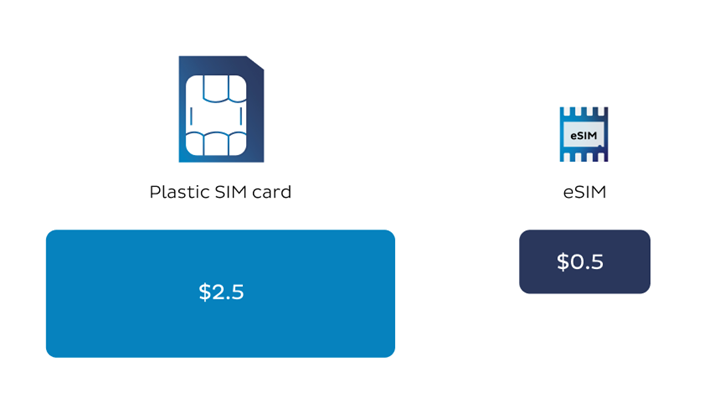 Future-proofing
Looking at the current eSIM trends and eSIM future in the consumer market, offering eSIM services now will be a competitive advantage for SPs. Since eSIM will be a commonplace feature in the future, the best way for operators to avoid getting left behind is to ensure that SPs have a suitable eSIM infrastructure in place before it's too late.
The road is paved for both device manufacturers and SPs to roll out eSIM on a global scale in the coming years. It's estimated that by 2030, half of all consumer devices will become eSIM capable. And a third of all mobile subscriptions will become eSIM activated.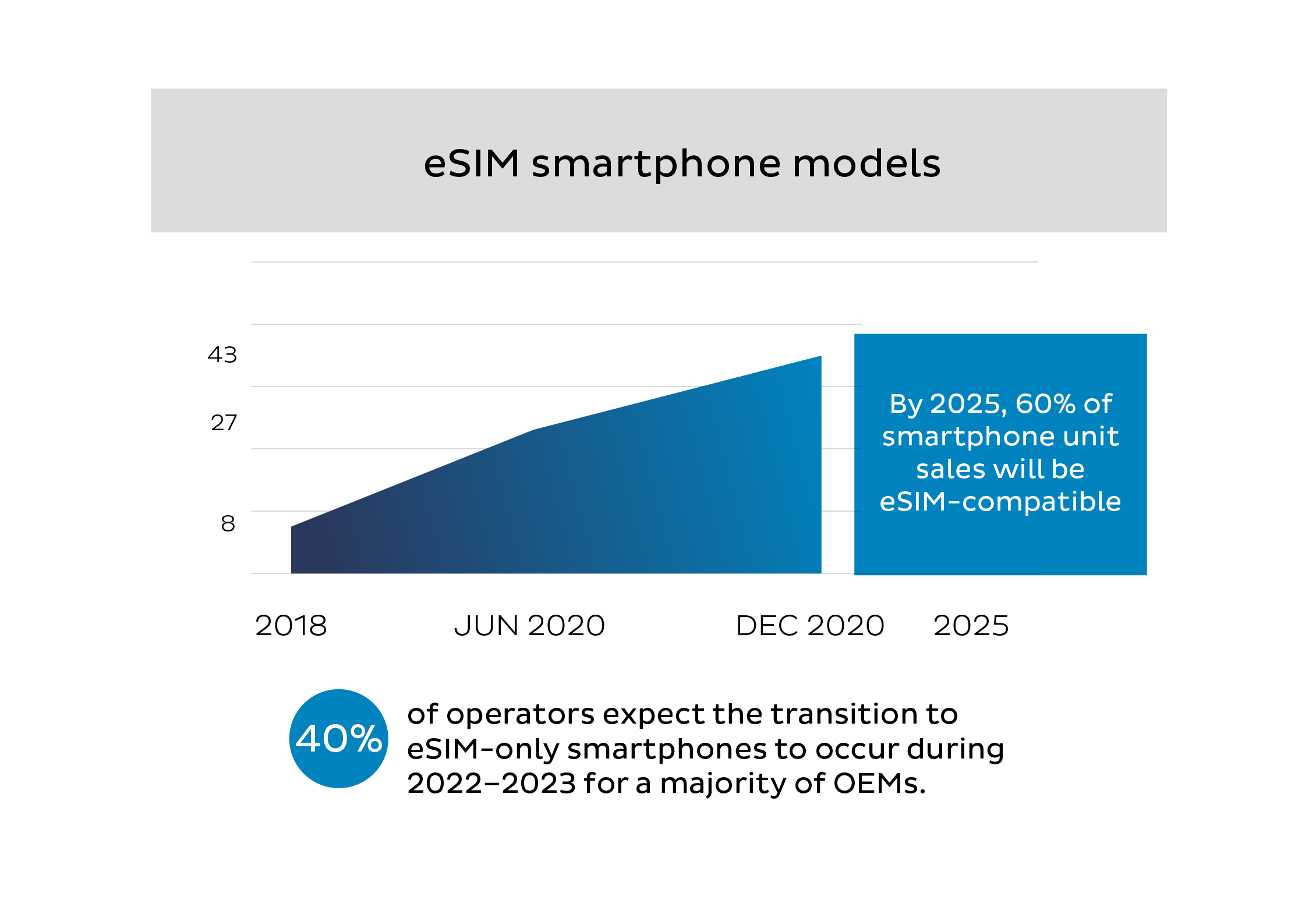 Source: GSMA
Benefits of eSIM for customers
Convenience
As mentioned earlier, eSIM allows operators to move their entire customer journey online. That makes it more convenient for end-users too! They can purchase, download, and activate their eSIMs in one place (the mobile self-care app). And after consumers activate the eSIM, they can manage their bundles and contact customer service through that same app.
Flexibility
eSIM enables customers to switch providers more easily as it doesn't require swapping plastic SIM cards. This isn't necessarily a bad thing. The feature comes in handy while travelling or when having separate phones for work and personal life. As there's no need to go through the hassle of swapping traditional SIM cards.
Choice
With eSIM, customers can store up to 8 operator profiles at the same time (the number varies across different devices). This opens a world of opportunities for customers and should improve the quality of service from SPs. All at competitive prices. SPs will now have to prioritise Customer Experience (CX) as a differentiator to compete in the industry rather than relying on price-based differentiation.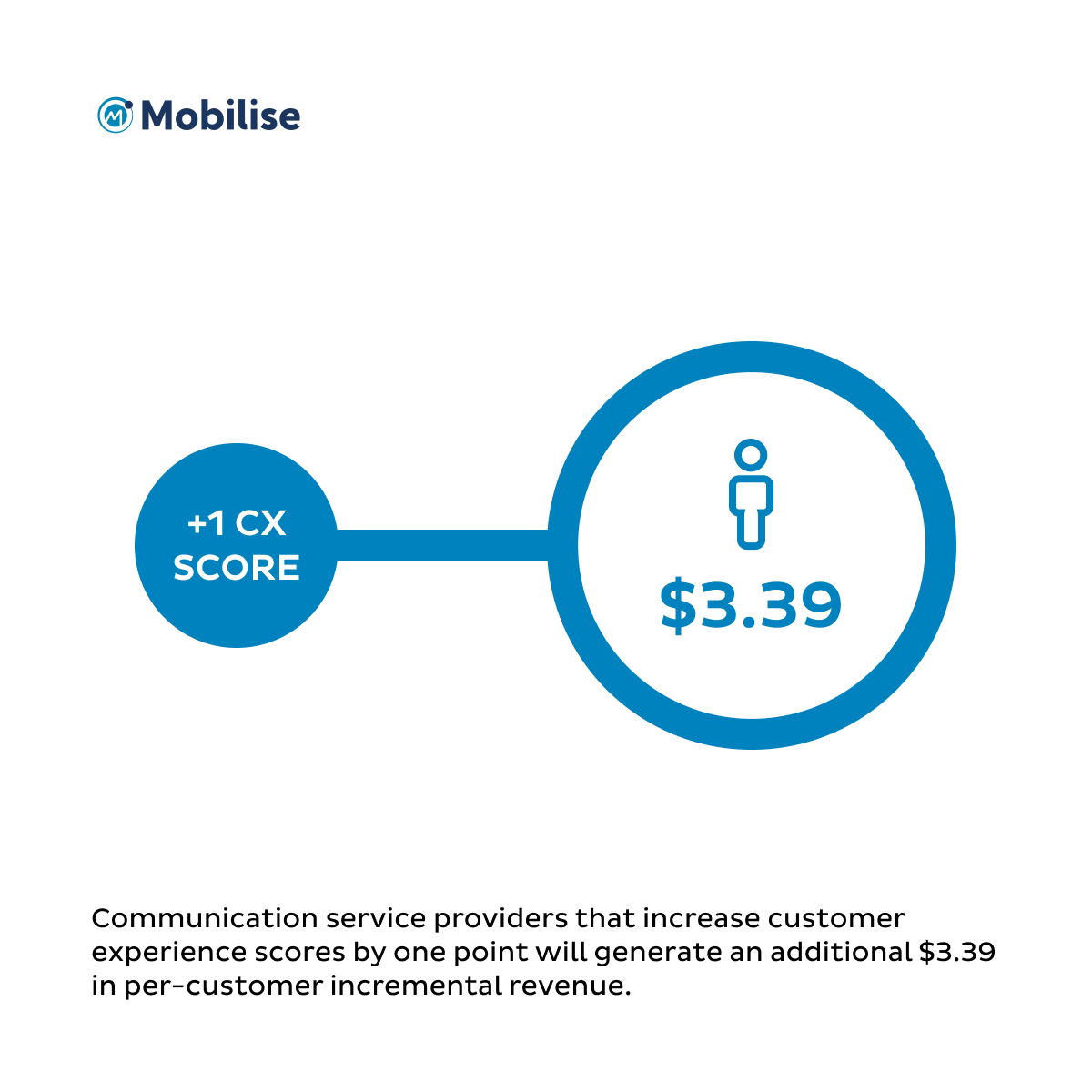 Source: Forrester
Security
Evidently, eSIM is more secure than traditional SIM cards. It removes the threat related to device theft or loss. Compared to eSIM, it's easy to discard physical SIM cards after someone steals a device. And thus, eSIM will make the stolen devices easier to find and more difficult to resell.
Time-saving
Not only is digital onboarding more convenient, but it's also much faster. It can take as short as a few minutes to complete. And eSIM activation itself takes one tap and less than 60 seconds which saves the waiting time for the shipping and collection of a physical SIM from the point of sale (POS). And with multiple eSIM profiles on one device, switching between plans takes seconds.
Conclusion
eSIM is a disruptive force in the telecoms industry. And one thing is certain; eSIM is here to stay. The benefits far outweigh the eSIM challenges of the implementation process. The best time to jump on the eSIM bandwagon is now. And SPs that want to stay ahead of the curve need to lead the way through the current barriers and obstacles.
Confused about where to start? We can help you! Click here to learn more about eSIM as a Service or contact us!