Background
In an ever-evolving world, the past few years have brought unprecedented challenges to the hotel industry. Forcing them to re-evaluate and adapt their operations. As travellers become more tech-savvy and demand personalised, frictionless experiences, hotels are now presented with a new opportunity to thrive in this changing landscape – eSIM for hotels. 
The hotel industry is recovering slower than expected from the pandemic. Achieving pre-pandemic performance is obstructed by several challenges. It ranges from rising operational costs to rapidly evolving customer demands. The path to recovery is far from smooth. 
Changing travellers' needs
Travellers these days are prioritising connectivity to the internet wherever they go, with 81% of travellers considering internet access "essential" or "very important" when choosing their travel destinations, according to HighSpeedInternet.com.  
In fact, 62% of travellers would be willing to pay more for a vacation property with good internet. This is especially important for business travellers, where connectivity is their priority whilst they're working abroad, and younger consumers where they prefer to stay connected and use their mobile devices as their main source of information when travelling.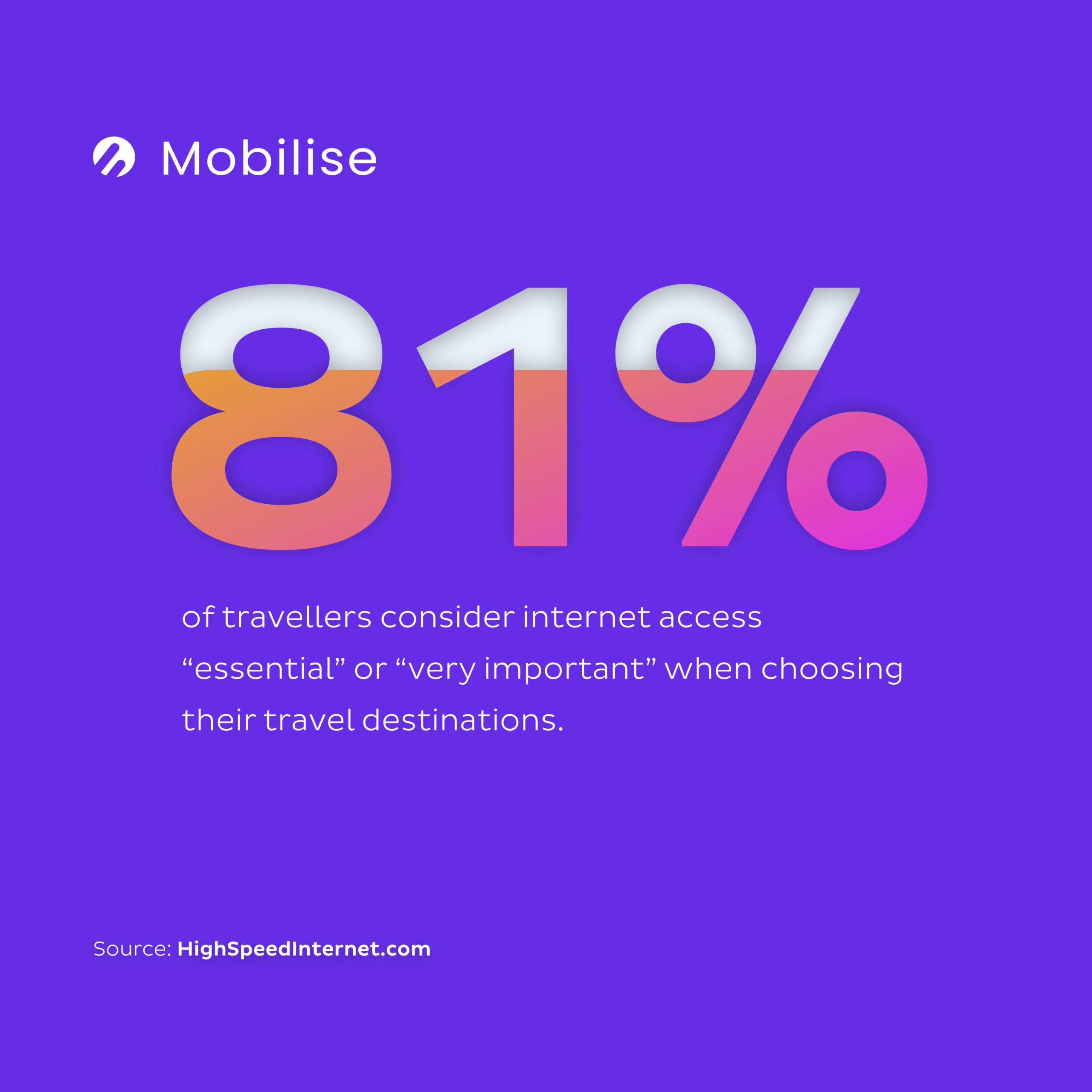 Since the rise of and shift towards remote working model, hotels have largely suffered from decreased business travel. 16% of companies worldwide are fully remote, while 58.6% of the entire US workforce is remote. Moreover, these figures are only set to trend up further, with 78% of companies expecting this shift to continue increasing in the coming years. 
eSIMs provide an opportunity for hotels to reinvent themselves and offer co-working spaces to attract a local clientele that needs a break from working from home as well as digital nomads. According to Two Tickets Anywhere, there are an estimated 35 million digital nomads worldwide.  
It's no secret that staying connected while travelling is a top priority for many people. In fact, in our recent study, we found that 9 out of 10 travellers value mobile data connectivity while abroad. As a result, it's not surprising that 38% of travellers are interested in purchasing a travel eSIM from their travel operator, such as a hotel booking site or airline. Interestingly, younger generations are even more likely to take advantage of this option. With 63% of Gen Z travellers expressing interest in purchasing a travel eSIM from their travel operator. 
Adding a hotel eSIM add-on for guests can help hotels remain competitive in times when many accommodation businesses are falling into administration. Building resistance and constantly innovating with the right technologies is the key to survival. 
What is eSIM?
An eSIM is a digital SIM that has been embedded physically within a mobile device. 
Imagine a world where travellers no longer need to fumble with physical SIM cards or endure a lagging internet connection when arriving at their hotel. This is precisely where eSIM technology comes into play. It's a game-changer for both guests and hoteliers, offering a streamlined approach to connectivity and communication.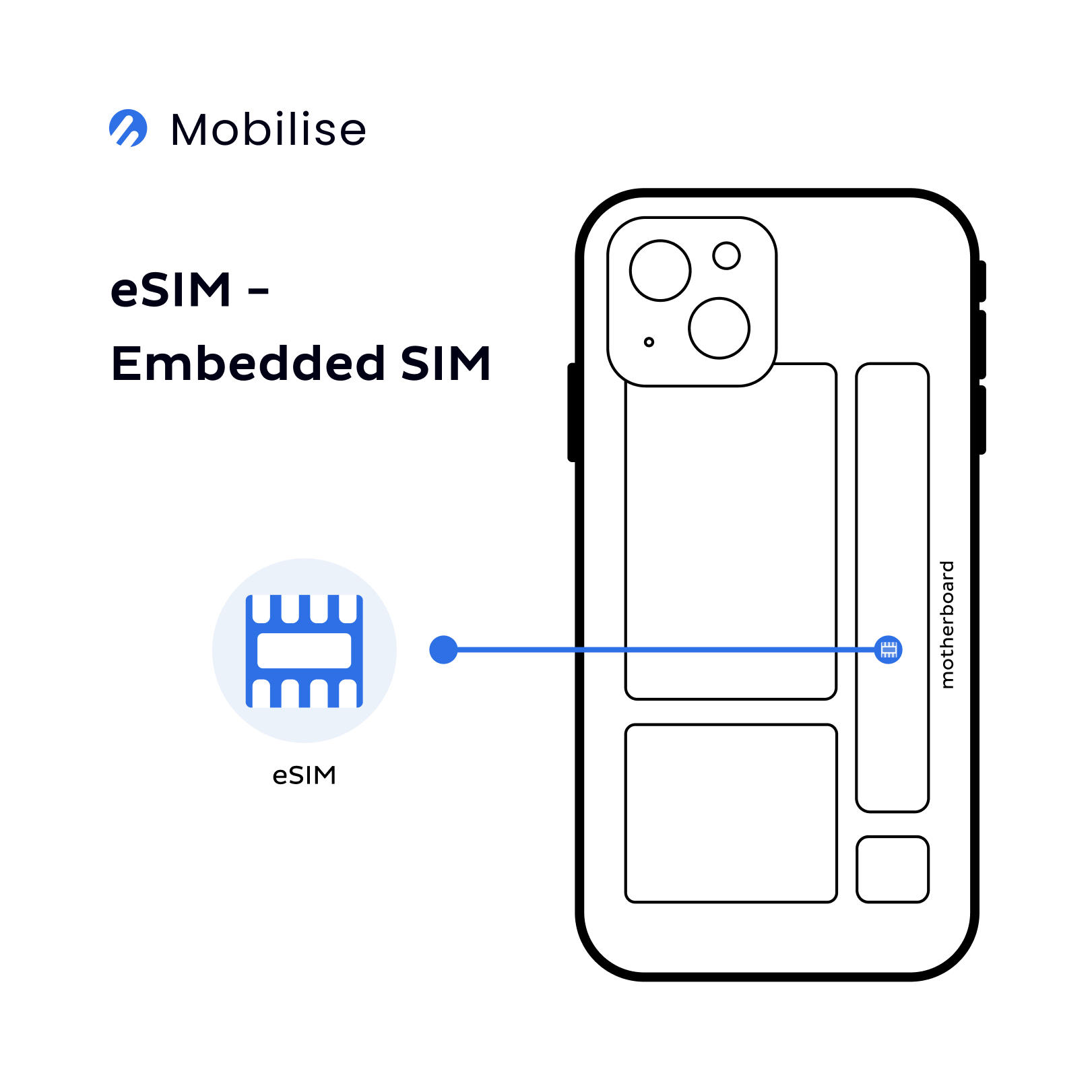 The eSIM for hotels case study 
This theoretical eSIM for hotels case study follows our usual case study format: company background, its problem, the solution, and the final results. It features a completely fictional hotel company. We called it Fullton Hotel. It aims to show how Embedded Connectivity and our eSIM SDK solution can boost hotels' customer engagement with little upfront cost or operational effort.  
The case study is free to download. It also includes a link to an interactive prototype that showcases how Embedded Connectivity would work for a hotel in real life. The prototype is also available below.
Download Fullton Hotel case study →
For more information on what Mobilise's eSIM SDK can do for your hotel business, click here to find out more or contact us now!