During these current times of crisis, companies are under more pressure than ever to innovate and make their products, operations, and business models leaner, more compelling and more competitive. During challenging times, many companies are just looking for ways to survive and can easily forget that doing so often requires thinking ahead, not just watching their backs. For many businesses, it's now more important than ever to invest in innovation to create new products, develop better business models, or defend from new entrant competitors.
Some corporates think that innovation can only originate in start-up accelerators in Silicon Valley. Some think it's about wearing a turtleneck sweater to work and having a private chef. But as hard as it may be to hear, innovation theatre isn't innovation. Nor can one person create innovation alone. Elon Musk and Steve Jobs are often used as examples of people who single-handedly brought about ground-breaking innovations. Silicon Valley is rife with this kind of myth-making.
In this post, we discuss different ideas about innovation from prominent thinkers in business, technology, and culture. We'll break down how they look at innovation and change. And study some real-life examples of industry disruption, innovation, and what lessons we can take away from these.
Disruptive Innovation: Clayton Christensen
Introduced in 1995 by Clayton Christensen, the concept of disruptive innovation has become one of the foundational theories of the technology industry, with everyone from Steve Jobs to Reed Hastings to Jeff Bezos citing it as an influence.
Christensen wanted to explain how small companies — with few people and highly limited resources — could, in certain circumstances, unseat much larger and better-capitalised incumbents.
Christensen argued that as companies get bigger, they shift focus from acquiring new customers to retaining their most valuable ones. This strategy — meant to create stability and maintain maximum revenue — inevitably leads to some swath of that company's potential customers being overlooked.
Start-ups get a foothold in a market by targeting those overlooked customers and building for them. For example, start-ups that offer a similar service at a lower price eat away the bottom of the incumbent's market. In the mobile market, we might use the example of MVNOs such as Virgin and Lycamobile carving a place in the market by offering a better user experience or low-cost international calling. And if these start-ups can begin to expand upmarket while maintaining that competitive advantage, they steal away more and more of those customers. Once this happens in massive numbers, you have disruption.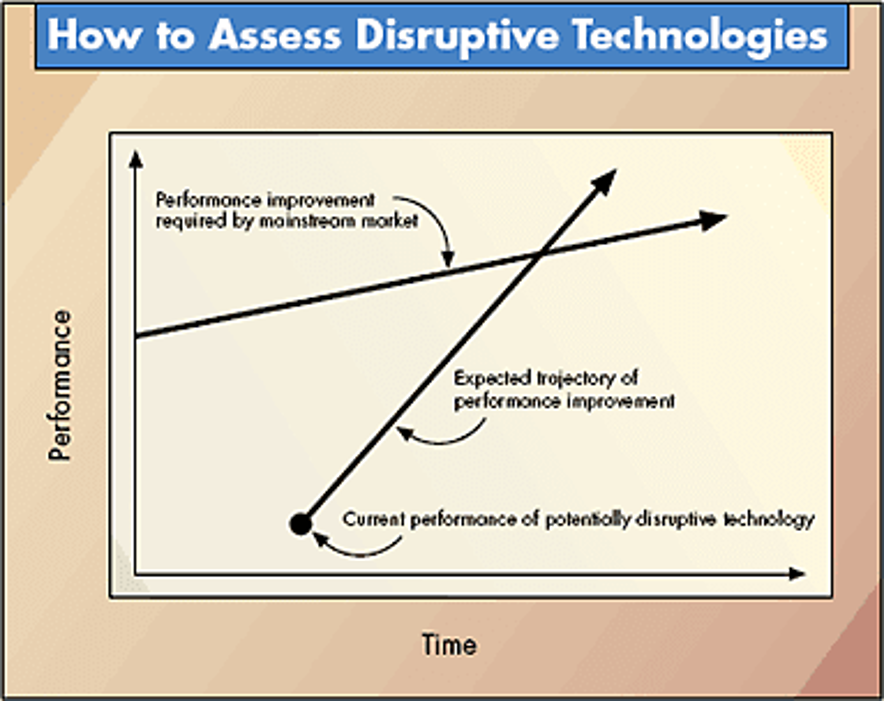 Seagate Technology was disrupted by competitors selling smaller disk drives. Blockbuster was brought down by Netflix once a modest mail-order DVD service that became an online streaming giant. Jio upended the Indian telecoms market and dethroned entrenched incumbents such as Vodafone Idea and Bharti.
We believe we are now seeing a similar disruption taking shape around eSIM technology, but more about that later.
How Netflix brought down Blockbuster
Blockbuster was a video rental chain that stocked the latest movie releases and had stores worldwide, peaking at 9,000 locations in 2004. However, a large portion of its revenues came from its infamous late-return fees rather than from the rentals themselves.
These fees earned the company $800M in 2000 (about 16% of its revenue), according to the Associated Press, but also drove significant amounts of customer dissatisfaction. Netflix, on the other hand, shipped DVDs ordered from its website, offering its customers unlimited rentals for a monthly subscription — with no late fee. Netflix founder, Reed Hastings, aware of the frustration many people felt towards Blockbuster's late fees, even wove them into the origin story of the company itself, claiming for years that he started Netflix because he'd owed $40 in late fees after renting the movie "Apollo 13."
It wasn't just a lack of late fees that made Netflix compelling to some customers. Without the physical constraints of shelf space, Netflix could offer a vastly larger catalogue of films, including niche genres. Customers could watch movies at their own pace, didn't have to travel to a physical store, and could mail them back when it was convenient for them.
Because Blockbuster stayed focused on new releases, the company didn't regard Netflix as a core threat — Blockbuster even turned down the opportunity to acquire the company for $50M in 2000.
Seven years later, Netflix merged its direct relationship with its customers into an online streaming service. Suddenly, the monthly fee that Netflix customers paid gave them access to unlimited content, without even having to wait for a new movie to arrive in the mail. Now, it wasn't between driving to Blockbuster and renting "The Office" or waiting for Netflix to mail a disc to you — it was between driving to Blockbuster and renting a disc or simply clicking a button on your computer screen.
While Blockbuster tried launching its own digital download service, the effort ultimately failed and the company filed for bankruptcy a few years later.
Innovator's Dilemma
Today, Netflix is at the other end of the innovator's dilemma — as one of the big incumbents in the global video streaming market. The high cost of stocking new releases contributed to Blockbuster's downfall. Netflix is facing a similar problem today, paying more than ever to stock high-demand, licensed content as competitors like Disney, Apple, NBC Universal, and Warner Media (HBO) enter the picture.
Netflix's business largely depends on the content from these new competitors. Three out of the four most streamed shows in late 2018 are owned by legacy media companies launching their own services — "The Office" (NBCUniversal), "Friends" (Warner), and "Grey's Anatomy" (Disney). Netflix reportedly paid $100M to keep offering "Friends" for 2019, over 3x as much as it had paid in previous years. With licensed content taking up around two-thirds of total viewing hours on the platform, the question is around what will happen to Netflix if it loses these shows.
Netflix's response to this potentially existential threat has been to increase spending on producing its own shows. It spent an estimated $15B on original content last year, according to Fast Company. But the strategy hasn't been completely effective. In its Q2'19 investor letter, the company acknowledged that "[the quarter's] content slate drove less growth in paid net ads than we anticipated."
With a shrinking catalogue and increasing prices — US subscribers pay $4 per month more today than in 2014 — Netflix's situation today is a reminder that disruption is cyclical in nature. Eventually, the disruptor becomes the incumbent, facing the threat of disruption by nimbler startups. That is why leaders in Silicon Valley are so keen to disrupt themselves before they are disrupted. "It's always Day One," Amazon CEO Jeff Bezos regularly reminds his team and the company's investors.
All of these are exhortations to remain aware of the possibility of disruption, as it can be extremely difficult (especially given how fast technology can evolve) to actually identify disruption when it's happening.
Disruptor to Incumbent: How Reliance Jio disrupted India's telecom industry. 
It's a little over 4 years since Reliance Jio launched services and changed the face of India's telecom industry with previously unseen tariff plans that included large amounts of data and voice usage allowances. Indeed, in the early days of Jio's launch, they offered their service for free to new customers which saw the operator adding 10's of millions of new customers per month. The period has been marked by a huge spike in data usage and voice traffic and a sharp decline in ARPUs.
The numbers are astounding. Data collated by Kotak Institutional Equities shows that, at an industry level, data volumes grew 4160% to 20.3 billion GB in the July-September 2019 period. This is in comparison to the April-June 2016 quarter, or just before Jio's launch. On a per-customer basis, data usage rose from merely 500 MB per month in 2016 to 10.6 GB last year.
The number of data subscribers doubled and their share among the total subscriber base increased to 57%, from 32% in June 2016, shows the data collected from Telecom Regulatory Authority of India's quarterly performance indicator reports. The share of customers using 3G and 4G services rose to 52% of the total subscriber base, up from 14% four years ago.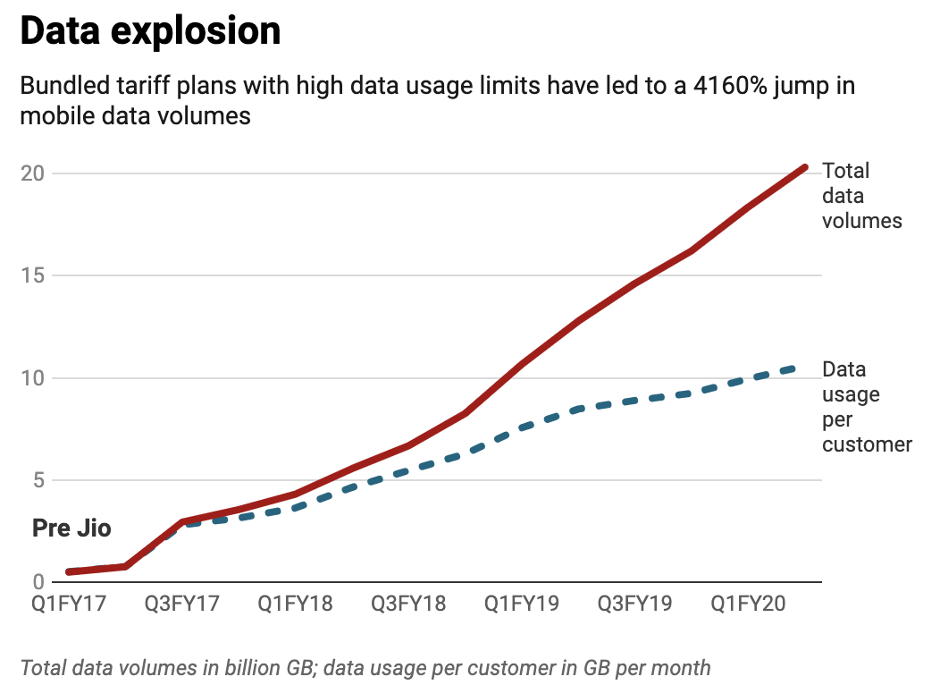 "Unlimited voice plans also unleashed the talkative Indian," add Kotak's analysts, with voice usage per customer nearly doubling to about 700 minutes per user per month. Total voice traffic rose 110% to 2.4 trillion minutes.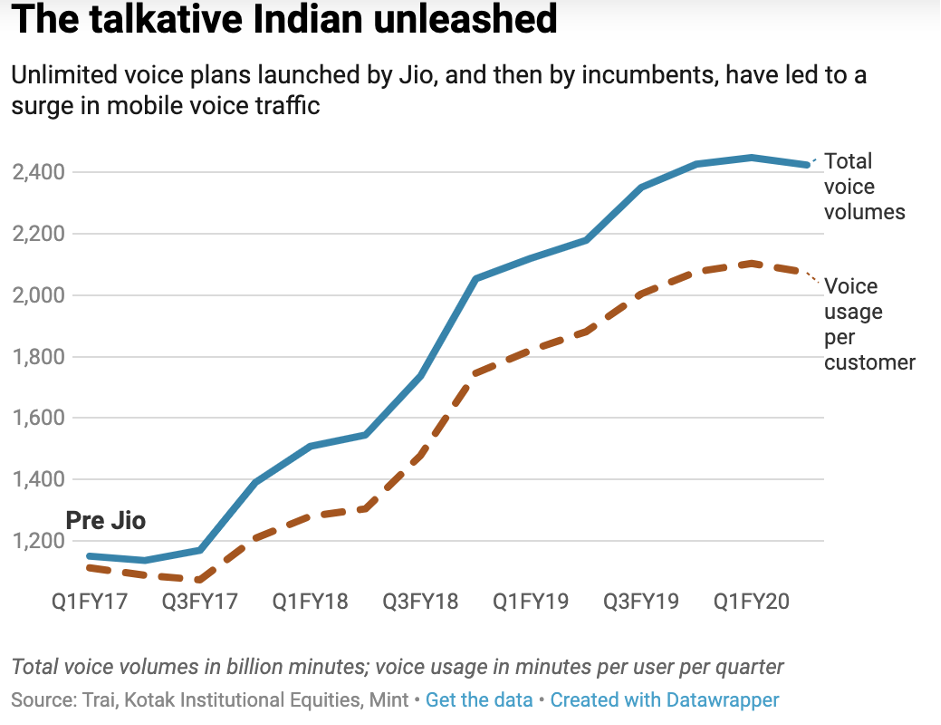 Jio has been nothing short of instrumental in bringing a huge amount of India's population racing into the digital world. Of course, all of this internet surfing and talking has been enabled by lower tariffs. The average revenue per user has fallen 41% to Rs74 (USD 1) per month in the past 4 years since Reliance Jio launched services.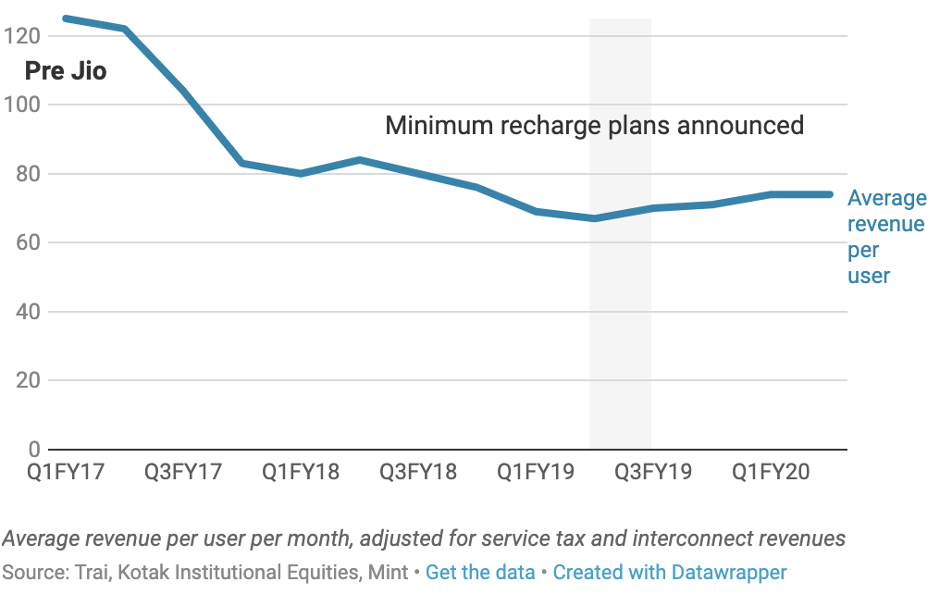 The tab has been picked by the industry, whose revenues and profits have fallen sharply. The damage, of course, has been the most for Vodafone Idea Ltd. Bharti Airtel Ltd has done relatively better, although even its profits have fallen sharply. In fact, Airtel had reported earnings before interest and tax of Rs3444 crore (c$500m) in the June 2016 quarter but reported a loss of around Rs1650 (c$250m) USD crore on a comparable basis in the September 2019 quarter.
Bharti Airtel's India mobile business has seen a 60% drop in Ebitda.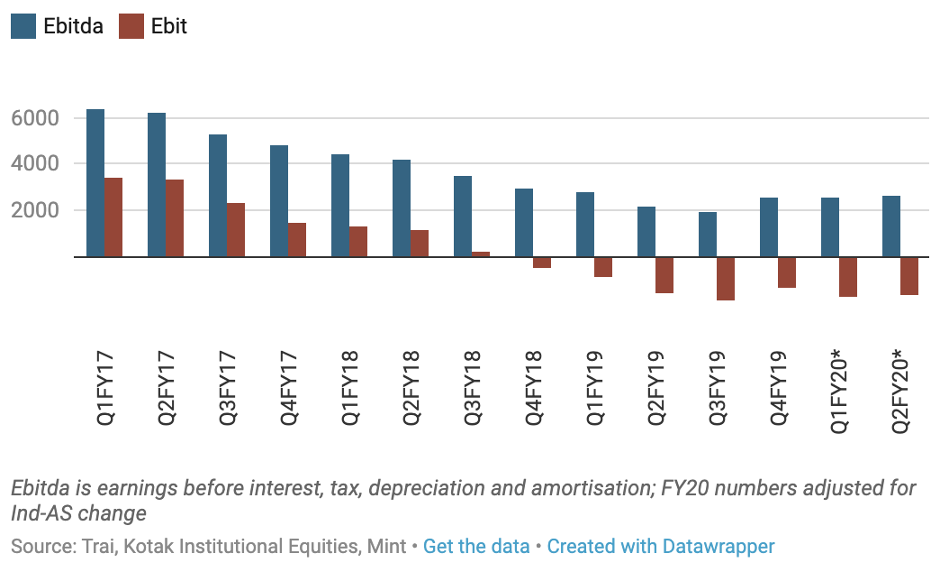 The December 2019 quarter, meanwhile, marks an inflexion point, with the industry agreeing on a truce over tariffs. Consumer usage and spends are likely to move in the opposite direction compared to the past four years.
Jio's disruption centred around a somewhat novel model for the telecoms industry. The model was to offer deep, loss-leading telecoms services but build an ecosystem of periphery products and services, enabled by the telecoms services, to gain access to a larger share of the customer wallet. The revenue from said periphery products and services would eventually surpass the loss on the telecoms services.
Jio did not mess around with this strategy, as mentioned previously, Jio's initial success was underpinned by a launch campaign which saw them give the telecoms service away for free in order to acquire customers from entrenched competitors. And the customers came in droves, at one point Jio was acquiring customers at a rate of 30 million per month, a number that many European operators would love to acquire over the entire life of their business. Jio Platforms is the business that provides these periphery services which Jio offers to customers through a series of standalone apps. The last count was 14 apps covering everything from tv & music content, ehealth, money to utilities. Anyone can download the apps but users will need a Jio SIM to activate the service, thereby creating the link and stickiness back into the Jio Mobile and Platforms ecosystem. Jio Platforms is being seen as the jewel in the Reliance Jio crown, arguably more than the telecoms business. Jio Platforms recently raised a whopping $20b from international investors by selling 33% of the business to Facebook and Google who, along with other Tech heavyweights, are jostling to gain a foothold in the burgeoning India market.
Jio was fortunate to start with a clean slate without the worry of hefty CAPEX investments to upgrade legacy infrastructure or the risk of cannibalising existing revenues by dropping prices, such as the existing incumbents. This allowed them the enviable position of being able to choose the optimal mix of technology and cost structure to achieve their objectives of growing as quickly as possible. By, for example, not deploying their own 2G or 3G network, and roaming on existing operator networks, they were able to leapfrog all the challenges of legacy infrastructure and go straight to the golden egg of 4G.
This will be the dilemma for Jio going forward, managing 400m subscribers profitability whilst incurring considerable investment to upgrade infrastructure, a challenge they have yet had to face. It is worthwhile mentioning that Jio, whilst reporting a steady increase in profits, its cash burn has been the highest in the industry due primarily to accounting practices and the capitalization of some of its expenses. Regardless, as the market leader, they will now need to prove they can disrupt themselves and maintain that innovator/leader status.
What's next?
We see a new wave of disruption hovering in the background in e-SIM. I can hear the collective sighs and grumblings  "here we go again, another vendor with vested interests spouting more hype about a technology that hasn't gone anywhere". Yes, it is true the technology has been around for years and hasn't shown much promise to date, at least for the consumer segment.
M2M and IoT have seen considerable benefits for eSIM technology. The catalyst for the consumer segment has undoubtedly been the penetration of eSIM capable devices and this is something that is starting to shift, and rapidly. Most flagship devices from the mainstream OEMs now come with eSIM capability as standard and have done so for the better part of 12 months now. We know the average life of a consumer device before an upgrade is roughly 2-2.5 years. Therefore, we know that over the course of the next 12 months, as devices are upgraded and contracts renewed, that penetration rates will increase. Indeed, our data shows this already where we have seen the penetration of eSIM capable devices increase from c5% 12 months ago to c35% now.
eSIM will be a disrupting force for many industries in the value chain, most notably the SIM card vendors who have built their businesses around the highly complex supply chain that is SIM manufacturing and delivery. From materials, production processes, logistics and security, the SIM supply chain has historically been a highly valuable part of the mobile value chain. Most SIM vendors have seen the writing on the wall and invested in eSIM platforms, however, the shift is deeper than just the user part of the equation changing. With the digital format of eSIM, this supply chain vanishes altogether, effectively commoditising the SIM as we know it.
eSIM also enables new business models not previously possible due to the barriers around physical SIMs such as the logistics process, minimum order quantities or the requirement around becoming a network operator. In particular, embedding eSIM capability directly into adjacent App services such as content, travel or eHealth who rely on connectivity but do not offer it as a service. With eSIM it is possible to envisage a scenario where an Uber App user could activate and provision a 1 hr mobile connectivity service within a few clicks. Something inconceivable in the traditional physical SIM ecosystem.
Wrap up
Disruption is cyclical. Scrappy start-ups, hungrier than their incumbent competitors, fight hard to win the loyalty of customers. But as they achieve their success, they often fall into the trap of becoming the incumbent themselves. Those that stay ahead enlist the mantra of disrupting yourself before someone else does. Or as Facebook's famous pamphlet designed to teach new hires about the company's values notes on its last page "If we don't create the thing that kills Facebook, someone else will,".
In a world that is forever moving digital, Mobilise's M-Connect platform enables MNOs, ISPs, MVNOs and service providers with the required software to innovate with highly engaging digital-first service propositions.
For more information on Mobilise's M-Connect Digital BSS platform, please log a demo request with our sales team at sales@mobiliseglobal.com.