Digital Transformation – now is the time to act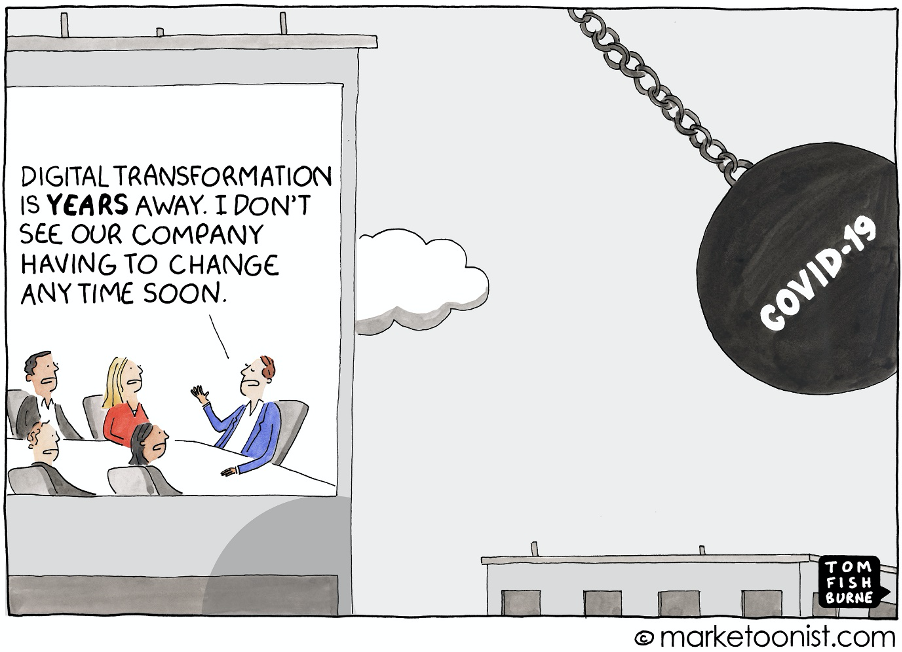 The start of the coronavirus has not only been a tragic and emotional time for us all but also for businesses with all the accompanying extra burdens imposed upon us all in running our business provoking discussion not only to how we recover from the existing situation but also how will we prepare for the next crisis in whatever form it takes.
One thing is clear, however, the enforced lockdown of huge parts of the population has highlighted the acceleration of our transformation to an online society be it food deliveries or amazon purchases, things have changed and the way we shop and interact with others on every level as well.
It is also clear to those of us in the telecoms world that demand for digital services has never been greater. Unfortunately, many businesses that were delaying digital transformation efforts have been caught out unprepared and without the ability to deliver a positive digital experience.  We should now take this as an opportunity to upgrade our processes and systems that have in too many cases been anchored in the legacy world of shops, branches and physical interactions rather than leveraging the advances in technology to deliver a true digital consumer experience.
Whilst in no way do we downplay the horrible human tragedy of Coronavirus we do feel that there is a great opportunity available for business large and small to be proactive in their response to an unprecedented global crisis by simplifying their digital relationship with customers. Creating frictionless customer-facing design, supported by improved back-office operations provides the foundation for new digital relationships in a time when physical commerce is becoming more and more difficult.
Now is not the time to just send a consumer to a website or deliver a general message that doesn't acknowledge and appreciate their current situation. Customers need to get the sense that you know them, are looking out for them and that you will reward them for their loyalty. This must be done with highly targeted communications. Messages must be timely, specific and easy to understand. Like you, the consumer is under immense pressure and need clarity and transparency.
Here at Mobilise, we can assist with that transformation. Through M-Connect, our fully customizable BSS platform, we provide telecoms brands with the software elements needed to implement highly engaging digital experiences. The marketing landscape has dramatically changed for Telecoms companies. Today differentiation is created not through technology but through customer experiences. Consumers want the same kind of experience with every brand they encounter be it Facebook, Amazon, Apple or their telecoms service provider; and today there is a powerful convergence of marketing and technology taking place; brands are no longer built through technology or advertising but through Experiences. Customer experience has emerged as the key driver of sustainable business growth, a one-point increase in Experience scores can translate into millions of dollars of annual revenue.
With its Modular Architecture, M-Connect is a powerful convergence of marketing and technology. Built on a suite of standard features and providing a cost-effective yet feature-rich "plug & play" capability to integrate not only legacy network functions but also easily integrate new products & services.
Also, by using predictive analytics we offer a different approach to understanding user behaviour versus the traditional approach of assuming that historical trends will continue. M-Connect relies on insights from complex machine learning models to balance a vast number of attributes and data points to forecast how a market will change going forward and can give a business a competitive edge and drive the decision-making process in a rapidly changing environment
The downside is the amount of data available, including in-house data, industry data, census data, retail trend data, psychographic data etc and it is the ability to model this data and extract insights so that businesses can models understand their markets and customer needs from an analytical perspective that has led to the introduction of M-Connect.
M-Connect is the culmination of Mobilise's extensive experience of providing both telecom services and bespoke software products to the Telecom Industry resulting from working with a wide range of both Technology and commercial partners and its comprehensive suite of applications integrated across a common integration layer
Businesses, know their particular markets better than we can, and their knowledge and intuition is important to the process but predictive analytics gives them a deeper understanding of their market and the potential that exists within it, but we also recognise that the best decisions are not made entirely by the machine and therefore our strategy with M-Connect was to create a digital ecosystem that allows businesses to implement digital-based service propositions using a standard feature set, but with a flexible architecture that allows them to deploy additional products and services quickly and with minimal cost and providing technical agility in a fast-moving and competitive telecoms market.
This demand for remote services and e-commerce across all industries has rapidly grown, and the current situation will afford a window of opportunity for businesses to learn from the experience and look to at ways of providing their consumer's alternative means of engagement.
There has never been a greater need to identify micro-segments of consumers with unique challenges that need quick attention and require proactive solutions. According to Deloitte, even before the Coronavirus crisis, 38% of customers said user experience (UX) is the most important factor when choosing a digital service.
Here at Mobilise, we feel that as a result of the Coronavirus and the disruptions to traditional ways of doing business, we are going to see the industry accelerate digital strategies that we've been talking about for a long time. The resulting accelerated Digital Transformation will bring forward practical solutions such as the use of services like facial recognition to supplant passwords and fingerprint or fully digital purchasing for the underbanked rather than a reliance on physical payments, such as cash or card. These solutions will help alleviate concerns around the spreading of viruses via touch as well as help overcome the challenges related to the crisis that business currently faces today.
As part of our program to understand the how we can assist in this transformation, we are conducting a survey to try and get more insights into the effects of COVID19 on the telecoms industry and how the learning from this crisis can be used going forward.  If you would like to take part in this survey and gain exclusive access to the anonymised results, then please visit https://www.surveymonkey.com/r/mobilisecovid19 and we will be pleased to send you a copy of our report once complied.