At Mobilise, we observe a strong correlation between the telecom industry and the banking industry. In the 2010s, both sectors have experienced significant changes. They include the emergence of new technologies and rapidly changing customer expectations. However, we observe that customer experience in telecom industry is not as evolved as it is in banking. In this article, we wanted to explore how the banking sector transformed over the last decade and what we can learn from it to help telcos become more successful.
Digital transformation of the banking sector
The time after the financial crisis of 2007-2008 is considered as the time when fintech was born. Fintech stood for new companies that wanted to change the financial world with technology. Fintechs reached out directly to the end-users to get to know their needs, wants, expectations as well as frustrations and pain points related to banking and started building new solutions. Around 2015, neobanks like Starling Bank, Monzo and N26 were born, completely revolutionising the way consumers access their finances.
Initially, new entrants found it difficult to compete with well-established incumbents, who possessed advantages in capital, customer base and networks. However, after the financial crisis, governments in some countries, such as the UK, have made regulatory changes to encourage new entrants and promote competition in the industry. Neobanks also attract various investors and venture capital firms and raise significant amounts in funding.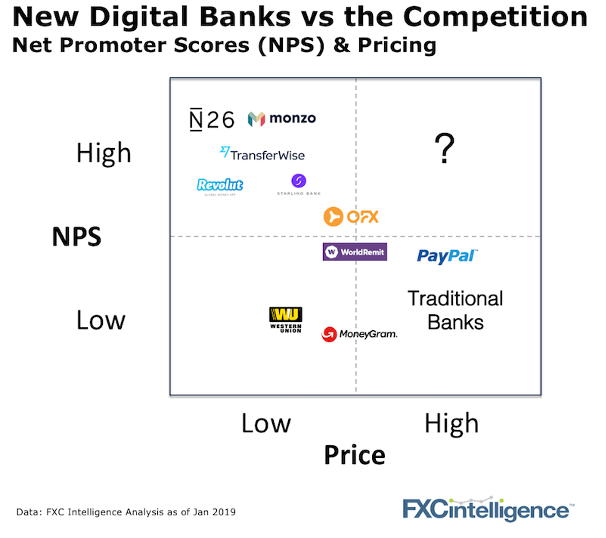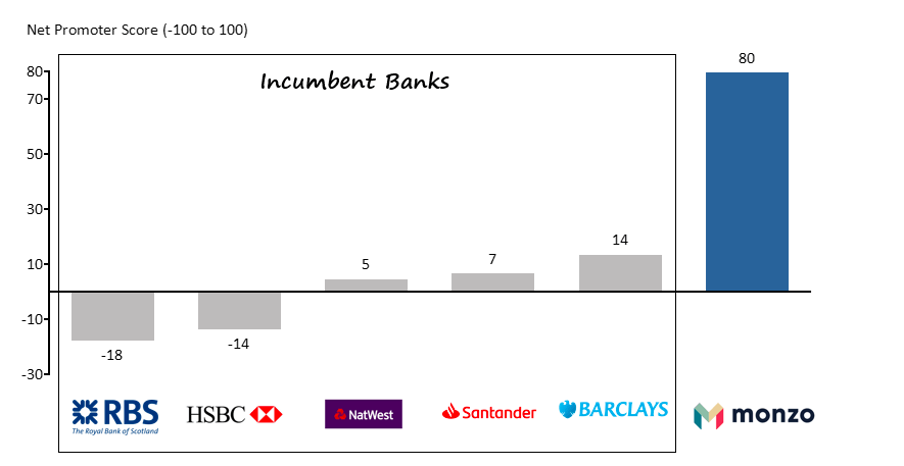 Source: link | Data from May 2020
New Business Models
Online-only banks started by offering simple current accounts and debit cards, which can be managed via a mobile app equipped with numerous innovative features. But whilst neobanks offer the same core services as traditional banks, the absence of brick-and-mortar locations means their business models exhibit quite notable differences.
Neobanks are fintechs, so rather than purchasing and relying on existing IT systems, they develop their own using open-cloud operating systems such as Amazon Web Services (AWS). The core banking systems developed by neobanks are characterised by a network of micro-services. They consist of many different components operating separately but integrated together. Those systems are less costly to maintain and implementing changes can take around 2 weeks, as opposed to 3-6 months for traditional banks.
Additionally, neobanks have created innovation in the following 4 areas:
Customer experience
Neobanks are customer experience-driven. They focus on providing superior customer support and convenient solutions. Customers can open an account in less than 10 minutes and the user interface of the apps makes navigating quick and simple.
Features and money management tools
Compared to mobile apps offered by traditional banks, neobanks give customers more freedom and functionality in managing their money. Features include real-time spending notifications, offering detailed insights into spending habits and the ability to sort money into different 'pots', such as saving or holidays.
Agility and low-cost structure
The absence of branches and the focus on technology mean that neobanks can respond to changes more quickly and implement new features. It also reduces their operating costs significantly, enabling them to offer lower fees for customers.
Transparency
Neobanks focus on being open with the public about their operations. This includes releasing yearly financial reports, documenting problems as well as positives on their blog. They also use less corporate tone in their interactions with customers.
Financial results
To continue growing, neobanks need to overcome a number of challenges. Most importantly, they need to win the trust of customers. Being newcomers to the market, many customers are hesitant to trust neobanks with their life savings, mortgage or other services. Increasing their customer base will prove to be crucial to the long-term sustainability of their business models.
Customer acquisition seems to be the priority of Revolut. Revolut is a neobank from the UK. In addition to the core banking services, it offers currency exchange, commission-free stock trading and crypto, among others. In his article for TechCrunch, Romain Dillet reports Revolut's heavy investment in its referral program, which is effectively buying customers by giving away free money. At the end of 2020, Revolut had 14.5 million personal customers and 500,000 companies using Revolut Business, a sizeable customer base.
The efforts contributed to $361 million in revenue in 2020 (£261 million). That's a 57% increase compared to 2019 revenue of $229 million (£166 million). However, at the same time, the company reports operating losses of $277 million (£200.6 million). The biggest contributor are administrative expenses. With a 2,200-strong workforce, the company spent $367 million (£266 million) on administrative costs alone. For a digital-first business, where things like automation through technology are theoretically a key driver for reducing traditional operating costs, such as people, these costs seem particularly heavy. Nevertheless, the cost structure in terms of headcount is still more advantageous than one of the traditional banks.

Source: link
Revolut has also raised a mega-round of funding in 2020 – a $500 million (£360.8 million) Series D round that was extended to $580 million (£418.5 million) in total. Whilst the company can continue growing through raising massive amounts of cash, it is yet to achieve profitability and stop incurring significant yearly losses.
How's telecom industry similar?
The financial crisis has not affected the telecom industry as much as the banking sector. The introduction of 3G, the premiere of the iPhone in 2007 and the subsequent launch of the app store, growing digitalisation of business processes, the emergence of new technologies and business models, the introduction of OTT services, such as WhatsApp and WeChat, as well as changing customer habits, on the other hand, had a significant impact on telcos. As brands across all industries started becoming more customer-focused and technology-driven, the telecommunications industry started experiencing a gradual decline in revenue from traditional services.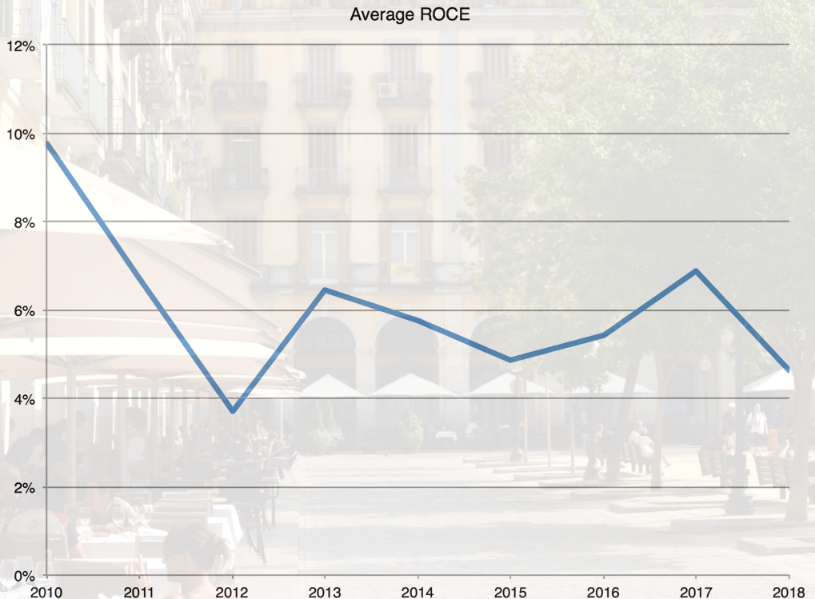 Source: link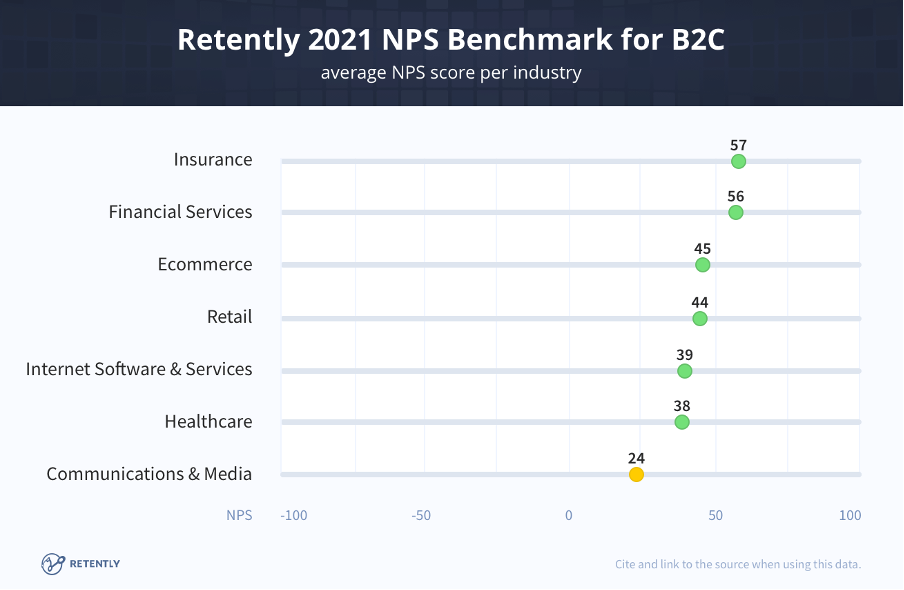 Source: link
Those changes have prompted both small and large telcos to adapt. However, many of them have lacked a consistent strategy, committed leadership or focused all efforts on improving only one element, such as customer service or introducing a new mobile app. Our experience, however, tells us that to deliver a successful digital strategy, the approach must be multi-faceted. It should involve a transformation of front and back office systems and processes.
Nonetheless, around the same time as neobanks emerged in the banking industry, telcos saw a surge in brands like Circles.Life and Jawwy from STC – digital-first and customer-centric service providers who set an example for customer experience in telecom industry with their flexible, no-contract plans and digital-first customer experience. We would argue the approach to customer experience from these digital brands is the exception and not the rule. Many of the major telco brands, although actively driving digital transformation initiatives, are falling short of meeting digital customer's expectations.
Customer experience in telecom – Circles.Life
Circles.Life is based in Singapore. Since its launch in 2016, it has captured 5% of the mobile telco market share. It makes it the largest and most successful digital telco in Singapore. Securing several rounds of funding from Sequoia Capital, Singapore's EDBI, Silicon Valley's Founders Fund, and Warburg Pincus for its fully digital technology and business model innovation, it offers cloud-based telecommunications services around simplified data-focused plans, a simple onboarding process, and an easy-to-use mobile app.
Circles.Life, and a handful of other digital-first telcos, were able to stand out from the crowd thanks to their investment in the cloud-based IT stack. It's API-based and fit-for-purpose for digital. It supports easy third-party integrations with a range of partners, from MNO, e-commerce, entertainment and transit companies and enables telcos to achieve better customer flow.
Legacy infrastructure, on the contrary, includes hundreds of IT systems interconnected to serve different businesses. As a result, a decision to develop new products, or even modify an existing one, affects a great number of systems. The overhead in terms of cost and effort is seen as limiting the ability to respond to the market.
How to improve customer experience in telecom?

Fintechs and digital-first telcos feel further ahead in their digital-first transformation. Therefore, they offer plenty of interesting learnings on how to improve customer experience in telecom industry:
Low fixed costs
Revolut's case taught us to keep fixed costs, such as administrative costs, as low as possible through e.g. process automation or advanced self-service features. It will support better profitability per customer early on whilst the business reaches scale.
API-led design

A digital-first strategy needs to be underpinned by an API-led design approach. API-led design enables rapid expansion and diversification beyond traditional telco services, such as voice and data. It also allows for seamless third-party integrations that enrich customer value propositions.
Lower costs
By eliminating physical retail outlets, telcos can cut customer acquisition and service costs through automation and introduce non-telco services such as event ticketing, insurance, games and shops on the platform.
Differentiation
The implementation of digital technologies, in turn enabling innovative business models, allows telcos the ability to differentiate from established rivals in the highly regulated industry of telecommunication.
A culture of innovation

Moving towards a culture of iterative innovation and accepting failure as a necessary part of the innovation cycle is fundamental to meeting the constantly evolving expectations of the digitally savvy customer.
Customer-centrism
A customer-centric approach to all decisions, technical or business, forms the foundation for delivering successful digital experiences.
Transparency
Transparency builds respect, trust and customer loyalty, which, in turn, strengthen customer retention and reduce churn.
Conclusion
Although very different business models, we can learn a lot from neobanks. Since their first emergence in the mid-2010s, they have revolutionised the industry and provided improvements in business models for banks. They also caused disruption in the banking and other financial services prompting traditional banks to keep up with the change. We hope that telcos can learn from neobanks and offer a similar level of customer experience in telecom industry.
If you'd like to find out more about Circles.Life and Jawwy from STC, head to our blog. We have a content series called 'Value Proposition Teardown', where we thoroughly review digital value propositions of digital-first telcos from around the world.
To download the article about Circles.Life, click here.
To download the article about Jawwy from STC, click here.