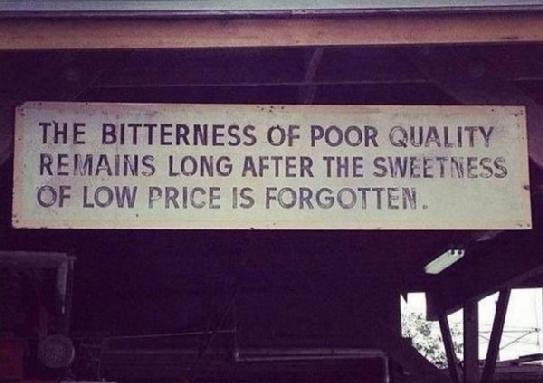 We have been developing Mobile applications for around four years now, both for clients and our own products. Coming from a background in consultancy, the rationale to move into software was quite simple: Build a software product once and replicate the same product for multiple clients. The high profit, long-term reoccurring revenue would then flow in!
It was a big transition for us to move from pure consulting to software development. We made lots of mistakes but through those mistakes (and our successes), we have built up a body of knowledge in the business that has become very valuable. Combine this knowledge with our telecoms expertise and I like to think we have a unique set of skills to offer our clients.
As I'm sure is the case for all software companies selling B2B, we often find ourselves justifying effort and cost for a client project. One thing that the last four years has taught us is that there is no such thing as a shortcut. We have a well-defined development process and whenever we try to short circuit this process, without fail, it sacrifices the quality of the end product in some way. Invariably this adds additional cost either because of redevelopment work to fix issues or lost opportunity because the product launched is not at the quality it needs to be in order to drive user acquisition.
Digitisation is becoming a key strategy for many telecoms service providers. We see more and more companies moving towards app-first approaches. Take Freenet in Germany, for instance, with their recently launched Freenet Funk offering. There are others that are more established: Circles.life Singapore or Voxi in the UK, which is a sub-brand for Vodafone. Many of these offerings have no retail presence and the entire user journey is managed through an app or their website. Leaving aside the obvious cost benefits from a digital services approach, when you layer on the incoming transformations that e-SIM will no doubt force, digital based offerings are going to be key to success for telecoms operators in the coming years.
Back to the app development process – there are various schools of thought regarding software development frameworks, whether it be Agile, Waterfall or one of the multitude of others out there. It is, however, certain that particular approaches suit particular situations and, in our experience,, there is rarely one size that fits all. At Mobilise, we follow the Agile methodology but have our own customisations. When we talk about justifying effort, the area that is often overlooked or undervalued is that layer of effort between the business strategy and software development. More specifically, this can be broken down into technical and functional requirements and User Experience design. An illustration of this can be seen here: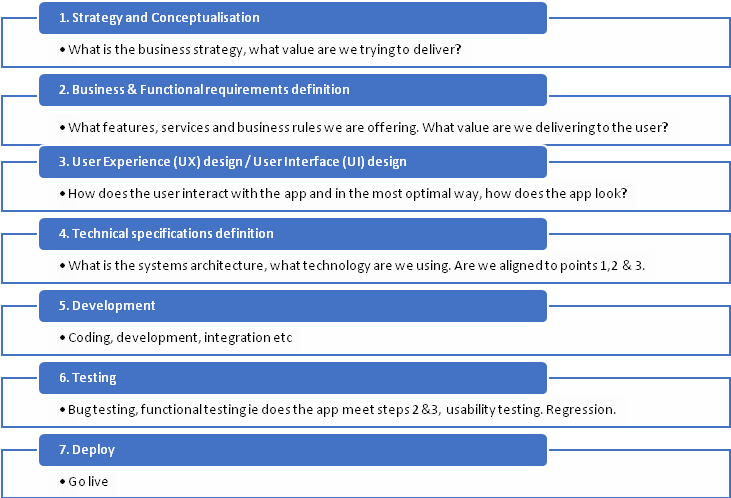 We have found that steps 2, 3 and 4 are the most important in delivering a successful app but these steps are also the most commonly overlooked. Spending the time in these areas, invariably leads to a well-thought-out strategy and design and this helps developers deliver more accurately. For us, we consider the bridge between telecoms customer journeys and app-based customer journeys to be particularly important. From a customer journey perspective, the offline world of telecoms is very different from the online world. However, it is important to ensure that these customer journeys are as aligned and synced up as possible. For example, a customer registers payment information via an IVR but then needs to re-register the same card details within the app. Ideally the customer should be able to register once, and the information be available across all channels. Aligning these journeys avoids customer confusion or dissatisfaction and ultimately leads to greater conversions and loyalty.
A bit more on the importance of good UX/UI below:
The value of good UX/UI
Before discussing the benefits of good UX/UI design, what actually is UX/UI design? At the heart of a good UX and UI is a focus on the users' satisfaction, when interacting with the app. Essentially, UX design takes a holistic approach to creating a new product or service, focusing on the way they are used rather than just how they look. It designs the user experience from beginning to end and encompasses all customer touch points in between.
From a business' point of view, the purpose of offering an app is to deliver some kind of value to the user or to the business. We want users to perform an action in the app whether it is buying a product or viewing specific content. Good UX design will guide users to that action in an intuitive and hassle-free way. The value of good UX design can be broken down into the following areas:
1. Investing time in UX design up front can significantly reduce development costs down the line.
Investing in market research, prototyping or user experience focus groups upfront can prevent potential usability issues later on. This is far less expensive than fixing them later with product redesigns or bug amends. Whilst working in this iterative manner may seem more costly to start with, it can save development costs in the long term. More importantly it can help build a product that drives conversions and engages with your target users effectively, which is the bigger objective.
2. User Experience can help you increase your conversions
It is a familiar experience for everyone – you're browsing the web looking for a particular product or service and have come across one or two apps or websites that address your problem.
Whilst all of these sites seemingly promote the same content and products, one clearly stands out. It is easy to use, and you are able to find what it was you were looking for quickly and with little to no effort. The overall experience was enjoyable, and you happily save this website for future reference. Take Amazon's patented 1-click ordering as an example. After registering their shipping and payment information once, users are able to order products in just 1 click. Back in 1999 when Amazon patented this 1-click strategy, e-commerce was still developing but Amazon realised, ahead of the pack, the importance of a simple, hassle-free user journey. This 1-click strategy is often described as the game changer that allowed Amazon to gain a foot hold in the market that has led to it being the dominant force in e-commerce it is today.
The simple science of UX is that, as humans, we are impatient. This is further emphasised online. With Gen X, Y and Z's expectations being even more severe, now more than ever, it is important to consider how to reduce the level of effort your users need to expend in order to maximise the number of conversions on your product.
Just as hassle-free and intuitive design is important, clear calls-to-action can make a big difference to conversions as well. By principle, call-to-action buttons should make it crystal clear to the user what actions the CTA buttons are enacting. Buttons that read "Sign up to our mailing list today" or "Book Now" are examples of clear CTAs.
3. Increase your brand loyalty with UX design
A good user experience goes a long way for any business. It is vital in building trust in your brand, product or service and in establishing a longstanding relationship with your target customers. Seamless and enjoyable interactions promote customer activation, which in turn translate into recognition and loyalty to your brand and its products and services.
Acquiring new business leads is only half of the battle. Once they have converted, what are we doing to keep them? This question is particularly important in today's telecoms industry as markets reach saturation point. The focus is very much on how to retain customers.
A customer journey map, or CJM for short, is one way to help increase customer retention. Often provided as visual designs or storyboards, they strive to map out every iteration of the customer journey from start to finish.
This helps you to not only build empathy with your target customers, but also understand where they are in the purchase cycle and what possible problems they might face at particular stages in their journey. These metrics all offer insight into ways to optimise your designs to drive better user engagement and inevitably, customer loyalty and retention.
In summary, it is a really important time in the telecoms industry right now, as digital transformation becomes more and more of a necessity. High quality client-facing software is becoming extremely important for service providers to lower costs, keep agile and remain competitive.
For more information on our digital transformation platform M-Connect, please get in touch.
I would like to finish with a quote that I love, which after making many mistakes myself, I have learnt to be true the hard way.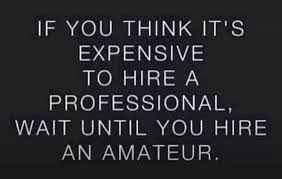 By Hamish White
Hamish White is the Founder and CEO of Mobilise and is an international Mobile telecommunications expert with 20 years' experience covering 4 continents, with a speciality in managing greenfield or transformation projects.