Bundling of products and services has been in existence for ages, McDonald's Big Mac meal deal, anyone? Likewise bundling of Telecoms services is nothing new either. Dual, triple and quad-play operators have been in existence for many years and bundling has proven an effective strategy to offer more value to customers whilst mitigating churn and maximizing CLV (customer lifetime value). Here in the UK, Ofcom reports that 80% of households in the UK buy bundled services and by doing so households on average save themselves 24% on the total cost when purchasing services individually. Bundling of services can also significantly reduce churn percentages , KPN Netherlands has 10% churn across all its consumer propositions, and only 5% among bundle customers. Proximus Belgium's consumer churn has averaged 21% for single play products, 11% for double-play, 10% for triple-play, and just 3% for quad-play[1]. So, there is an obvious reduction in churn for every extra product included in the bundle.
Although bundling is a tried and tested strategy, it's not always proven successful. Often, we see some key areas not fully addressed in bundle offers:
Customers are not convinced the bundled offering meets their needs which can be down to ineffective marketing
The price discount offered through bundling is not compelling enough versus the price when purchasing the components individually
The purchase journey of buying a bundle can be too complicated
The bundle leads to cannibalization of existing profits rather than adding incremental profits for the operator
A key element often overlooked is the user experience and ensuring that the purchase and account management journeys are designed well, specifically catering for the target customer and are not just a generic one size fits all approaches. Different customers will be comfortable with different technologies, sales interactions or payment methods and the UX should cater for them accordingly, not an easy task if you have very different customer segments.
As more and more operators adopt bundling strategies, there is however inherently less and less differentiation possible, meaning that operators must continue to evolve their bundling strategies to stay relevant. As we have seen more recently, an approach can be to attach a product from an adjacent market like, for example, OTT video services such as the T-Mobile Netflix union in the US or EE and BT Sport's in the UK (albeit the latter is more cross selling existing products within the same company). The BT offer gives customers 6 months' free BT Sport when subscribing to an EE postpaid plan.
Netflix ON US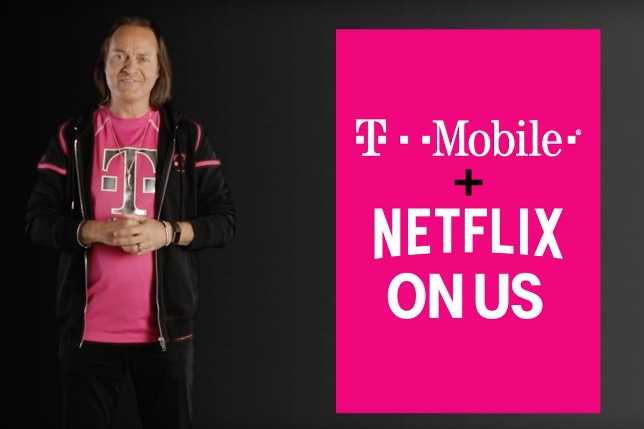 Figure 2 – T-Mobile and Netflix team up in the US [2]
Taking the case of Netflix and T-Mobile, with its marketing clout and large existing customer base, T-Mobile can offer economies of scale to Netflix that are hard to come by and as such, the operator can theoretically negotiate far better per unit costs compared to the price a customer would pay purchasing directly from Netflix. For example, a monthly Netflix subscription at a cost of $4.50 rather the usual RRP of $9 means an operator can significantly discount the attached product by say 25% from RRP whilst still maintaining strong margins and providing the consumer great value, all the while driving additional incremental sales to its core product. A win-win situation for all.
The T-Mobile offering seems a little confusing, if a customer has two or more lines on an eligible T-Mobile ONE tax inclusive voice plan, you can get a Netflix standard 2-screen subscription and Family Allowances for free. You can also upgrade to a Netflix premium 4-screen subscription for $3 per month, which is probably where Netflix see most of their upside in the deal. The offer and qualifying criteria does seem slightly convoluted and perhaps is an example of how the marketing message needs to be clear and concise to convey clearly the benefits to the customer whilst also ensuring that the product meets customer expectation once purchased and going forward.
Amaysim 1 year free mobile
An interesting development in the Australian mobile market is the MVNO Amaysim offering an electricity service to its users and cross subsidizing with their mobile product.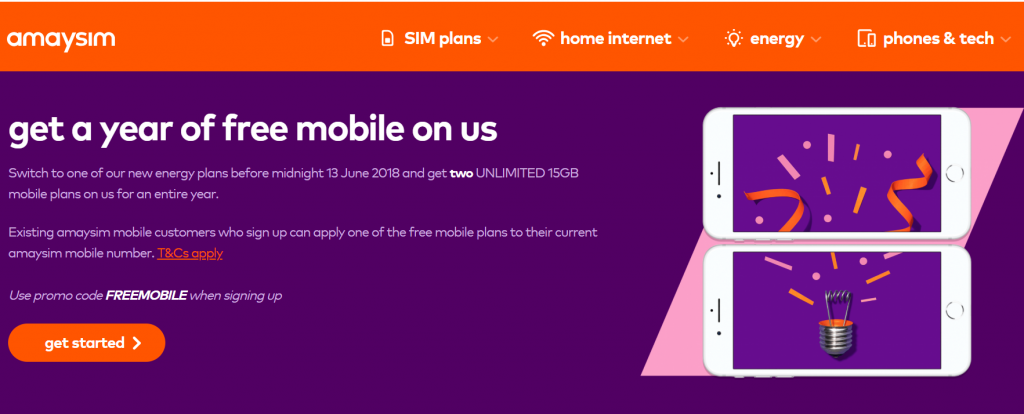 Figure 3 – amaysim offering a year's free mobile service [3]
Customers who purchase an electricity service, within the initial 2 week promotional period can receive 2 mobile plans offering unlimited text and voice with 15Gb of data per month for free for a year. A hugely aggressive offering for the Aussie market where data is still relatively expensive for the consumer, as is the access cost for the MVNO. A key USP will be the fact that Amaysim customers will be able to manage their Mobile, Electricity and Internet accounts all from one central online platform. It's worth noting that Amaysim already owned Click Energy so the energy service is already effectively from within the Amaysim family which would certainly make it an easier service to build and deliver in comparison to building from scratch with an incumbent energy supplier from day one. Time will tell if Amaysim continues this promotional offer, but it is certainly compelling and should drive subscriber acquisition.
Amex Wi-Fi bundle
Another example can be seen with Amex offering customers a Global Wi-Fi product. High Value Amex credit card customers are offered 10 complimentary inflight Wi-Fi vouchers giving access to inflight Wi-Fi and to millions of Wi-Fi access points globally. Well suited for business travellers who are forever in need of unlimited, secure and always on internet access at reasonable costs. For Amex this provides a unique and additional value driver to one of its existing products and drives customer acquisition and retention.
Summary
Thanks to market consolidation and a growing appetite for multiplay services among consumers, there is certainly a bright future for bundling in telecoms, although it's not all plain sailing. Ovum predicts that by 2021 triple and quad play subscriptions will increase from 24% to 31% and 6% to 13% respectively but dual play subscriptions will decrease from 33% to 22% in the same period.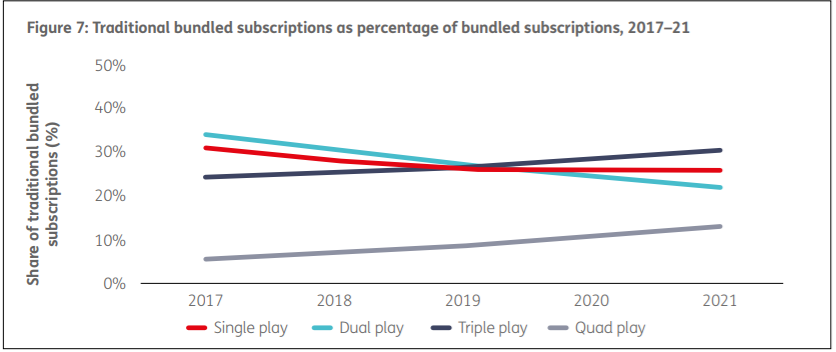 This dual play trend gives evidence that bundling is not a slam dunk for new players, key to ensuring continued success with a bundling strategy is to ensure there is ongoing innovation with products and services offered and the user experience for purchasing and managing the bundle of products is compelling.
Hamish White