Spending on eSIM services is soaring. Research predicts that the eSIM market will reach $10 billion in 2028 and that retail spending on travel connectivity services will be worth over $30 billion by 2028. Sounds like a huge opportunity. And it is indeed! However, most companies, especially those outside the telco realm don't know how to approach the topic and get a chunk of that sum. The answer is simple: an Embedded Connectivity solution.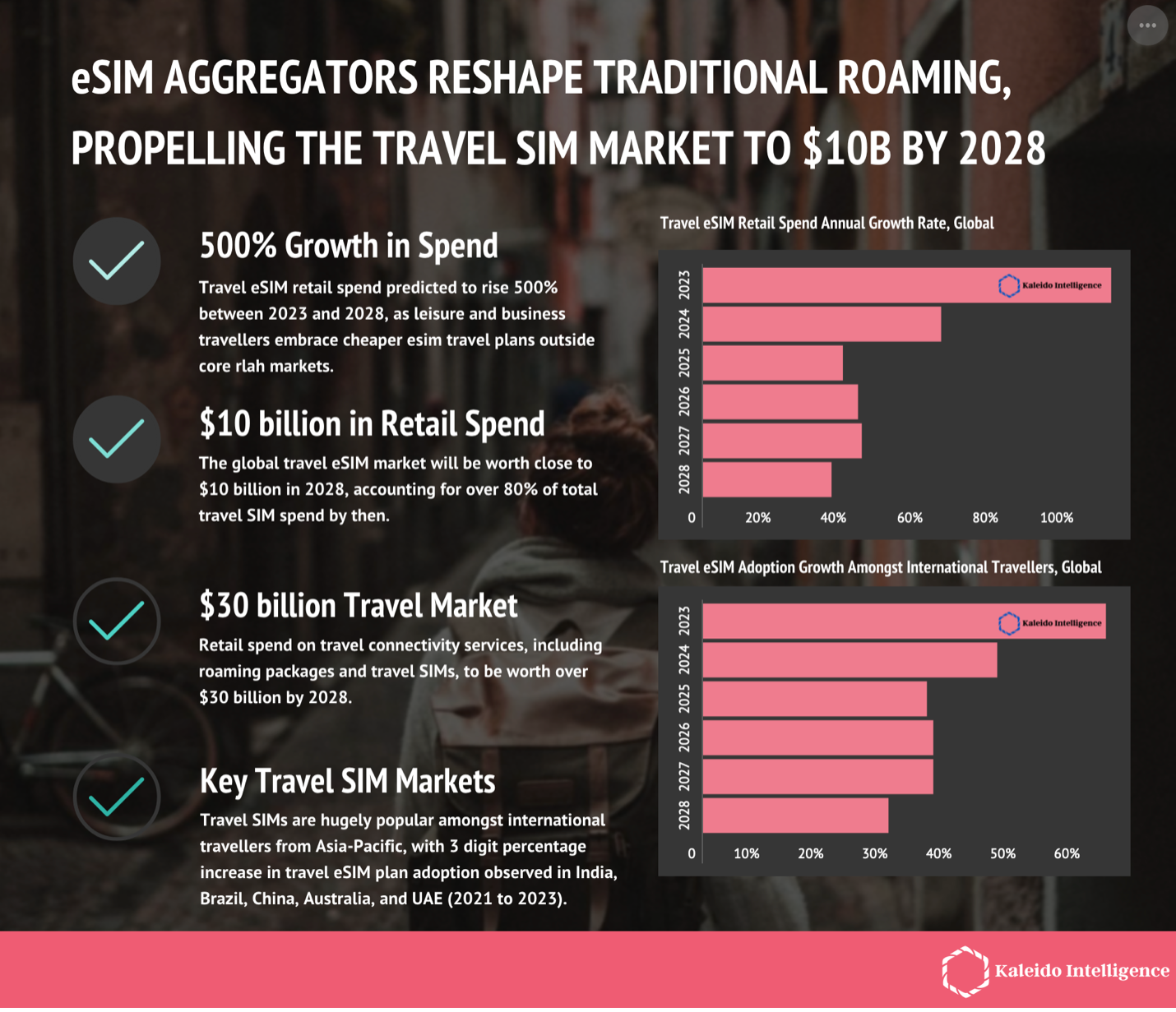 Embedding connectivity may seem complicated but I'll do my best to convince you otherwise. It really doesn't have to be a struggle, especially with the right solution in hand.
At Mobilise, we've encapsulated years of research, experience and best practices and created a simple and easy-to-plug Connectivity SDK. We developed it with our clients in mind – it's very flexible to suit your unique requirements and adds a seemingly complex feature quickly and hassle-free. Keep reading to find out how simple embedding connectivity can be.
What is Embedded Connectivity?
Before we dive into the technicalities, let's start with a quick reminder of what Embedded Connectivity is.
In layman's terms, Mobile Connectivity means providing a connection to the Internet or between end users. Until recently, only telecom companies could provide connectivity, typically through plastic SIM cards.
Now that eSIMs are available, end users can buy, activate, and use them from anywhere and at any time. The process is fully digital, making the plastic SIM cards redundant.
That opens the door to any service provider in any industry to provide mobile connectivity to their customers. By embedding connectivity within their mobile applications quickly and hassle-free. See our Embedded Connectivity guide for more information.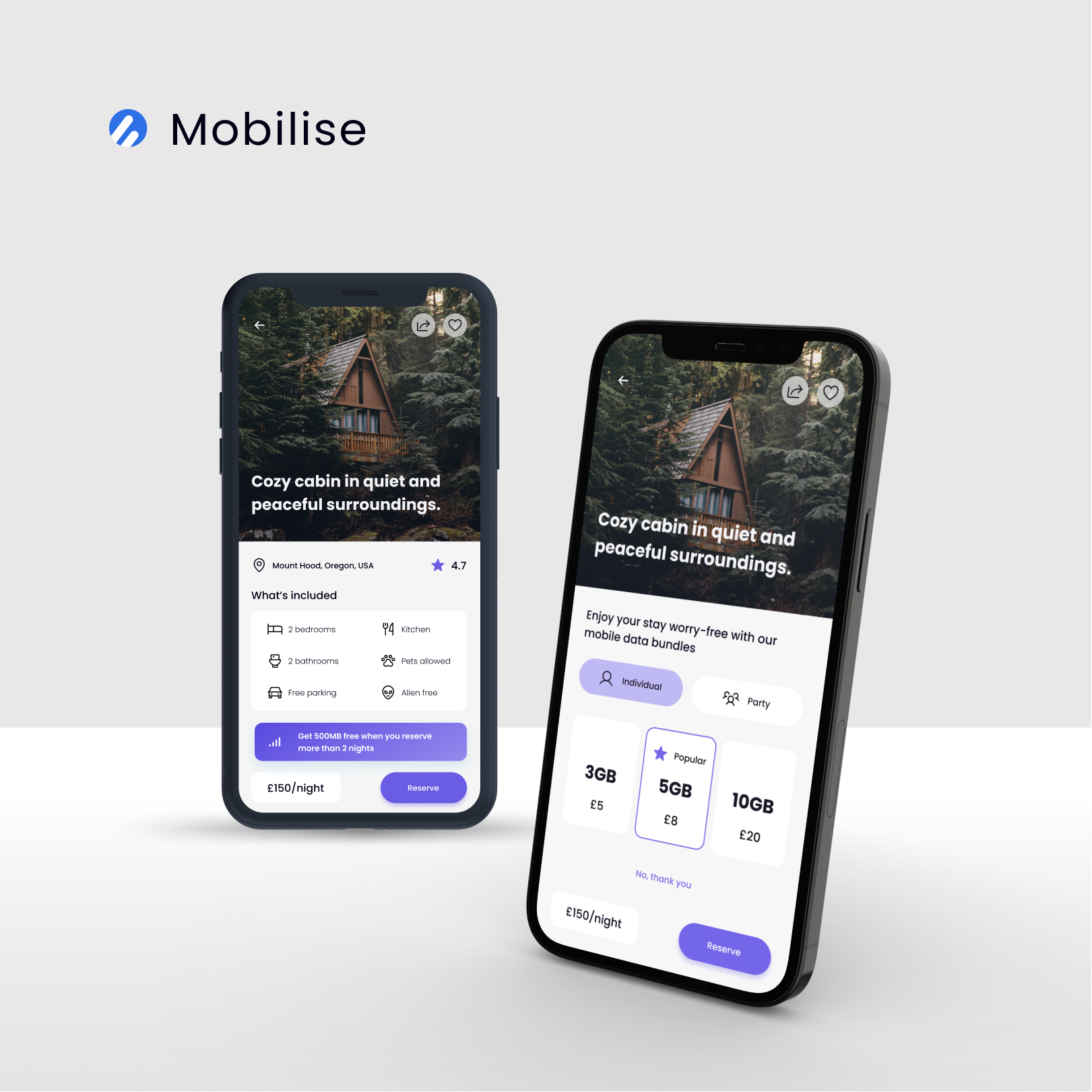 How to embed connectivity?
Embedding connectivity is simple but a lot of companies tend to overcomplicate things for themselves. Especially if they decide to follow one of the following paths:
Develop an Embedded Connectivity solution in house, or
Work with a vendor that's not the right fit for their organisation.
As for the first option, we often see this happening with larger companies. Having more resources – workforce, financial, technological – they tend to be distrustful towards vendors. In a way, that's understandable – why outsource if everything can be developed in-house?
However, what most of those companies, that lack telecom experience, don't realise is how complex developing an Embedded Connectivity solution from scratch can be. It took us at Mobilise (a telecom SaaS provider focused on eSIM) a lot of effort over many years to develop the eSIM SDK that we now offer.
Now, let's say I convinced you and you decide to partner up with an Embedded Connectivity vendor. You start your search and find a few potential candidates. All of them offer amazing results: quick and painless integration, global connectivity and much more. Which one do you choose?
That of course depends on your unique requirements – whether you care about the pricing and network quality, speed and ease of integration, user onboarding, billing and payments, user experience (UX), operational support, or the competence of the telecom and software vendors supplying all these components.
It caters to all the requirements above (and more), and it does so in a way that's most advantageous to the client. But don't take my word for it, see it for yourself.
"Mobilise has been a huge help in enabling eSIM on our Instabridge app. Their values in providing connectivity solutions aligned with ours and thanks to their Connectivity SDK, integrating it with our own technology and getting the app up and running was quicker than we ever could have hoped for. As a result of this experience, we hope to continue working with Mobilise in the future."
-Carl Hasselskog, CEO of Degoo and Instabridge
Telecom and software development expertise
Our team at Mobilise has a strong telecommunications background. We started out as a telecom consultancy before we opened our Technology division in 2016. We know the telecoms industry inside out and are always on top of the news, trends, and recent technology developments.
Apart from telco knowledge, we're very proud of our highly talented product and development teams that release one ground-breaking product after another: HERO, our digital BSS platform, eSIM as a Service, the white-labelled eSIM app and most recently the Connectivity SDK.
The combination of both makes us an industry expert that provides not only innovative solutions but also offers guidance and expert advice throughout the process. We're telecom and software experts, so our clients can focus on their products and business priorities.
Digital-first and seamless user experience Embedded Connectivity solution
What makes our products and solutions stand out from the crowd is our attention to crafting the best possible experience for the end-users. If you're reading this post, I assume you're familiar with remote SIM provisioning.
In short, eSIMs can be activated manually, using a QR code or via in-app provisioning. The latter provides the smoothest and most user-friendly experience. Enabling users to install and activate their eSIM without leaving the app or having to scan QR codes. It only takes a few taps on the screen.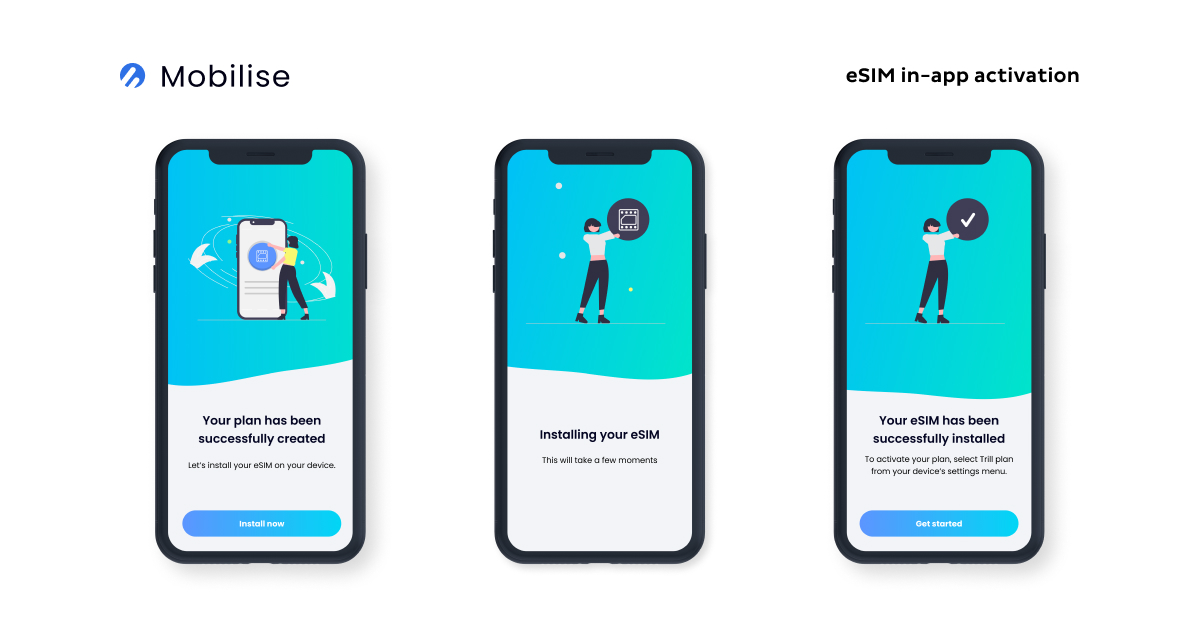 How is it done? The Connectivity SDK manages the communication between your Mobile Application and the eUICC chip within the handset. Through this communication, the Mobile Application can securely retrieve the eSIM profile from the SM-DP+. That ultimately enables the app to activate, delete and manage eSIM profiles on the device seamlessly and within seconds.
Mobilise was one of the first vendors to launch in-app provisioning back in 2021. Fast forward to 2023, and there're only a handful of eSIM providers that have mastered this technique and are able to offer it to their clients.
Having years of experience in UX/UI design, we can help to navigate the dos and don'ts of user experience design, ensuring that your eSIM experience is frictionless and hassle-free for your users.  Digital users are notoriously unforgiving when it comes to UX, and the last thing any brand wants is to alienate its users by giving them a poor experience.
Flexible architecture and approach with our Embedded Connectivity solution
Apart from providing the most streamlined user onboarding, we also offer a very simple and flexible integration. As I mentioned earlier, creating a connectivity solution from scratch takes time and effort. We decided to strip out the complexity and take all the heavy lifting on our shoulders to give our clients the ability to embed connectivity as quickly as possible and focus on their own products.
Below are some of the cool features of our Connectivity SDK.
It's an out-of-the-box plug-and-play solution that manages the LPA process and is ready to integrate with any codebase you already have.
Our system, and in particular our Orchestration Layer, is built using a microservices design and is compliant with TM Forums Open API initiative. This means we offer a high degree of flexibility and are agnostic to the underlying platforms and network providers. We have partnerships we can provide to some of the best carriers and SM-DP+ providers in the market but you can also bring in your providers of choice.
Apple and Android require mobile apps to meet rigorous criteria to use their APIs successfully. With our Connectivity SDK, we would help by guiding them to meet the criteria.
Overall, our Embedded Connectivity solution is an out-of-the-box and plug-and-play solution that minimises time-to-market and reduces the complexity to the minimum so you can enjoy your Embedded Connectivity service hassle-free.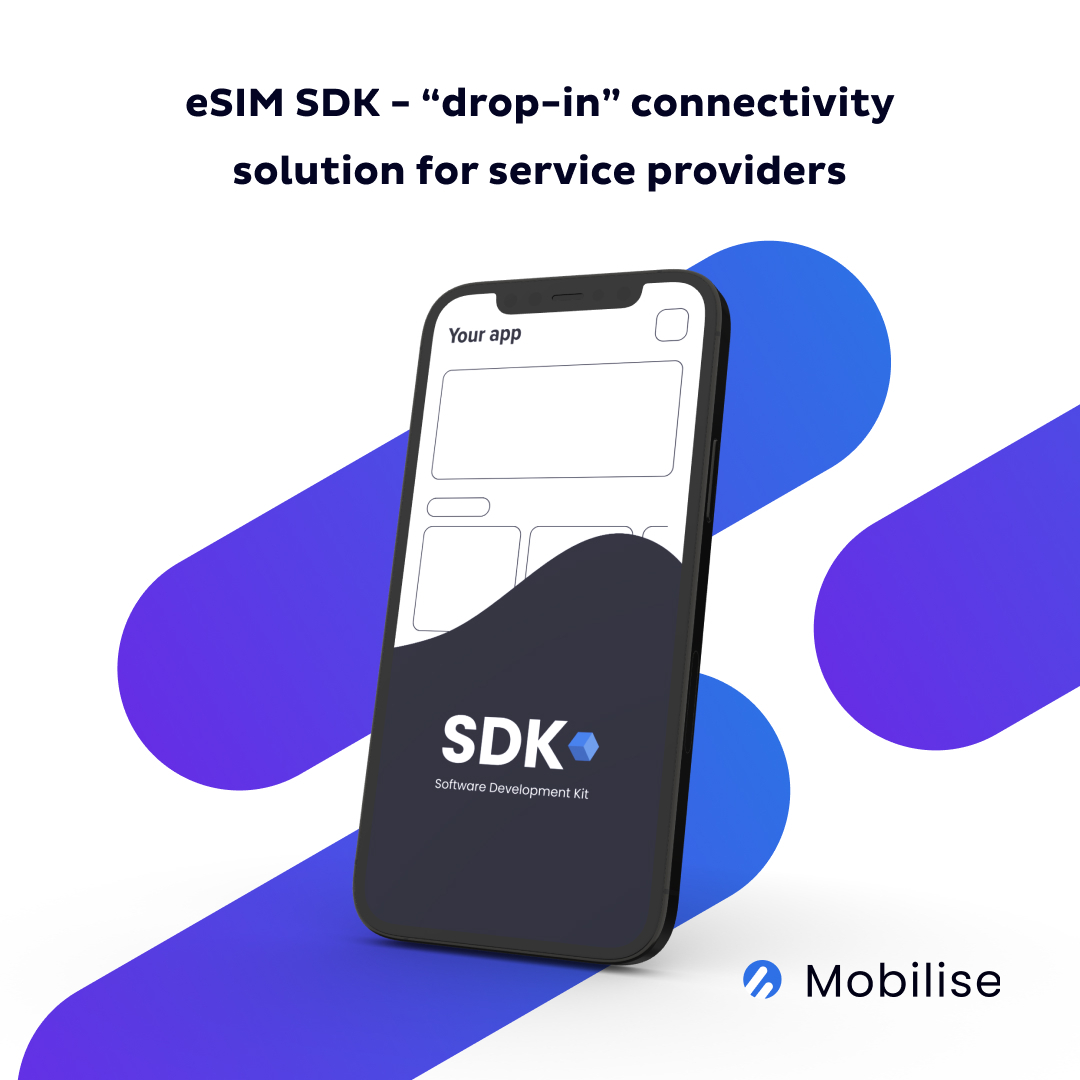 eSIM entitlement support
If you decide to opt for in-app provisioning, you'll need to obtain eSIM entitlement from Apple to be able to provide eSIMs to your iPhone users. And let me tell you, the process isn't the quickest or smoothest experience. If you want to save yourself a few grey hairs, you can work with us.
We offer support to our non-telco clients in obtaining an Apple eSIM entitlement. We have seen in many cases it can take 12-18 months to receive it, with our help you're looking at a couple of weeks instead.
Pricing and network coverage
Offering only a UX-optimised eSIM solution has a 50% chance of success. No one will use it if the data bundle rates aren't competitive or the coverage is patchy, even if your eSIM experience is 10/10.
As part of our Connectivity SDK solution, we offer some of the best wholesale pricing in the industry. Our coverage includes over 165 countries. You're welcome to bring in your own connectivity provider if you wish to do so. Our flexible architecture is ready for any integration.
Quick deliverability
Our industry experience combined with development skills and helping you get your eSIM entitlement in a few weeks means extremely quick time-to-market. We're talking weeks. An example?
We helped Degoo, a Swedish ultra-secure cloud storage provider to enrich its Wi-Fi hotspots app, Instabridge, with Embedded Connectivity. It took less than 2 weeks for Degoo to provide global data plans to hundreds of thousands of their customers.
Lifetime access to technical support and product updates
We're committed to keeping our SDK the top Embedded Connectivity solution in the market forever.
Our Connectivity SDK has been operational for over a year now and we keep optimising it for the best performance. We're constantly updating and improving it to give our clients an ease of mind. We also constantly add new features such as device swap or eSIM re-activation.
By deciding to partner up with us you'll have access to all of that as well as our invaluable support team that is efficient and attentive to all your concerns.
Conclusion
Embedded Connectivity is on the rise. We foresee many companies across various industries implementing it in the coming months and years. At Mobilise, we're committed to making this process as smooth and affordable as possible. That's why we developed our Connectivity SDK.
If you want to find out more about our Connectivity SDK solution or contact us now for a demo!