In an era where technology continuously reshapes our travel experiences, one trend is emerging as a game-changer for leisure and business travellers alike. The widespread adoption of travel eSIMs.
Gone are the days of fumbling with physical SIM cards and hunting for local providers upon arrival in a foreign land. Today, travellers are reaching for eSIMs more often than ever before, revolutionising the way we stay connected on the go.
This is a great opportunity for companies in the travel industry, to capitalise on this new trend and jump on the eSIM for travel agencies bandwagon.
In this blog, we'll focus mainly on the online travel agencies (OTAs), such as Expedia or Trivago and travel metasearch engines such as Kayak or Skyscanner.
What's the difference between eSIM and physical SIM?
eSIM is a digital SIM. It serves the same purpose as a physical SIM card. However, eSIM is physically built into a mobile device and can't be removed or replaced. It's activated remotely which allows travel operators to seamlessly embed connectivity and enrich their value proposition.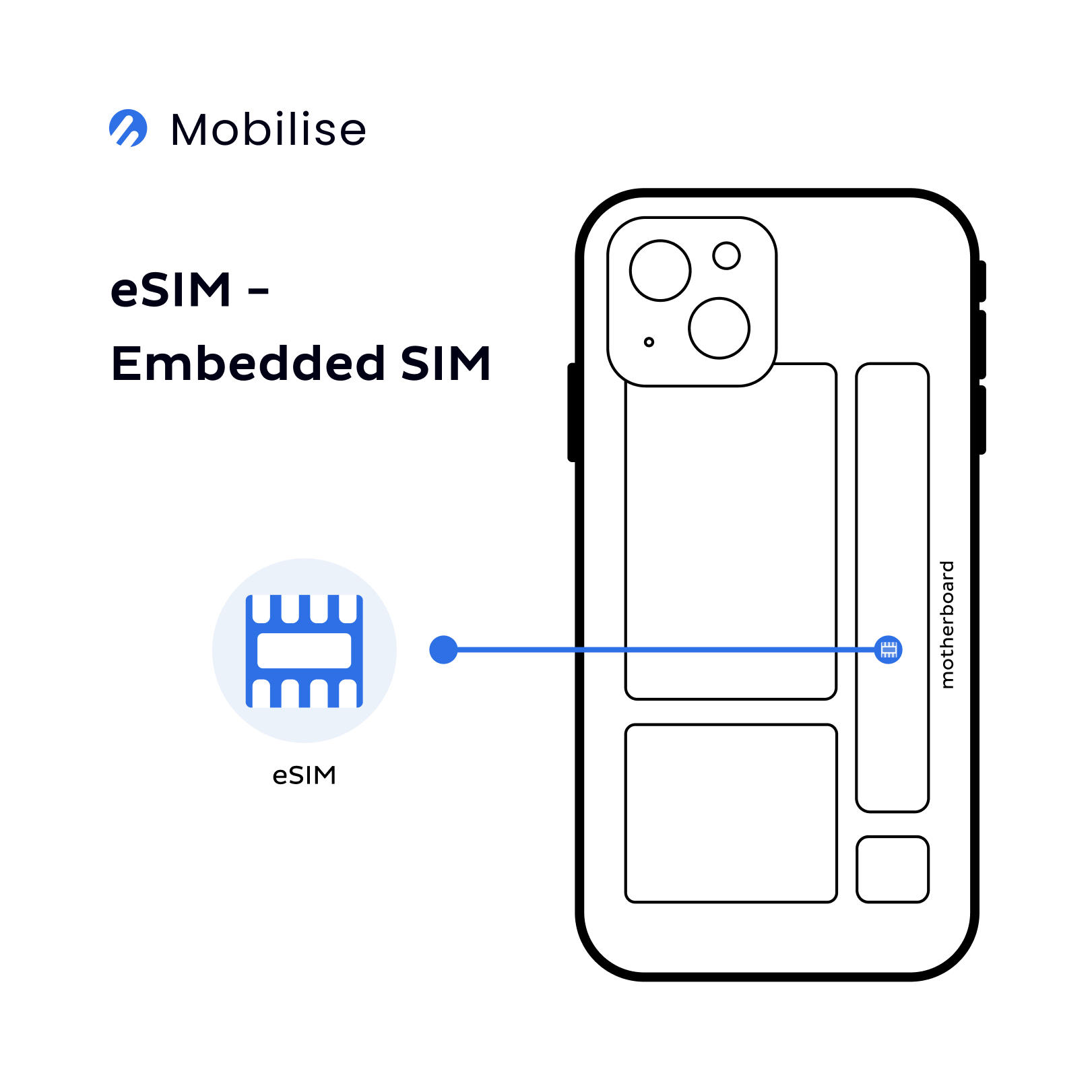 Is eSIM better?
eSIM brings a multitude of benefits, especially for travellers. This includes:
Quick and easy activation

eSIM activation is fully digital and doesn't require handling plastic SIM cards. Through in-app eSIM activation, eSIM activation takes one tap and up to 60 seconds, making the process swift and simple.

Affordable roaming alternative

Traditional roaming charges can very quickly add up. A travel eSIM is a cost-effective alternative to access local data plans, reducing expenses and bill shocks.

Seamless mobile connectivity

With Embedded Connectivity and eSIM, there's no need to rely on public or hotel Wi-Fi, multiple SIM cards or mobile phones.
What are the benefits of eSIM for travel agencies and travel metasearch engines?
eSIMs are great for travellers but they're also beneficial for companies in the travel industry such as online travel agencies and travel metasearch engines. Below are a few examples of what eSIM and embedded connectivity can offer.
Revenue growth
eSIM for online travel agencies and travel metasearch engines will introduce a new ancillary revenue stream.
Diversifying a product portfolio will help a company remain competitive, by adding a unique feature that creates more consumer choices.
According to Kaleidoscope Intelligence, spending on travel eSIM will increase by 500% over the next 5 years. Another report by Business Research Insights predicts that the global eSIM for travel market will grow at a compound annual growth rate (CAGR) of 9.79% from 2021 to 2027.
This is a great opportunity for online travel agencies, travel metasearch engines and the travel industry as a whole to be able to increase their revenues without relying entirely on their main product or service.
5-star customer experience
Travellers needs and expectations are constantly changing. They're always on the lookout for things that'll make their travel experience more efficient so that they can fully immerse themselves in their travel experiences.
Why not give them a solution that helps both? Removes the hassle of getting connected in each country they go to and provides them with attractive and inexpensive data bundles so they can share those experiences with others online.
Customer satisfaction and loyalty
Customer churn is a real issue in the world where every day there is a new, better, faster, or more affordable travel offering being launched.
Online travel agencies and travel metasearch engines must find new ways of generating customer satisfaction and brand loyalty.
To keep customers coming back for more, travel operators must create a smooth and attractive end-to-end travel experience that encompasses everything – from booking a flight and accommodation, to getting travel insurance, to mobile connectivity.
That's when ancillaries come to the picture. The more services a customer can bundle in one go, the higher chance they will come back next time they travel.
Similarly, to compare this with the banking industry. A study by Bain & Company found that more than 70% of consumers are interested in having their personal banking data used to receive personalised offers.
Not only this, but research shows more and more consumers are looking for better solutions to meet their needs than what their bank currently offers. And consumers are more likely to turn to digital-native providers or neo banks for additional or ancillary services and keep fewer products at their primary bank.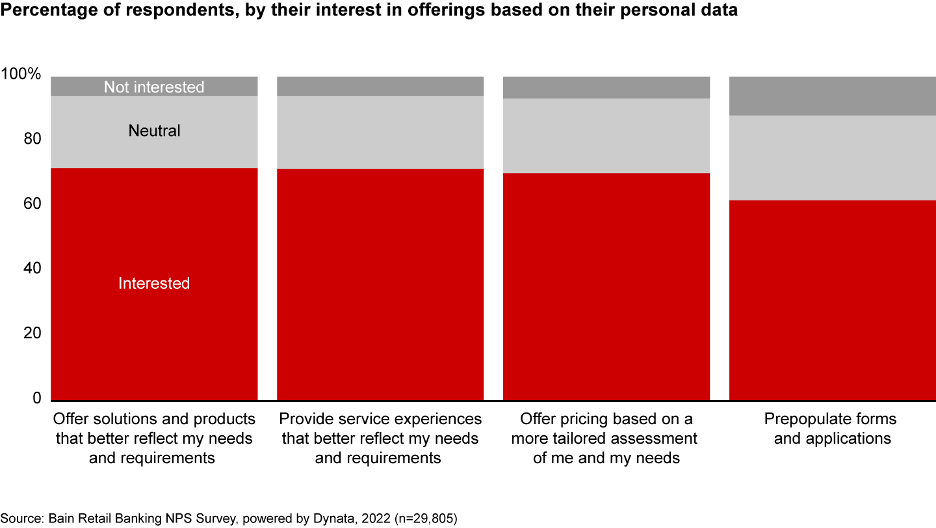 Future success
Since the release of the eSIM-only iPhone 14 and iPhone 15 in the US, it's only a matter of time before eSIM becomes the standard in smartphone devices, especially with the increased uptake of eSIM from telecom operators, device manufacturers and consumers. eSIM will soon become the number one form of mobile connectivity that consumers turn to, especially among travellers and frequent fliers.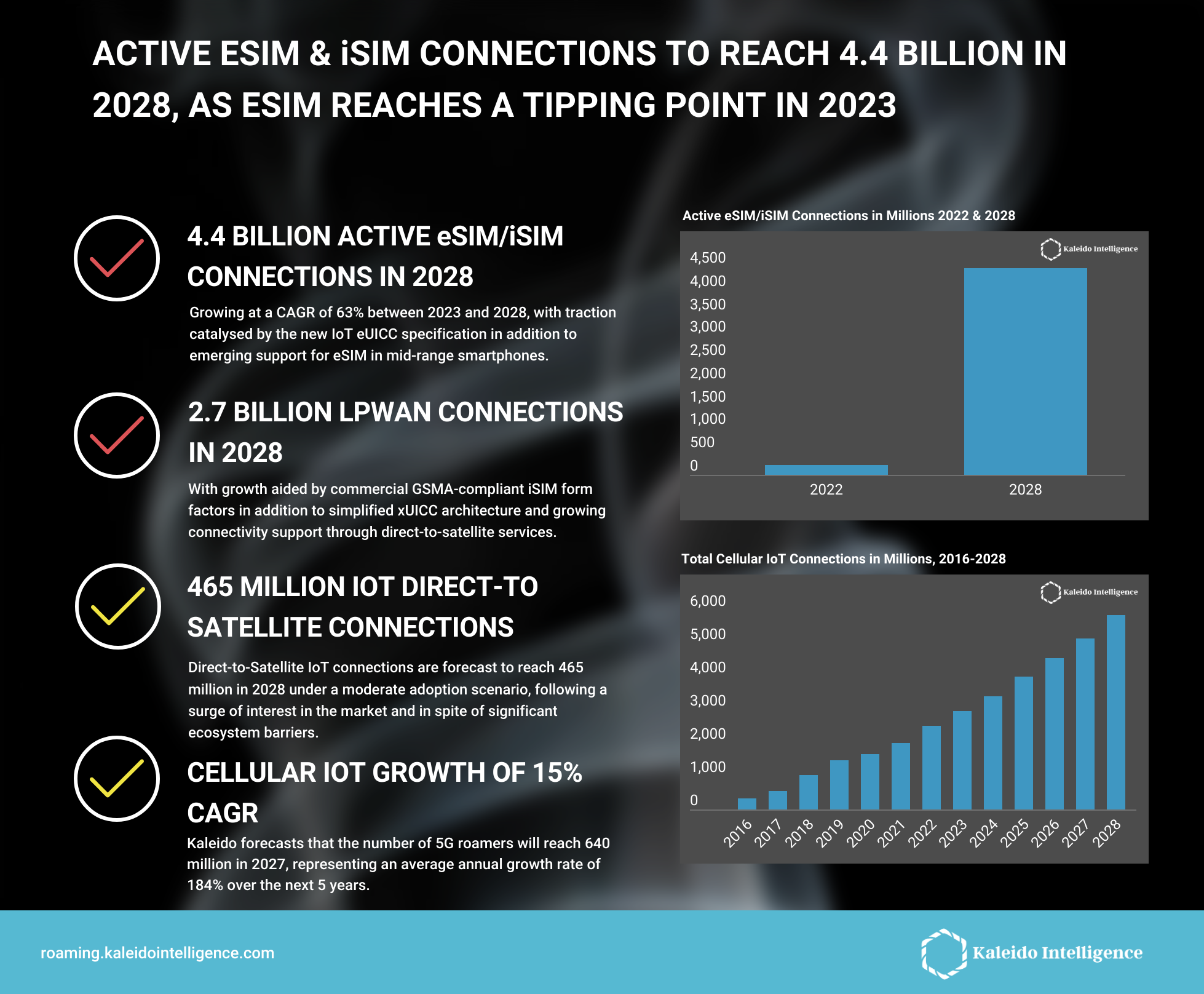 Source: Kaleido Intelligence
Kaleido Intelligence predicts that spending on travel eSIM will increase by 500% over the next 5 years, making it worth close to $10 billion in 2028 and accounting for over 80% of total eSIM travel. Not only that, according to GSMA Intelligence, across seven major markets, 36% of consumers are aware of eSIM, which has increased from 20% in 2020.
This growing awareness and acceptance of eSIM will only increase from here. And refusing or delaying to jump on the eSIM bandwagon will only mean more trouble later on.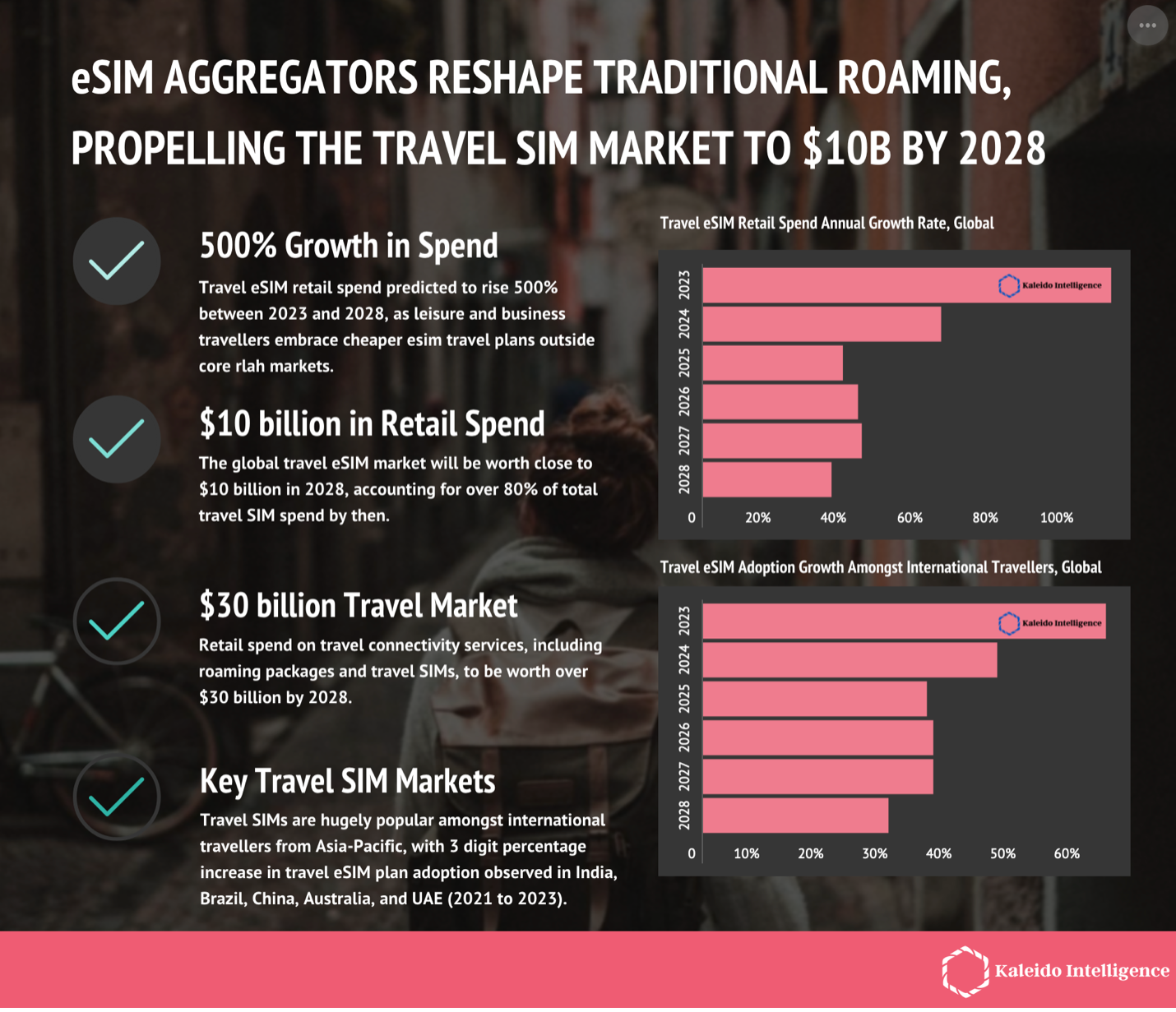 A premium feature
eSIMs can be positioned as a premium feature, bundled with attractive data plans to target high-spending customers seeking a top-notch experience.
Travellers who opt for this premium eSIM feature gain access to attractive data plans, ensuring they stay connected wherever they go. Whether it's for business, leisure, or a bit of both, these travellers can roam freely without the hassle of purchasing local SIM cards or dealing with costly international data roaming charges.
By offering eSIMs as a premium feature, online travel agencies not only enhance the guest experience but also tap into an opportunity to generate additional revenue. It's a win-win scenario where guests receive a top-tier service, and hotels can further cater to the needs of their high-spending clientele.
Loyalty program
Customer loyalty is one of the biggest challenges OTAs struggle with. One of the solutions that tackles this issue is loyalty programs.
Offering new and existing customers the exclusivity of joining a loyalty program is a great way to increase retention rates. But they have to offer attractive and relevant perks.
eSIMs are a great choice for OTAs and metasearch engines as they offer convenient and inexpensive way to stay connected during international travels.
Our latest research revealed that over 60% of international travellers consider staying connected on their travels as crucial.
Thus, offering discounted or free international data bundles as part of the loyalty program will boost the value of a loyalty program making customers choose your services over your competitors'.
Not only does this ensure seamless connectivity during a traveller's journey, but also grants them access to an array of exclusive benefits to keep them coming back for more.
Employee communication
Seamless communication among employees is paramount, especially for online travel agencies and travel metasearch engines. Enter eSIM technology, a game-changer in optimising internal collaboration.
By equipping all team members with eSIMs, online travel agencies and metasearch engines can streamline and supercharge their internal communication processes.
eSIM for travel agencies facilitates swift and effortless exchanges of information, fostering a more efficient work environment. Whether it's coordinating travel itineraries, accessing critical data, or coordinating last-minute changes, eSIMs empower employees to stay connected with ease.
This newfound connectivity paves the way for enhanced teamwork, ultimately leading to increased productivity and greater customer satisfaction.
Solution? Embedded Connectivity SDK!
eSIMs have a lot of potential – they enable a new level of customer experience by completely removing the need for plastic SIM cards. But what's most important is that they allow any other company, from any industry, to provide connectivity around the world.
With our Connectivity SDK (software development kit), we help travel companies embed connectivity quickly and efficiently.
Our solution is pre-built and can be easily plugged into any existing app through APIs, seamlessly integrating with an existing UX and UI, to the point where the user won't know that it's from a 3rd party.
We also have partnerships with multiple global connectivity providers to give you a complete out-of-the-box, ready-to-go solution. Alternatively, through our intelligent and flexible orchestration layer, we can integrate into any desired connectivity partner.
Our SDK does all the heavy lifting and removes the complexity, allowing you to easily take advantage of what connectivity has to offer. Find out why Embedded Connectivity is a must-have for the travel industry here.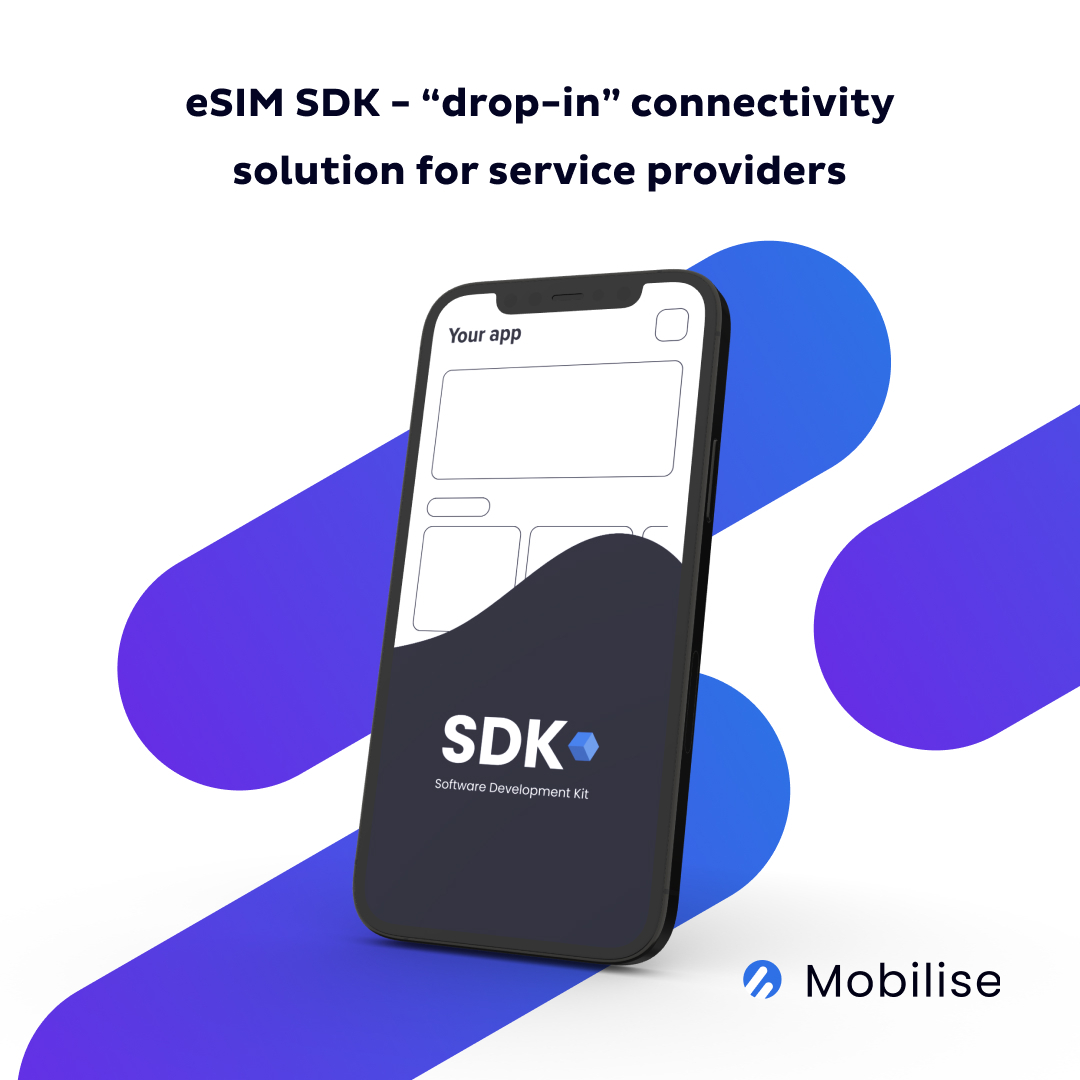 Conclusion
To survive in the constantly changing and fiercely competitive online travel agency industry, businesses need to find a competitive edge. One that will help them stay on top of the game. The best bet is to be quick to respond to the evolving market, demographics and customer preferences and take advantage of the latest technology developments.
eSIM for travel agencies can address the evolving needs of travellers. Enhance traveller experiences, reduce operational costs, and offer unique premium features. The eSIM revolution presents a strategic opportunity for online travel agencies and travel metasearch engines to not only recover but thrive in the post-pandemic world. As the travel industry landscape continues to transform, staying ahead of the curve with cutting-edge technologies is the key to long-term success.