Consumer eSIM is revolutionising the telecoms industry. It allows service providers (SPs) to fully digitalise their customer journey and offer elevated customer experience to their users. Nevertheless, the eSIM uptake has been slower than we expected.
Fortunately, the iPhone 14 being eSIM-only in the US has changed the pace of eSIM adoption, and for the better. Now, with the rumours of the eSIM-only smartphones expanding to Europe with the launch of the iPhone 15, we expect an even higher interest in the eSIM technology.
At Mobilise, eSIM has been our main point of focus since it was launched back in 2016. We've launched eSIM as a Service and eSIM SDK to help SPs provide the best-in-class eSIM experience with minimal financial and operational overhead.
We have the interest of SPs at heart and want to ensure they make informed decisions about eSIM. Last year we gathered and answered the 15 most frequently asked questions about consumer eSIM and now we're taking a step further and collating all available statistics about eSIM in the consumer market. Read on to find out more!
eSIM adoption statistics
First, let's take a closer look at the eSIM adoption by operators.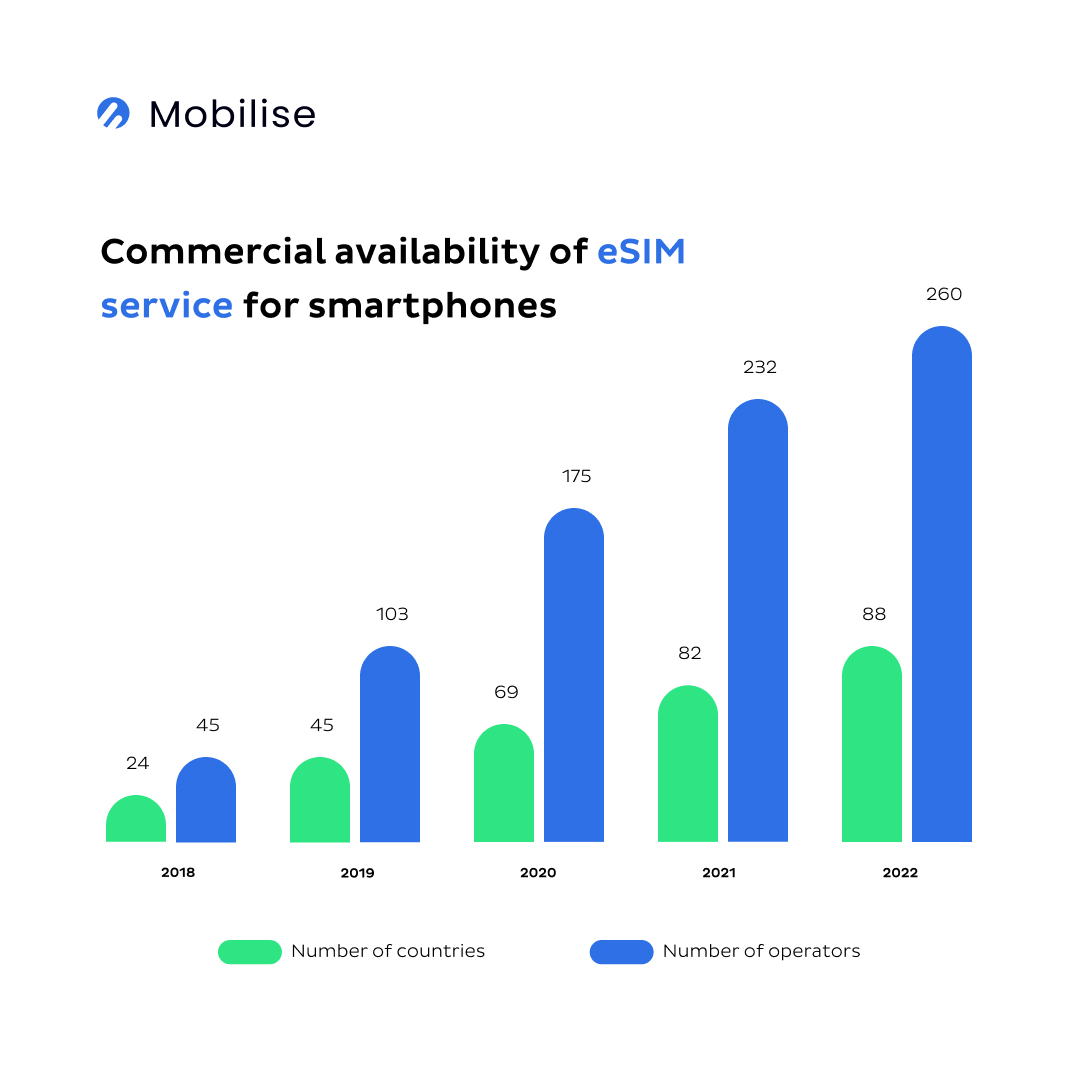 Among operators, OEMs, vendors and consumers, operators seem to be the least enthusiastic about consumer eSIM. In 2018, 2 years after consumer eSIM was launched, 45, or 3.6%, of operators around the world had eSIM implemented and available to their users.
This is however not surprising, considering there had only been a few eSIM-enabled devices and awareness among consumers was low.
4 years later, in 2022, the number of operators offering eSIM services grew to 260. That makes around 20% of operators globally (total number of operators = 1,250, source: GSMA). Considering it's been 7 years since the technology was launched, and it offers plenty of benefits to both operators and consumers, the number is surprisingly low.
According to GSMA Intelligence report, 98%, which is around 1,225, of operators, plan to offer eSIM service by 2025. That means an almost 371% increase between 2022 and 2025. In comparison, the eSIM adoption rate grew by 152% between 2019 and 2022.
Another report by GSMA anticipated an acceleration in the adoption rate in the years 2021 and 2022. We now know this prediction didn't materialise. Operators are very lethargic in adapting eSIM which impedes the expansion of the market. To some extent it's understandable. eSIM enables users to easily switch carriers which increases the risk of losing customers. It also means they will no longer incur roaming charges, likely harming the operators' revenues.
Operators, however, need to rethink their eSIM strategies. If the rumours of iPhones expanding their eSIM-only functionality to Europe turn out to be true, operators will not have a choice but to launch eSIM service for their users. But why wait until it's inevitable when you can have a first-mover advantage?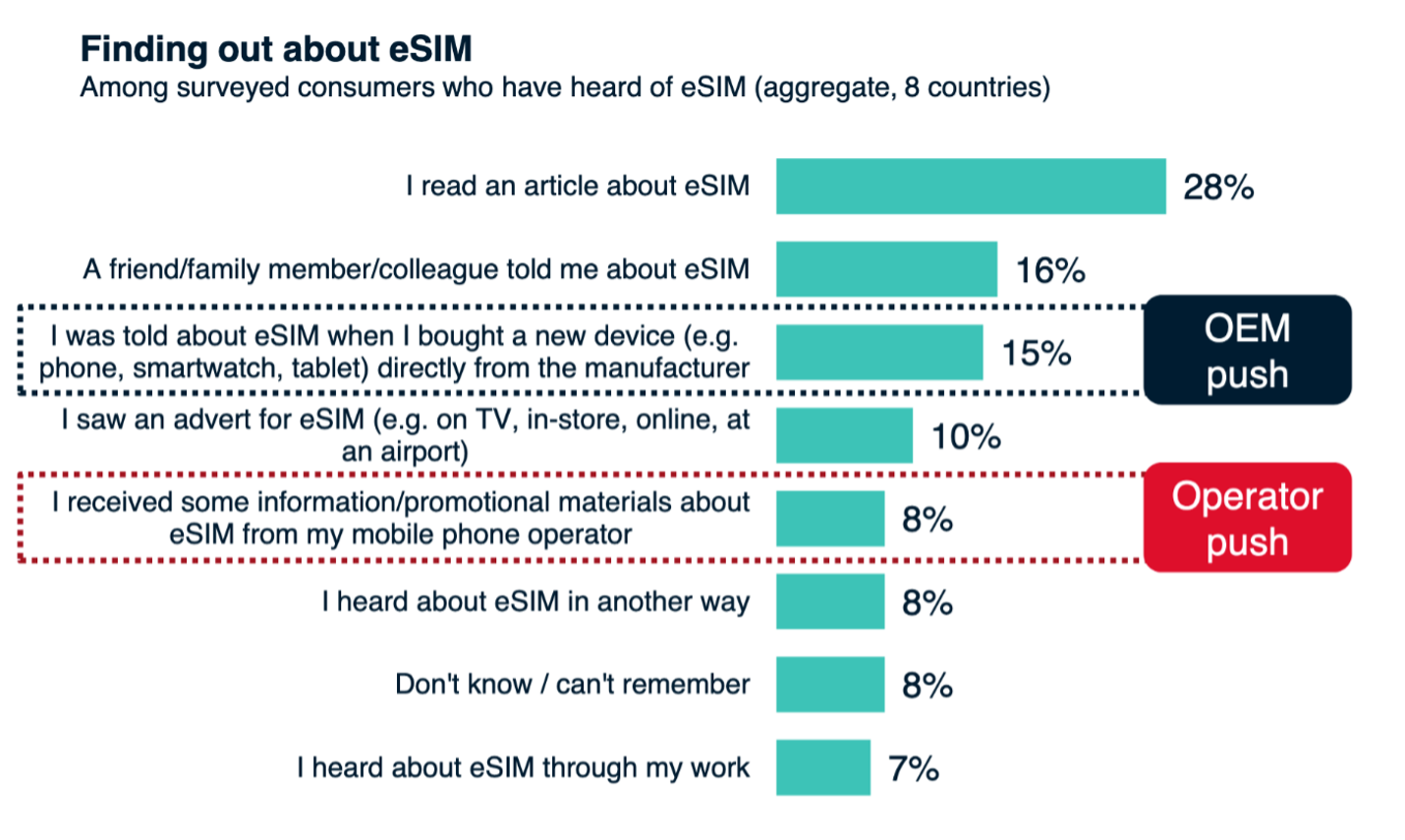 In a nutshell:
The number of operators supporting eSIM increased by 478% between 2018 and 2022.
eSIM adoption rate grew by 152% between 2019 and 2022.
As of 2022, 20% of operators globally support eSIM.
98% of operators globally plan to offer eSIM by 2025.
The number of operators offering eSIM will increase by 371% between 2022 and 2025.
eSIM market share by region
We now know that 20% of operators support eSIM around the world. But where are they located? Are they all in the same region? Are all regions supporting eSIM equally? Let's find out!
Firstly, let's analyse the graph from the previous section.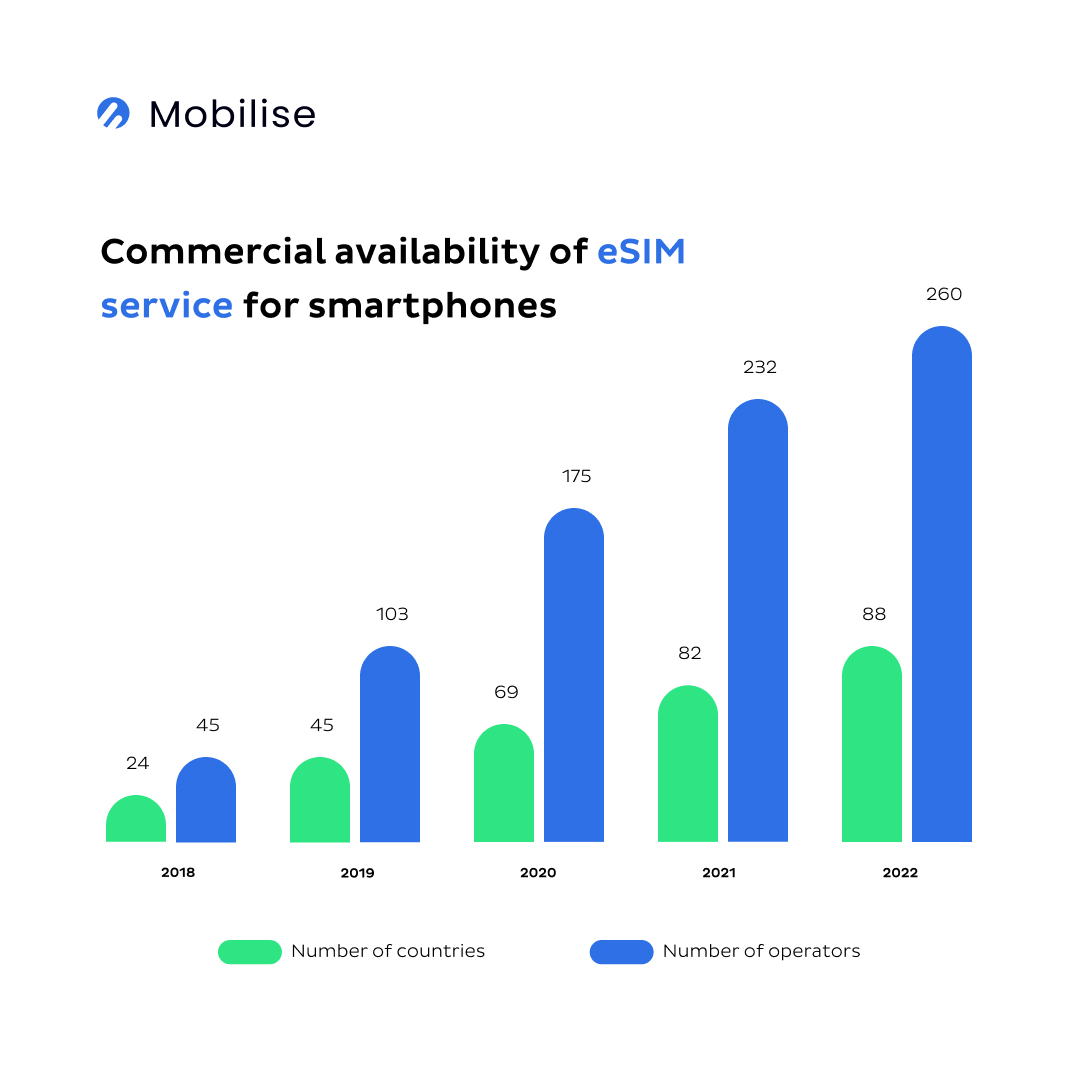 The number of countries supporting eSIM is steadily growing, although at a slower pace. If we agree on 193 being the number of countries in the world, we can see that:
46% of all countries supported eSIM as of June 2022.
The number of countries supporting eSIM has increased by 267% between 2018 and 2022.
The year-on-year growth of countries supporting eSIM is decreasing; from a 53% increase between 2018 and 2019 to 7% between 2021 and 2022.
The slowing down of the growth of countries supporting eSIM can be attributed to the fact that some regions are more interested in deploying the technology, realise the benefits of eSIM faster or simply are better equipped to adapt to the new technology.
From the below breakdown, we can see that Europe and the Asia Pacific were driving the adoption of eSIM in 2020.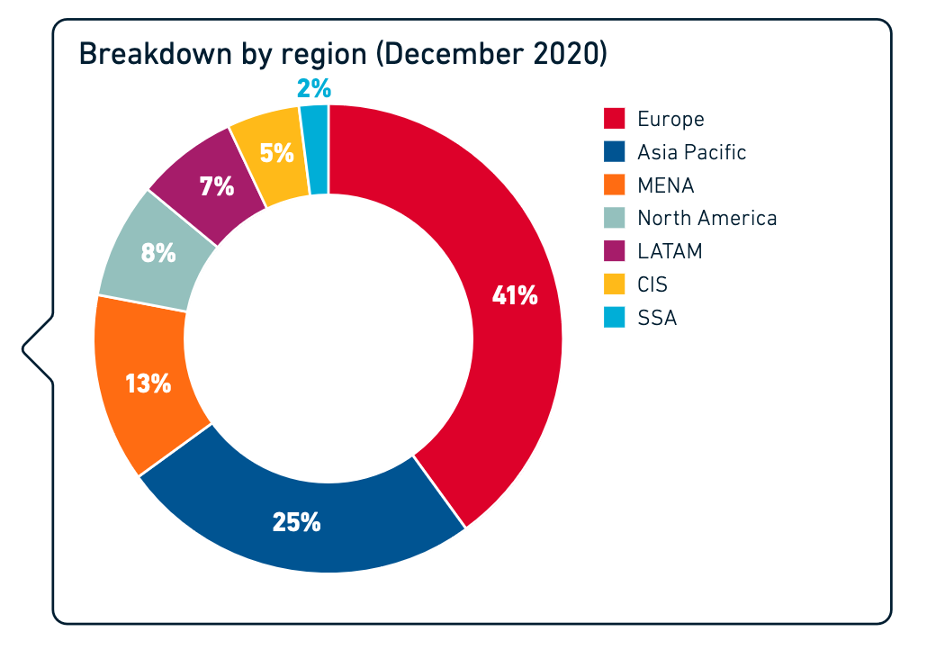 However, a more recent report from 2022 suggests that North America, mainly the US and Canada, dominated the market and now holds a significant market share. The rise is a result of the region's rapid technological advancements and the widespread presence of network providers.
In 2021, North America held over 35% of the consumer eSIM market share.
As for Europe, the countries where eSIM adoption is the highest include the UK, Germany and France. In Asia Pacific, it's China, India, Japan and South Korea.
North America and Europe are expected to maintain their lead during the period between 2022 and 2030. That's mainly due to the regions being early adopters that will only capitalise further on the technology.
How about other regions?
Asia Pacific is expected to witness a growth rate of approximately 8% between 2022 and 2032.
Africa shows the lowest eSIM rollout rate by operators. The major barriers include the lack of digital infrastructure and the lower accessibility of eSIM-enabled smartphones.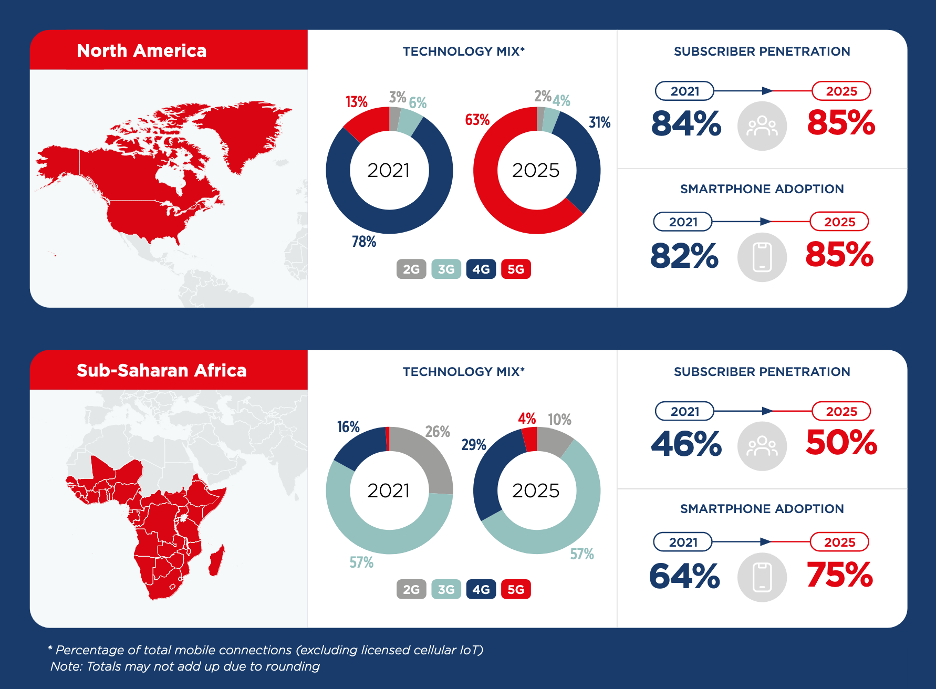 Source: GSMA Mobile Economy 2023
China and South Korea are in slightly different situations. They offer eSIM services for smartwatches and a select number of IoT applications, but not for mobile phones. It's due to the lack of regulatory approvals. It's unfortunate considering the huge number of smartphone connections in China (more than 1 billion at the end of 2018, compared to a total of 8 billion connections globally in 2019).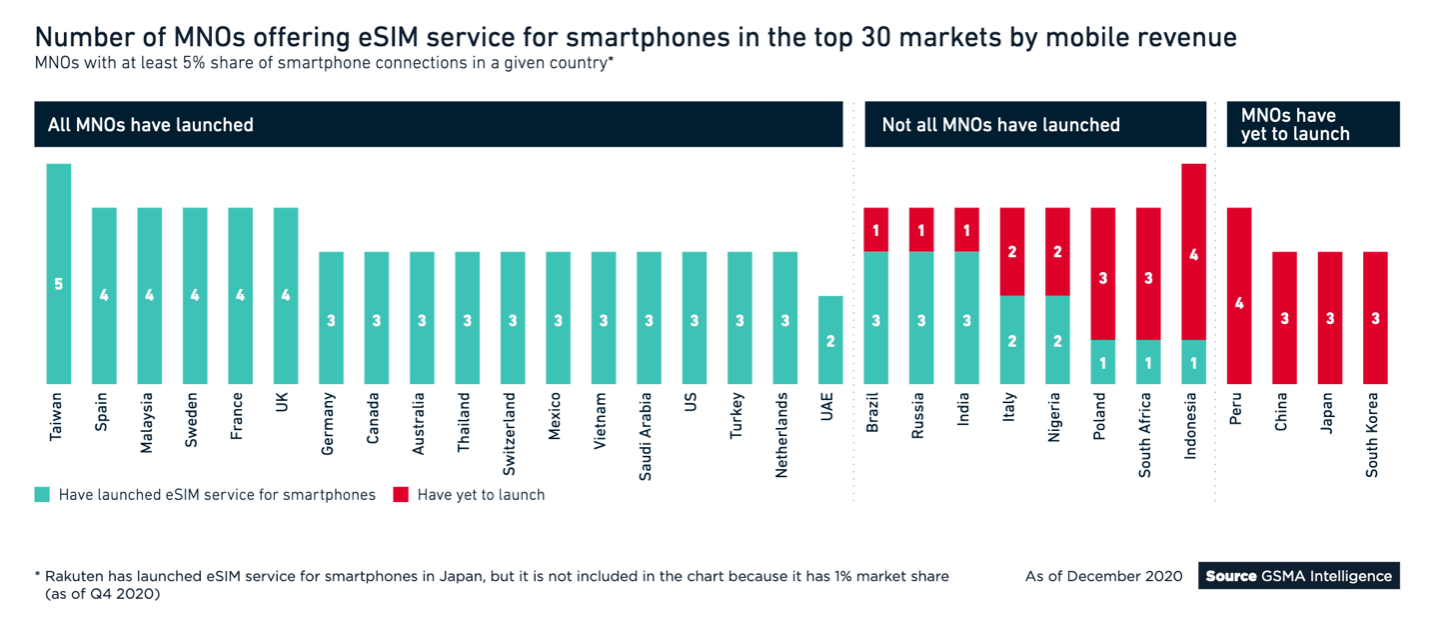 How much is the consumer eSIM market worth?
Consumer eSIM market is often evaluated and an increased number of market research firms do their own analyses on the eSIM market, its growth rate and valuation. In this section, we'll streamline and analyse all information available to date.
The global eSIM market size was estimated to be at USD 7.3 billion in 2021.
The global eSIM market size exceeded USD 8 billion in 2022.
The global eSIM market size is expected to reach USD 17.5 billion by 2030.
The global eSIM market size is growing at an estimated CAGR (compound annual growth rate) of 10.2 % during the forecast period of 2022 to 2030.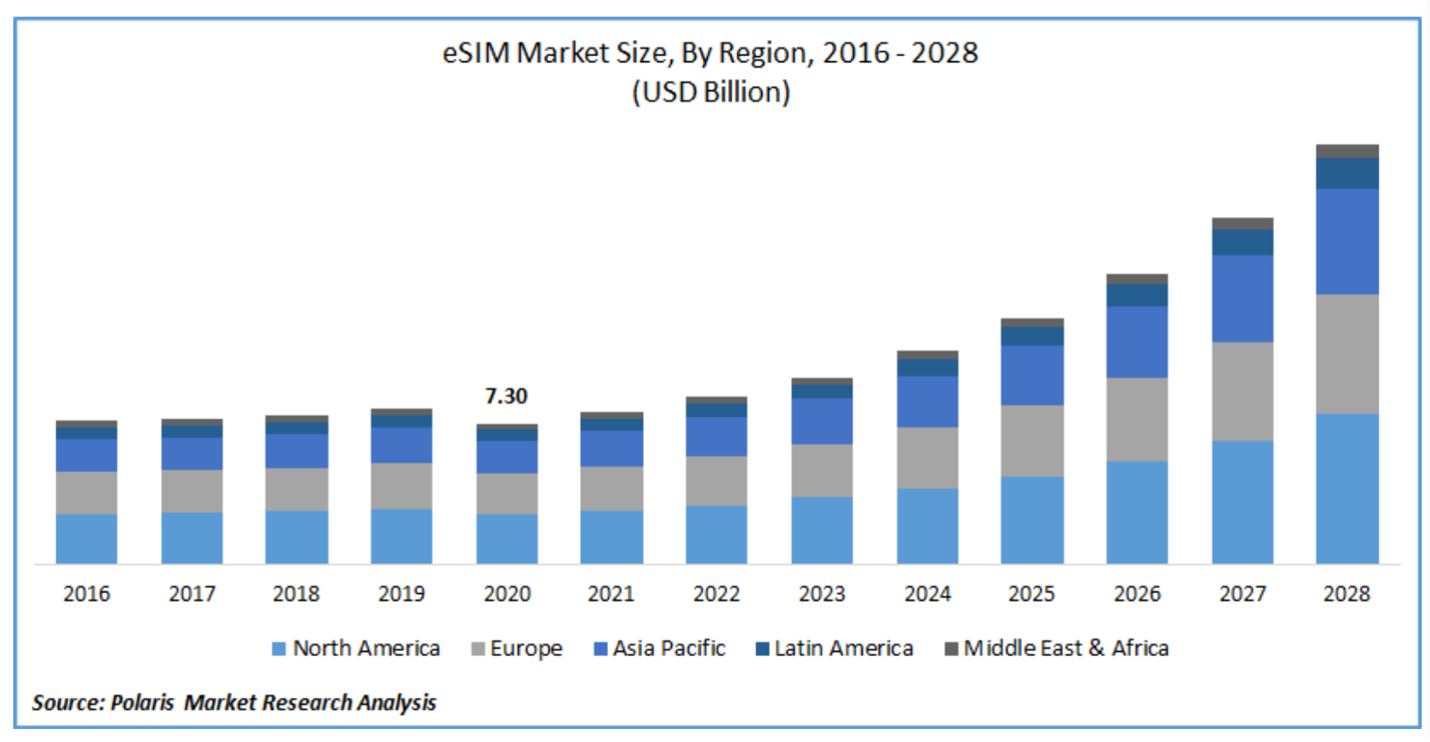 Additionally, we took it upon ourselves to calculate how much an operator could save by adopting eSIM. The results are mind-blowing:
The average cost of a plastic SIM card is 2.5 US dollars (inclusive of the card itself, the packaging, and delivery).
The average cost of eSIM is between 20 and 50 cents.
Switching to eSIMs results in up to 80% decrease in SIM card costs.
To put this into perspective, an SP with 1 million subscribers and approx. 50% gross additions per annum could save 1 million US dollars of costs per annum by switching to 100% eSIM provisioning.
eSIM-capable devices
A few sections back we talked about the eSIM adoption by operators and concluded that they are not sufficiently enthusiastic about the new technology. Is it because there aren't enough eSIM-capable devices in the market? Let's have a look.
eSIM was first introduced by the GSMA in 2010, primarily to serve the Internet of Things (IoT) segment. However, soon after it became apparent that the same technology could be applied to consumer smartphones, Apple became the primary advocate of the idea.
Surprisingly, when the GSMA first approved the use of eSIM in the consumer market back in 2016, the first handheld device supporting eSIM technology was released by… Google! Its Pixel 2 smartphone was launched in 2017.
The first eSIM-compatible smartphone was released by Google in 2017 (Google Pixel 2).
Apple, however, was quick to follow in Google's footsteps. In 2018, it introduced eSIM support on iPhone XR and iPhone XS. For years Apple had the largest portfolio of eSIM-enabled smartphones but it was recently overtaken by Samsung with its 22 eSIM-compatible smartphones (as of March 2023).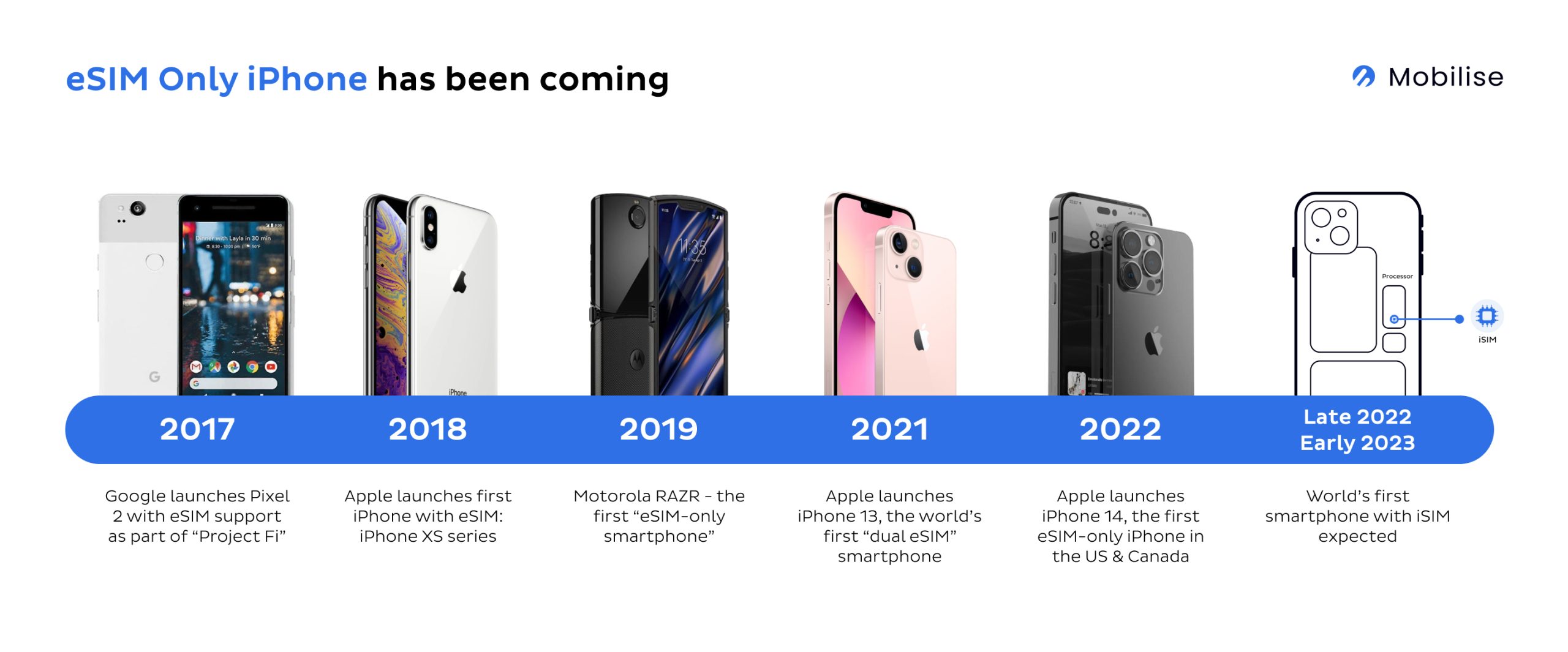 Adapted from: Counterpoint
Another notable moment was when Motorola revealed its RAZR model in 2019. The smartphone had no physical SIM slot, which made it the first eSIM-only smartphone on the market. However, it didn't get half the hype that Apple did when it launched its first eSIM-only smartphone, iPhone 14 (in the US only) in September 2022.
The first eSIM-only smartphone was Motorola RAZR, launched in 2019.
The first eSIM-only device released by Apple was iPhone 14. The manufacturer launched it in the US market in 2022.
Even though other manufacturers may be able to launch something first, Apple's initiatives are far more notable and see faster adoption. We've seen it happen before (e.g. when Apple dropped the headphone jack from its iPhone 7 – initially a contentious move, it quickly become mainstream).
All in all, OEMs (original equipment manufacturers) are doing a pretty good job in adapting eSIM. We recently analysed the advancements in eSIM adoption by OEMs with the main focus on the number and price of eSIM-compatible smartphones.
Here are some of the main findings:
As of March 2022, there were 82 eSIM-capable hand-held devices in the market.
The number of smartphones supporting eSIM increased by over 90% between 2020 and 2023 (from 43 in Dec 2020 to 82 in Mar 2023).
When the first eSIM-enabled iPhone was launched, the device retailed at around $999.
The most affordable eSIM-enabled smartphone is priced at around $300 in 2023.
The price of eSIM-enabled phones has decreased by 69% between 2018 and 2023.
In 2021, there were 1.2 billion eSIM-enabled devices (including tablets, laptops and smartwatches).
By 2025 there will be 3.4 billion eSIM-enabled devices (including tablets, laptops and smartwatches).
There are 986 million eSIM-capable smartphones in 2023.
By 2027, there will be 3.5 billion eSIM-capable smartphones in the world.
By 2025, 60% of all smartphone unit sales will be eSIM-compatible.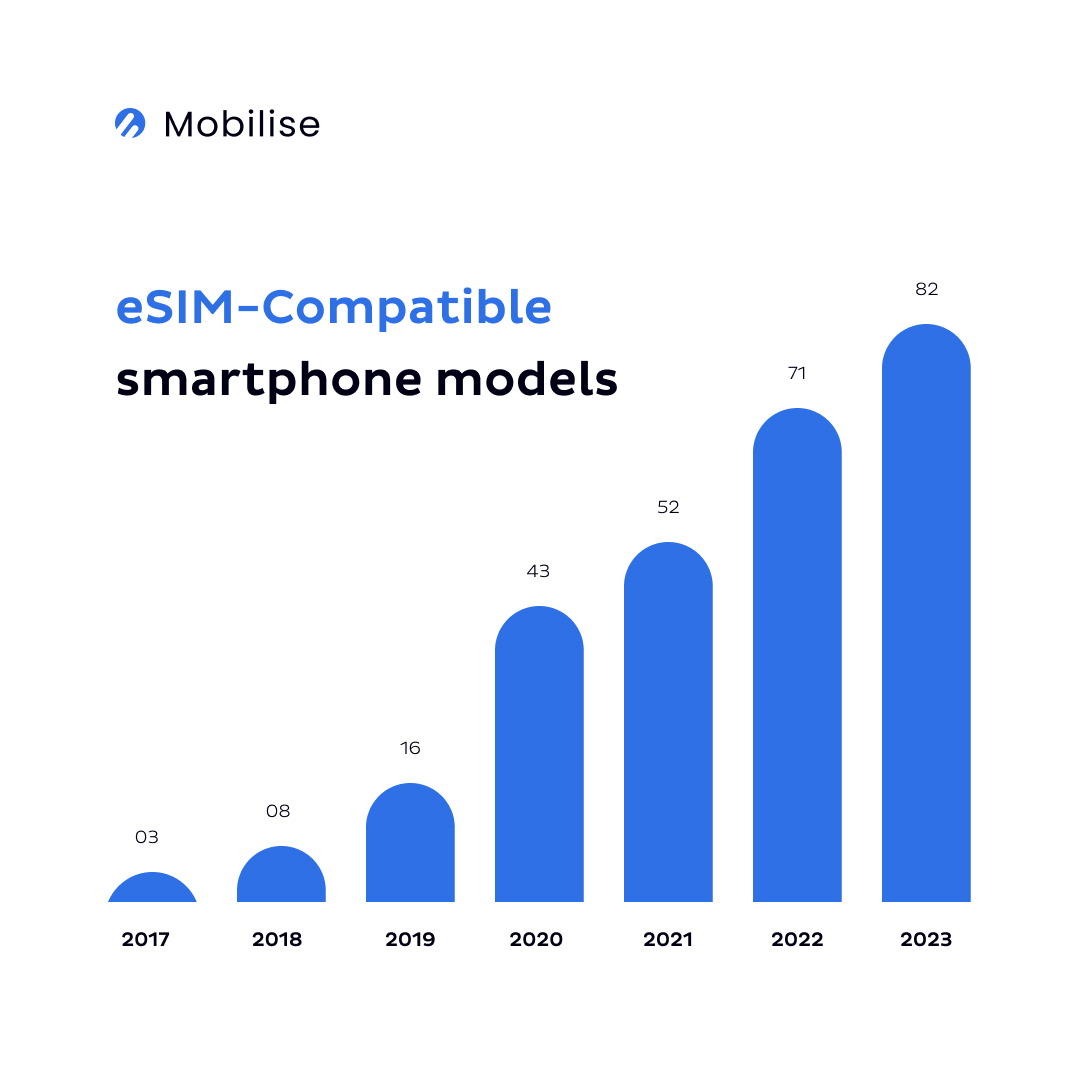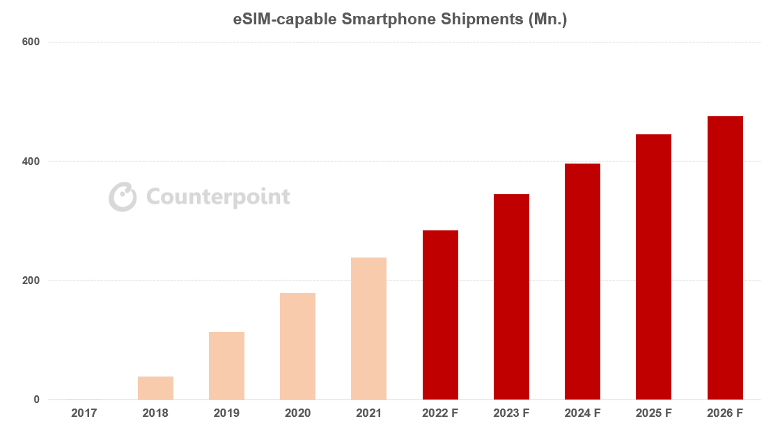 In conclusion, OEMs are doing a much better job in supporting eSIM than operators. The number of eSIM-enabled smartphones is constantly growing and affordability improving. No wonder – eSIM frees up valuable space in the smartphone that can be used for more innovative features.
The development is furtherly accelerated by the disruption of Apple's eSIM-only iPhones. With the rumours of iPhone 15 being eSIM-only in Europe, it's safe to assume that other OEMs will follow suit and the number of eSIM-capable devices will grow significantly in the next few years.
However, there is one thing OEMs and SPs have in common – low promotion of eSIM functionality, its benefits and available devices. It reflects on user awareness and adoption rates, which we'll delve into in the next section.
eSIM awareness and adoption by consumers
As of 2022, less than 30% of consumers were aware of eSIM. However, the level of awareness varies across different regions. Nonetheless, the current awareness level is a barrier to adoption at scale.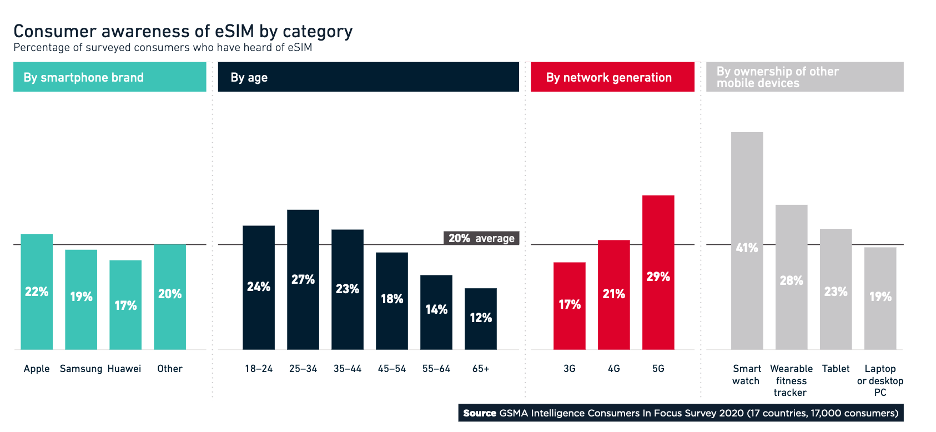 As mentioned in the previous section, operators and OEMs are not driving consumer awareness and thus adoption of eSIM. But consumers are interested in the new technology. According to a recent eSIM Consumer Pulse 2022 report, 81% of 2,500 surveyed customers across the US, UK and Australia were in favour or open to the concept of eSIM-only smartphones. Additionally, only 15% of consumers don't want their provider to sell eSIMs, compared to 58% who do.
This doesn't surprise us. eSIM offers a multitude of benefits for consumers, such as increased flexibility, security, convenience, and sustainability.
Consumer expectations from eSIM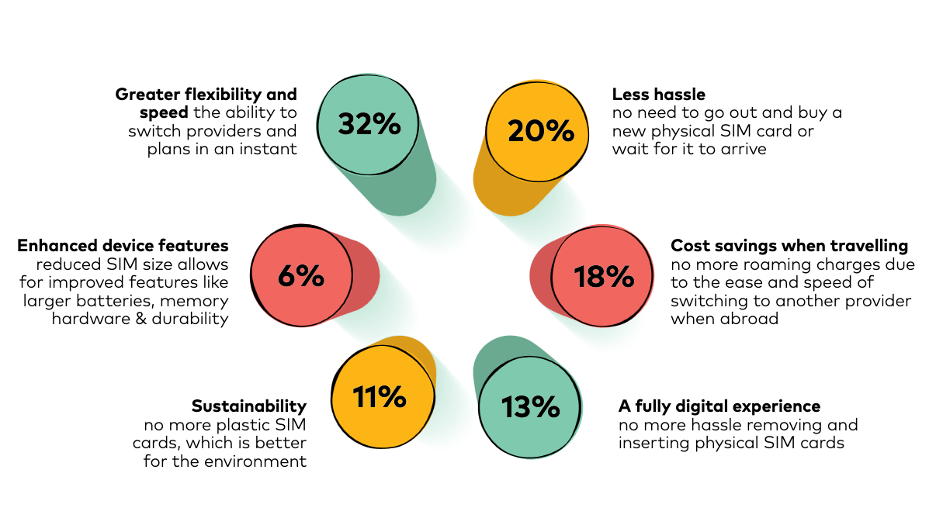 Source: The eSIM Consumer Pulse 2022
What about eSIM activations? GSMA predicts there will be 850 million eSIM smartphone connections globally by 2025, growing to 6.7 billion by 2030.
Another report by Kaleido claims that active eSIM connections are expected to grow by 1400% between 2022 and 2027, resulting in more than 4.5 billion connected devices by 2027.
GSMA predicted a significant increase in the number of eSIM connections from 2022 onwards. It's safe to say their predictions will come true with Apple's release of eSIM-only iPhones. We're excited to see more recent numbers and the extent of the eSIM-only iPhone impact.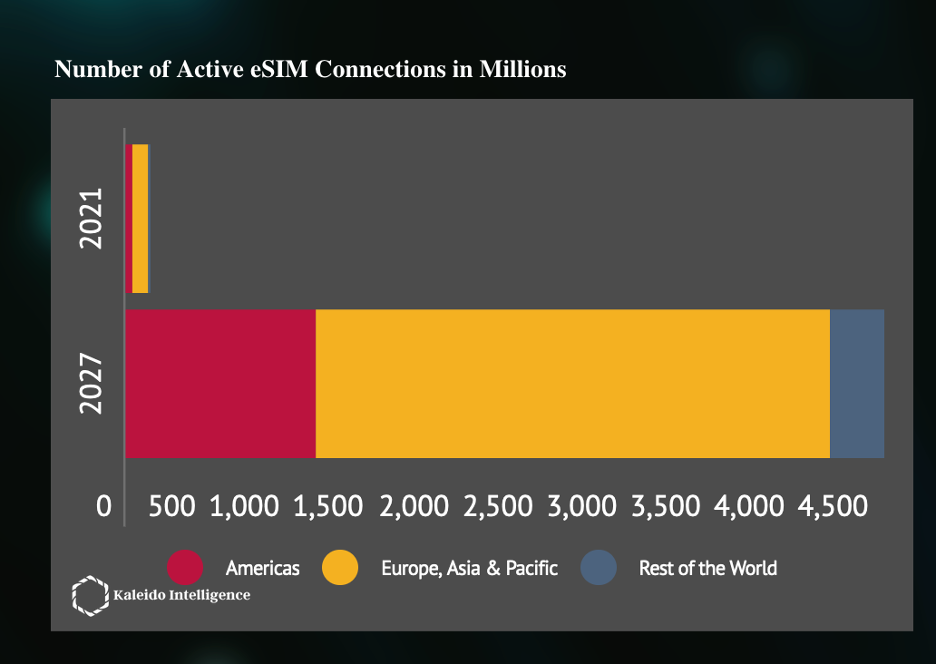 Consumer awareness, just like eSIM adoption by operators varies in different regions. Higher than average eSIM awareness has been observed in the majority of European countries as well as South Korea, Brazil, the US and Japan, among others. It's almost the same countries where the adoption rates by operators are also the highest.
Africa shows the lowest eSIM consumer adoption and awareness, with Sub-Saharan Africa showing the lowest adoption rate globally. It's mainly driven by poor eSIM infrastructure and low accessibility to eSIM-enabled smartphones in the region.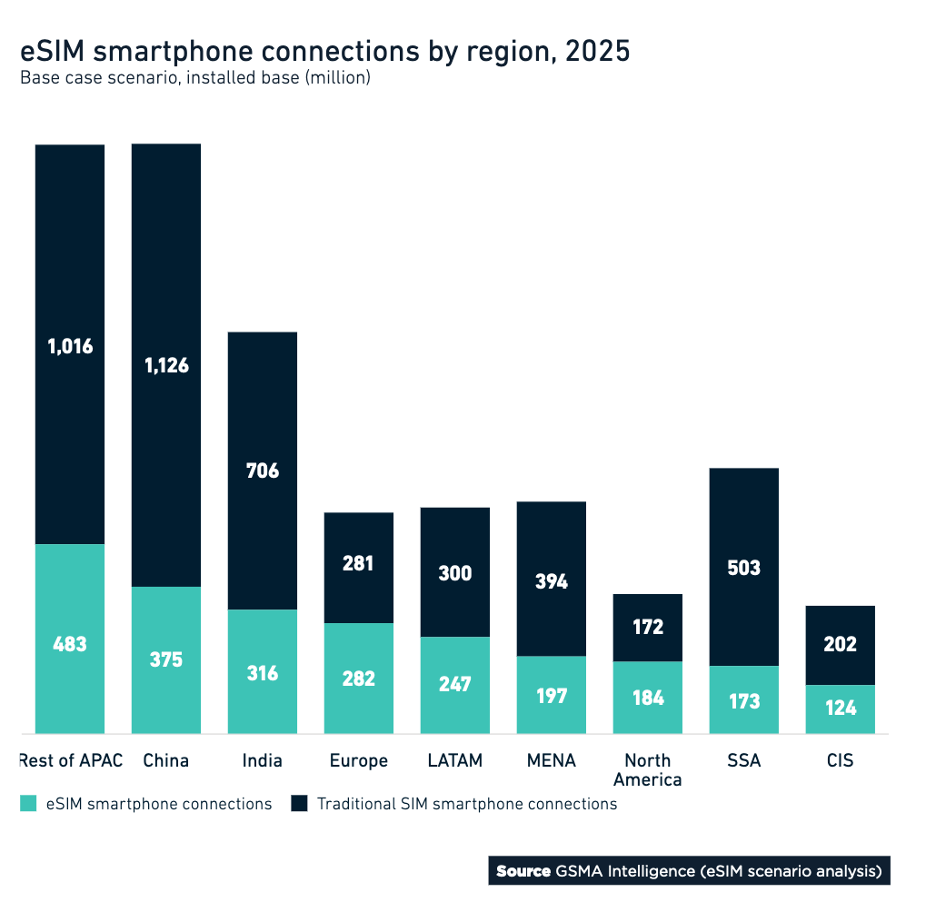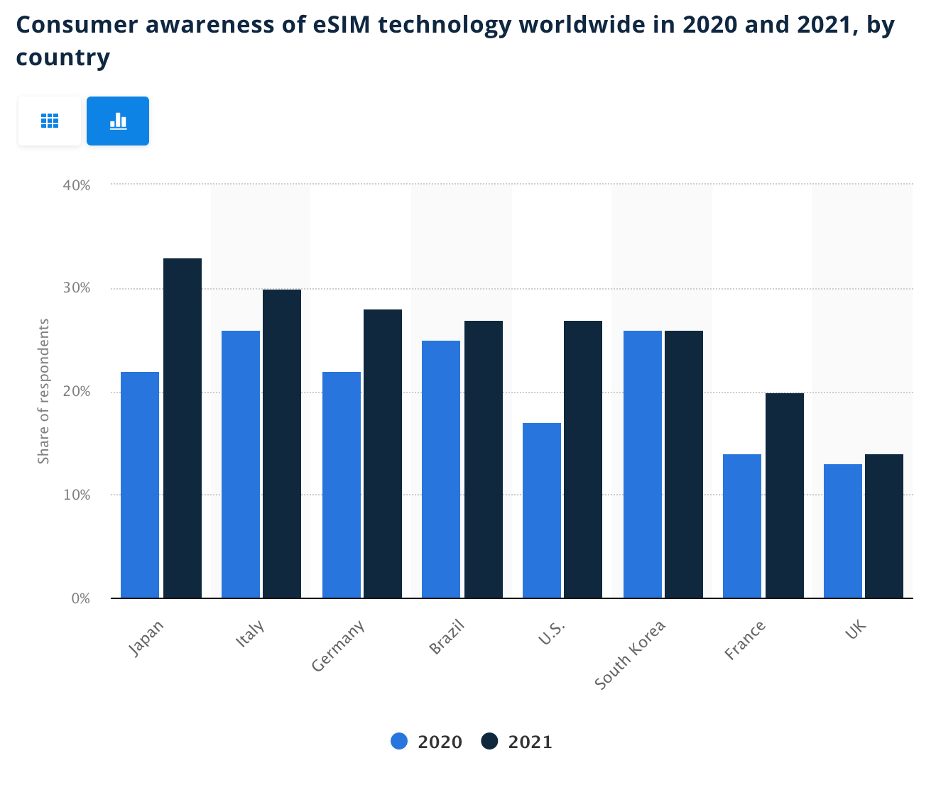 Consumer interest in using eSIM on a mobile phone in 2021.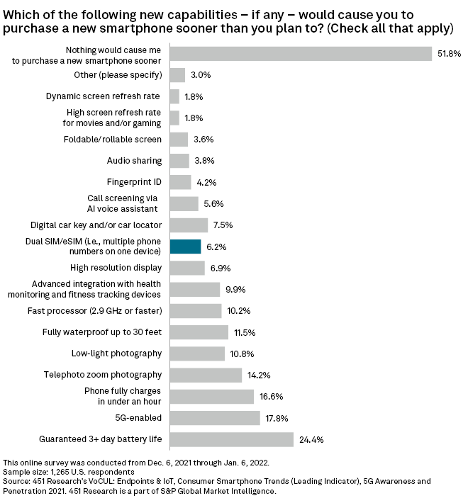 In summary:
In 2020, consumer awareness was at 20%.
As of 2022, less than 30% of consumers are aware of eSIM.
Consumer awareness increased by less than 10pp between 2020 and 2022.
Out of 74% of consumers with eSIM-only smartphones, only 32% were aware that their device had such functionality.
81% of consumers, on average, are in favour of eSIM-only smartphones.
58% want their SP to sell eSIMs.
51% of consumers think that if Apple favours the eSIM-only approach, it's the future of mobile phones and only 19% are not ready for eSIM (the remaining 30% is undecided).
eSIM profile transactions (i.e. the number of times a mobile operator profile was downloaded to a device) increased by over 300% year-on-year in 2020.
GSMA predicts there will be 850 million eSIM smartphone connections globally by 2025.
By 2027, there will be 4.5 billion eSIM-connected devices.
The number of eSIM connections globally will grow to 6.7 billion by 2030.
eSIM connections are expected to grow by 1400% between 2022 and 2027.
eSIM connections will be responsible for 33% of all connections by 2025.
The impact of eSIM on sustainability
Are eSIMs more sustainable than eSIM cards? Yes, they are! And it's only due to the lack of plastic. But let's start from the beginning.
In 2012, ICMA estimated that 2 billion SIM cards were shipped globally every year. Each SIM card was estimated to produce 35g of CO2e. Quick maths and we end up with a total of 70,000 tons of CO2e in just one year!
Since then, the number of mobile subscribers and thus SIM card shipments more than doubled! That means over 140,000 tons of CO2e produced every year in more recent years.
A more recent study by Fraunhofer Institute for Reliability and Microintegration found that a plastic SIM card has a carbon footprint of 229 grams during its three-year lifetime. That's 46% more than that of the eSIM, which is 123 grams.
Not surprisingly, the traditional SIM card generates around 60% of its emissions through production and distribution logistics. In the case of the eSIM, only 2% of the emissions are generated in this phase, mainly through computing power and energy consumption for transmitting the QR code.
Even though the insights into the carbon footprint of producing eSIMs are limited, it's safe to assume it's significantly lower. They are an integral part of a smartphone so don't require separate transport or disposal. They also don't require the use of any plastic, it's only the chip that's soldered into a device. Not to mention that conventional SIMs come enclosed in a larger plastic holder, often up to 8 times bigger than the SIM card itself.
Lastly, it's worth mentioning that consumers nowadays are more conscious buyers and favour more environmentally friendly alternatives. And in the case of eSIMs, 11% of consumers, on average, consider sustainability as its most important aspect (other choices being enhanced device features or greater flexibility and speed).
Environmental statistics:
Removable SIM card shipments reached 4.5 billion plastic cards in 2020.
Plastic SIM card shipments were predicted to decline from 4.36 billion in 2021 to 3.93 billion in 2022.
The SIM card industry contributes to around 140,000 tonnes of CO2e emissions per annum.
Plastic SIM card has a carbon footprint of 229 grams during their three-year lifetime.
The carbon footprint of an eSIM is 123 grams during its three-year lifetime.
The carbon footprint of plastic SIM cards is approximately 46% higher than that of eSIMs.
In conclusion
The rise of eSIM technology has been a hot topic in the telecom industry for a few years now, and 2023 is expected to be the year of its mass adoption. As the world moves towards digitalization, eSIM offers a range of benefits that are hard to ignore. From increased flexibility to better sustainability, eSIMs are set to revolutionize the telecom industry and the statistics presented in this blog paint a clear picture of just that.
If you need help with eSIM, we offer eSIM as a Service which is a digital-first platform that accelerates access to eSIM capabilities. Helping to enable SPs to gain a competitive advantage and diversify their value proposition. All whilst reducing costs, timelines, and project risks. Click here to contact us now or to schedule a demo!